Four German Heldentenors of the Past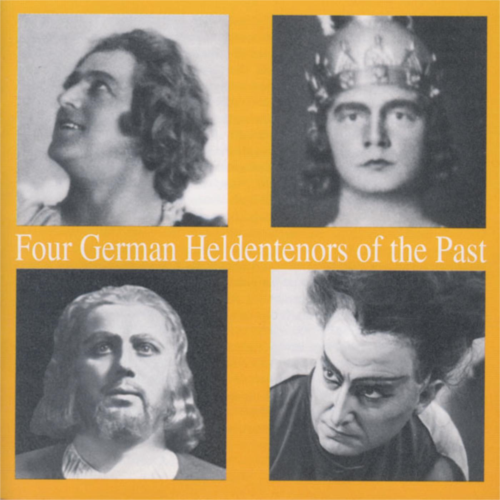 | | |
| --- | --- |
| Artist | Gotthelf Pistor |
| Title | Four German Heldentenors of the Past |
| | |
| Release Date | Monday, September 11, 2006 |
| Genre | Classical > Choro |
| | |
| Composers | Richard Wagner, Friedrich von Flotow, Giuseppe Verdi, Eugen D´Álbert, Wilhelm Kienzl |
| Songwriters | Fritz Wolff / Orchester der Staatsoper Berlin, Orchester der Staatsoper Berlin / Gotthelf Pistor, Paul Kötter / Berliner Philharmoniker, Orchester der Staatsoper Berlin / Carl Hartmann, Gotthelf Pistor / Orchester der Staatsoper Berlin, Berliner Philharmoniker / Paul Kötter |
| | |
| Copyright | © Preiser Records |
| Country | AUSTRIA |
Update Required
To play the media you will need to either update your browser to a recent version or update your
Flash plugin
.
Promotion Text
Lebendige Vergangenheit
Hardly a dramatic tenor in the history of Bayreuth's Festival combined so ideally all qualities which are required of a singing actor like Gotthelf Pistor did; during his relatively short career he was considered an ideal Wagner singer in the roles of Siegfried, Siegmund and Tristan whose voice, outward appearance and acting co:tresponded to what Wagner wished for his "singing actors". Pistor's career as an opera singer started rather late. On October 17th 1887 he was born in Danzig and initially bec me a soldier and later an officer in the German army during World War I. After the end of War he became an actor; his voice was discovered when he sang a song during a performance of "Wallensteins Lager" in 1922. Within no time Juan Luria trained Pistor's voice andin 1923 the singer already made his operatic debut in Nürnberg. He was engaged at the Stadttheater of Würzbµrg in 1924 and went to Darmstadt in 1925; in the same year he sang the role of Froh in Bayreuth. After further engagements in Darmstadt, Magdeburg and Cologne Pistor arrived at Berlin's State Opera. From 1927 on the artist could be heard every year among the first rank heroic tenors at Bayreuth's Festival. From 1930 on he also appeared every year at the Waldfestspiele in Zoppot. Between 1930 and the outbreak of War the singer was one of the most sought after Wagner tenors at the most important stages in Europe and the United States. At Vienna's State Opera he interpreted Siegfried in the famous "Ring" production by Wallerstein in 1930; he sang Tristan in London in 1931 and 1937 and was heard in Buenos Aires as Tristan, Siegmund and Erik. In 1938 Pistor sang for the last time in Zoppot. During the War the singer appeared in Berlin and, at the same time, was successful as stage director. His end was a sad one: left without any financial means after the end of War he tried to continue his work as stage director but malicious intrigues by former colleagues, who now held important positions in Berlin, undermined these efforts. On March 4th 1947 Gotthelf Pistor died. In Berlin some of his Wagner interpretations are considered unrivalled until today. Fritz Wolff, born on October 28th 1894 in Munich, initially assumed a military career and fought in World War 1. After the War he became a merchant and studied singing with Heinrich König in Würzburg. His stage debut took place as Loge in "Rheingold" at the Bayreuth Festival in 1925. In this role he was considered, from then on, unequalled and was to remain its only interpreter in Bayreuth until 1941. In Bayreuth he made further appearances as Parsifal (from 1927 on) and Stolzing (1933). In 1932 and 1934 Wolff was a guest at the Festival in Zoppot. In 1925 he was engaged at the Stadttheater Hagen (Westphalia) and from 1936 to 1938 at the Stadttheater of Chemnitz. In 1928 he made his debut in Berlin at the State Opera where he also took part in the world premiere of Franz Schreker's opera "Der singende Teufel". The artist was heard in guest performances at Vienna's State Opera, in Budapest, Paris and Prague as well as at London's Covent Garden from 1929 to 1933 and from 1937 to 1938. In North America he chiefly sang at the Opera Houses of Chicago and Cleveland (1934/35). Until 1942 he remained a member of Berlin's State Opera. Wolff was called into the German Army and became prisoner of war in Russia. When War was finally over he was forced to end his singing career having lost his sight almost entirely. In 1950 he received a professorship at Munich's Music academy. Fritz Wolff died in Munich on January 18th 1957. Listening to his recording of "Atmest du nicht mit mir die süßen Düfte" from "Lohengrin" one can only wonder why there does not exist a larger number of recordings of this fine artist. Born on May 2nd 1895 in Solingen Carl Hartmann started to work as a grinder in a local factory. His voice attracted attention in a choral society but not until 1921 did Hartmann decide to train his voice professionally with Richard Senff in Cologne. In the role of Tannhäuser he made his debut in 1928 at the Stadttheater of Barmen­ Elberfeld (now Wuppertal). His debut was an overwhelming success which was confirmed by his second performance as Lohengrin. In 1930 Johanna Gadski engaged him for her German Opera Company to undertake a tour through North America. From 1933 to 1935 he sang at Cologne's Opera House and enjoyed great success at Berlin's Städtische Oper where he appeared regularely from 1931 on. Hartmann was considered a first rank Wagner tenor in his days and was heard in Vienna, Italy, France and Switzerland. His debut at New Yorks's MET as Siegfried took place in 1937. He remained at the MET until 1940 and, there, too, enjoyed great success in the Wagner repertoire. From 1931 on Hartmann repeatedly appeared at the Festival in Zoppot. At Bayreuth he sang Tristan, alternating with Max Lorenz, in 1938; he was heard in Barcelona, Paris, Zurich, Antwerp, Stockholm, Chicago, St. Louis, San Francisco and Los Angeles. On March 8th 1940 he gave his farewell performance in New York as Tannhäuser. This was followed by an extensive tour which took _him to Tokyo in December 1940 where he was the first Lohengrin in Japan. As Siegfried he appeared for the last time in Zoppot in 1942; he sang in Vienna in the same year and was to be one of the last singers to have appeared at the stage of Munich's National Theatre before it was destroyed by bombs. ln 1943 Hartmann was heard as Siegfried in Rome and Milan and ended his career when all German stages were being closed in 1944. He spent the last years of his life in Munich and died on May 30th 1969 …
Amazon, iTunes, Spotify & Co.