Lebendige Vergangenheit - Giuseppe Lugo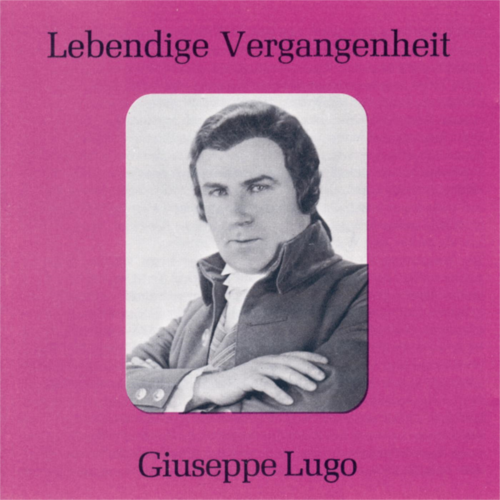 Update Required
To play the media you will need to either update your browser to a recent version or update your
Flash plugin
.
Promotion Text
Lebendige Vergangenheit
Es ist eine verwunderliche Tatsache, dass in der gesangskundlichen und musikbiographischen Literatur dieses hervorragenden Sängers nur selten Erwähnung- getan wird. Giuseppe Lugo hat diese Zurücksetzung nicht verdient, denn in einer unparteiischen Wertung wird sein Name stets unter den vorzüglichen Vertretern des italienischen Tenorfaches genannt werden müssen. Möglicherweise hängt seine bisher noch unterschätzte Position mit dem Umstand zusammen, dass man sich über das künstlerische Heimatrecht dieses Sängers nicht recht im Klaren ist. Lugo ist zwar in Italien zur Welt gekommen, doch verbrachte er den Großteil seiner Sängerkarriere in Frank-­ reich und Belgien. Dadurch erklärt sich auch die etwas irritierende Tatsache, dass viele seiner Schallplattenaufnahmen in französischer Sprache gesungen sind. Der Sänger erfuhr somit das sprichwörtliche Schicksal, den ,,Ghibelli"' nen ein Welfe, den Welfen ein Ghibelline'' zu sein. Die wenigen Nachrichten, die wir über Giuseppe Lugo besitzen, lauten folgendermaßen: der Künstler stammte aus ärmlichen Verhältnissen und war in jungen Jahren gezwungen, sich als Bergarbeiter sein Brot zu verdienen. Als "Gastarbeiter" begab er sich nach Belgien, wo er in den Bergwerken von Charleroi Beschäftigung fand. Nebenher nahm er Gesangsunterricht bei Professor Gaudier, und folgte somit seiner künstlerischen Neigung, die sich bei im bereits in früher Jugend bemerkbar gemacht hatte. Als er sich wenig später bei einem in Roubaix ausgeschriebenen Gesangswettbewerb beteiligte, trug er den siegreichen ersten Platz davon. Von nun an stand seiner Sängerlaufbahn nichts mehr im Weg. 1930 debütierte er an der Pariser Opera comique in der Partie des Rudolf in Puccinis "La Boheme". Bis 1936 wirkte er an diesem Opernhaus, wo er vornehmlich die großen Partien des Verdi­ und Puccini-Faches sang; Zu gleicher Zeit war er an das Opernhaus von Brüssel verpflichtet, wo er ebenfalls mit großer Anerkennung wirkte. In den Jahren 1936 - 1939 wirkte er in seiner italienischen Heimat. 1936 sang er den Nadir (,,Perlenfischer") an der Mailänder Scala. In den Spielzeiten 1937 bis 1939 wirkte er in den Sommerspielen von Verona. Hier sang er den Cavardossi, den Herzog von Mantua und den Rudolf. Zu seinen Partnern zählten bei diesen Aufführungen Gina Cigna, Maria Caniglia, Carlo Tagliabue u. a. Für den Schallplattensammler stel.len die Aufnahmen Giuseppe Lugos ein interessantes Studienfeld dar. Der gesangliche Vortrag dieses Sängers zeichnet sich durch mitreißendes Feuer und großes Temperament aus. Seine blendende, zielsichere Höhe hat ihm einen Ehrenplatz innerhalb der verhältnismäßig dünn gesäten Garde der ausgesprochenen C-Tenöre gesichert. It is a puzzling and most unwarranted fact that there is virtually no mention of this outstanding singer in any of the biographical or analytical reference books devoted to the art of singing. Yet viewed quite impartially, Giuseppe Lugo must certainly be considered one of the outstanding tenors of his age. Possibly his relative obscurity is due to the fact that it is not easy to pigeon- hole him in any particular category. Lugo was born in Italy but he spent the greater part of his career in France and Belgium, which explains, of course, that many of his Italian repertoire recordings are sung in French. Only few biographical facts are known about Giuseppe Lugo. He came from humble origins and initially worked as a collier. Eventually he emigrated to Belgium to work in the mines of Charleroi. Meanwhile he studied singing with Professor Gaudier, finally managing to achieve the goal that he had aimed for right from the start. His career started when he won first prize in a singing competition in Roubaix. In 1930 he made his debut at the Opera Comique in Paris, singing Rodolfo in 'La Boheme'. He remained at the Opera Comique until 1936, concentrating on the Verdi and Puccini repertoire. At the same time he was engaged to appear at the Opera in Brussels, where he was very popular. Between 1936 - 1939 he sang in Italy. In 1936 he sang Nadir (Pearlfishers) at La Scala. From 1937 - 1939 he appeared at the Arena in Verona, singing Cavaradossi, Duca and Rodolfo, opposite partners like Gina Cigna, Maria Caniglia and Carlo Tagliabue. For the collector, the recordings of Giuseppe Lugo are an interesting source of study. His emotional style and ringing top notes have ensured him a place of honor among the relatively scarce stratospheric 'C' tenors.
Amazon, iTunes, Spotify & Co.