Lebendige Vergangenheit - Giulio Neri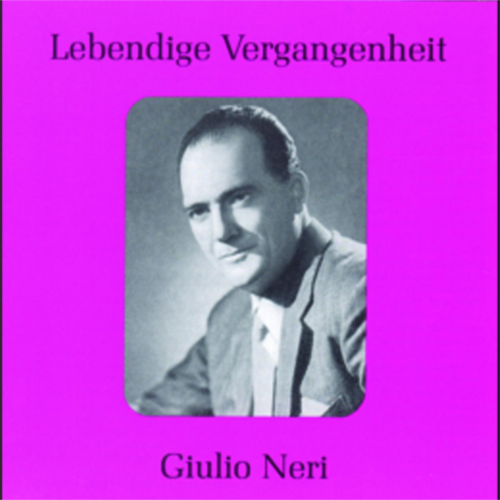 | | |
| --- | --- |
| Artist | Giulio Neri |
| Title | Lebendige Vergangenheit - Giulio Neri |
| | |
| Release Date | Tuesday, September 5, 2006 |
| Genre | Classical > Choro |
| | |
| Composers | Amilcare Ponchielli, Giacomo Puccini, Gioacchino Rossini, Arrigo Boito, Giuseppe Verdi |
| Songwriters | Orchestra Sinfonica di Torino della Radio Italiana / Giulio Neri, Giulio Neri / Orchestra and Chorus of the Opera in Milano, Orchestra Sinfonica di Torino della Radio Italiana / Giulio Neri / Fedora Barbieri, Giulio Neri / Gianni Poggi / Orchestra and Chorus of the Opera in Milano, Orchestra Sinfonica di Torino della Radio Italiana / Giulio Neri / Giuseppe Taddei, Orchestra Sinfonica di Roma della Radio Italiana / Giulio Neri / Mario Filippeschi, Nicola Rossi - Lemeni / Orchestra Sinfonica di Roma della Radio Italiana / Giulio Neri, Giulietta Simionato / Orchestra Sinfonica di Roma della Radio Italiana / Giulio Neri |
| | |
| Copyright | © Preiser Records |
| Country | AUSTRIA |
Update Required
To play the media you will need to either update your browser to a recent version or update your
Flash plugin
.
Promotion Text
Lebendige Vergangenheit
Giulio Neri wurde am 21. Mai 1909 in Turrita di Siena geboren. Er studierte ein Jahr bei dem Pädagogen Ferraresi in Florenz, dann drei Jahre am Konservatorium der Stadt Rom. Bühnendebüt 1935 als Comprimario am Teatro delle Quattro Fontane in Rom. Nachdem er zuerst kleinere Partien an italienischen Bühnen gesungen hatte, wurde er allmählich einer der bekanntesten italienischen Bassisten seiner Generation. Seit 1938 bis kurz vor seinem Tod wirkte er als führender Bassist an der Oper von Rom. 1945 nahm er an den "Aida"-Aufführungen in den Thermen des Caracalla in Rom teil. Er sang an der Mailänder Scala, in Venedig, Florenz und Catania. Nach dem Zweiten Weltkrieg gastierte er an der Covent Garden Oper London, am Teatro Liceo von Barcelona, an der Staatsoper von München, am Teatro Colon von Buenos Aires und an der Oper von Rio de Janeiro. 1951-57 sang er bei den Festspielen von Verona. Im Begriff, zu einem Gastspiel nach London abzureisen, erlag er am 21. April 1958 in Rom einem Herzschlag. Er beherrschte ein nahezu unerschöpfliches Repertoire mit zahlreichen seriösen wie Buffo-Partien, vor allem aber Gestalten in Opern von Verdi und Wagner. Giulio Neri was born on 21 May 1909 in Turrita di Siena. He studied for a year with the singing teacher Ferraresi in Florence and then for three years at the Conservatory of the City of Rome. His stage debut in 1935 was as an extra at the Teatro delle Quattro Fontane in Rome. After singing small parts at opera hauses in Italy, he gradually became one of the best-known Italian basses of his generation. From 1938 until shortly before his death he was leading bass at the Rome Opera. In 1945 he look part in the Aida performances at the Baths of Caracalla in Rome. He sang at La Scala, in Venice, Florence and Catania. After the Second World War he appeared as a guest at the Covent Garden Opera in London, at the Teatro Liceo in Barcelona, the Munich State Opera, the Teatro Colon in Buenos Aires and the Rio de Janeiro Opera. From 1951 to 1957 he sang at the festivals in Verona. He was preparing to set out für a guest appearance in London when he died of a heart attack on 21 April 1958 in Rome. Neri had a virtual¬Iy inexhaustible repertoire of serious and buffo roles, above all many major parts in operas by Verdi and Wagner.
Amazon, iTunes, Spotify & Co.