Lebendige Vergangenheit - Gino Bechi (Vol.2)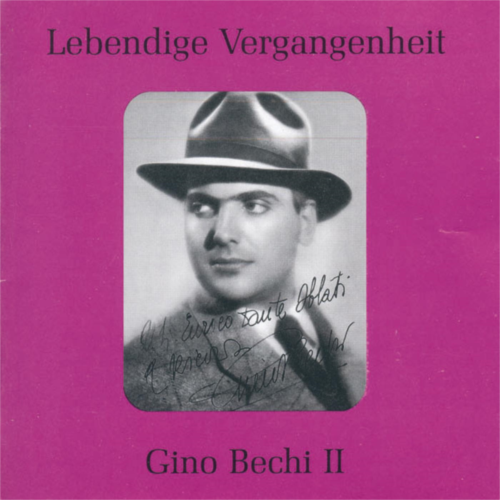 | | |
| --- | --- |
| Artist | Gino Bechi |
| Title | Lebendige Vergangenheit - Gino Bechi (Vol.2) |
| | |
| Release Date | Friday, September 8, 2006 |
| Genre | Classical > Choro |
| | |
| Composers | Nino Mazziotti, Cesare Andrea Bixio, Alessandro Valente, Nino Rota, Cesare Andrea Bixio / Ermenegildo Rusconi, Vincenzo Bellini, Nicola Valente, Riccioni, S. Gambardello, Giovanni D´Anzi, Augusto Rotoli, Francesco Paolo Tosti, Giacchino Carmelo |
| Songwriters | di Leo, Gino Bechi, Libero Bovio, Nisa, Metz e Palmieri, Vento, Deani, G. Ottaviano, Marchesi |
| | |
| Copyright | © Preiser Records |
| Country | AUSTRIA |
Update Required
To play the media you will need to either update your browser to a recent version or update your
Flash plugin
.
Promotion Text
Lebendige Vergangenheit
Gino Bechi studierte am Konservatorium von Florenz bei Raoul Frazzi und danach bei De Giorgi. Sein Debüt fand 1936 am Theater von Empoli in der Rolle des Germont in "La Traviata" statt. Sehr bald kam er an die Mailänder Scala, wo er das Erbe von Galeffi und Franci antrat. Er sang dort nicht nur die führenden Rollen im italienischen Repertoire, wie etwa Renato und Amonasro, sondern auch sofort den Jochanaan in "Salome". Seine große Musikalität machte ihn zum gesuchten Interpreten für Premieren neuer Opern, wie 1938 für Roccas "Monte Ivnor" und 1941 für Alfanos "Don Juan de Manara". Bechi gastierte am Teatro Col6n von Buenos Aires und in Rio de Janeiro. Als die Scala 1950 an der Londoner Covent Garden Opera gastierte, war er der Erste Bariton des Ensembles. Sein Repertoire weitete sich ständig aus; zu seinen wichtigsten Rollen bei den Gastspielen in Südamerika gehörte Thomas' "Hamlet", eine Oper, die seit dem Abtreten von Titta Ruffo völlig in Vergessenheit geraten war. Auch Rossinis "Guglielmo Tell" fand in Bechi einen glänzenden Protagonisten. In Nordamerika war er nur 1952 als Gast in Chicago und in San Francisco zu hören; die Metropolitan Opera, deren er sicherlich würdig gewesen wäre, blieb ihm verschlossen. Bechis Karriere dauerte bis 1965; nach seinem Abschied wurde er Gesangspädagoge in Florenz. Während seiner Karriere wurde er öfter mit Titta Ruffo verglichen. Tatsächlich hatten beide Stimmen viel Ähnlichkeit und auch ihr Repertoire stimmte auffallend überein. Bechi war einer der letzten Heldenbaritone italienischer Herkunft; sein definitiver Nachfolger in diesem Fach ist noch nicht gefunden. Gino Bechi had studied with Raoul Frazzi at the Florence Conservatory and, afterwards, with De Giorgi. His debut - as Germont in La 7raviata - took place at Empoli in 1936. He immediately aroused great interest, and within a year had already been engaged by the Rome Opera. Shortly afterwards he was singing at Milan's La Scala, where he was considered the heir to Galeffi and Franci. He not only sang the major Italian repertory ro1es, such as Renato and Amonasro, but also appeared immediately as Jochanaan in Salome. Being exceptionally musical he was much sought-after for premieres of new operas, such as Rocca's Monte lvnor (1938) and Alfano's Don Juan de Manara (1941). Bechi made guest-appearances at the Col6n Theatre in Buenos Aires and in Rio de Janeiro. When Milan's La Scala quested at London's Covent Garden in 1950, he was the company's leading baritone. He continually enlarged his repertory, and one of his most important ro1es in South America was the title-part in Thomas' Hamlet, which had fallen completely into oblivion after Titta Ruffo's retirement. Rossini's William TeIl also found in Bechi a brilliant protagonist. His only appearances in North America were in 1952 in Chicago and San Francisco, as he was never engaged by New York's Metropolitan Opera, where he certainly would have been a great asset. Bechi's career lasted unti11965, after which he dedicated hirnself to teaching voice in Florence. During his career, he was often compared to Titta Ruffo and, in effect, both men's voices were very similar, as was the repertory they chose. Bechi was one of the last Italian heroic bartones; his definitive heir in this genre has yet to be found.
Amazon, iTunes, Spotify & Co.