Four Famous Italian Baritones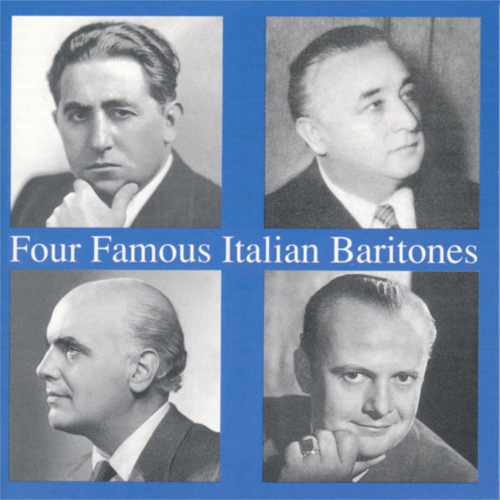 | | |
| --- | --- |
| Artist | Gino Bechi |
| Title | Four Famous Italian Baritones |
| | |
| Release Date | Monday, September 11, 2006 |
| Genre | Classical > Choro |
| | |
| Composers | Alfredo Catalani, Giuseppe Verdi, Francesco Cilea, Gioacchino Rossini, Amilcare Ponchielli, Ruggiero Leoncavallo, Gaetano Donizetti, Umberto Giordano, Giacomo Puccini, Jules Massenet, Wolfgang Amadeus Mozart |
| Songwriters | Gino Bechi, Tito Gobbi, Mario Basiola, Carlo Tagliabue |
| | |
| Copyright | © Preiser Records |
| Country | AUSTRIA |
Update Required
To play the media you will need to either update your browser to a recent version or update your
Flash plugin
.
Promotion Text
Lebendige Vergangenheit
The Twenties and Thirties of our century have produced an incredible variety of baritone voices - an abundance of vocal talents which, from the end of World War II to our present days, has not existed anymore. Italy, alone, produced such great names as Galeffi, Franci, Borgioli, Stracciari, Stabile, Danise, Viglione-Borghese, Molinari, Formichi, Granforte, etc. The four baritones from this period selected for this CD have all taken part in complete studio opera recordings: Tagliabue twice as Don Carlo in "La forza del destino" (1941 with Masini, Caniglia and 1956 with Callas, Tucker), as Conte di Luna in "II trovatore" ( 1951 with Lauri Volpi, Mancini), in "Francesca da Rimini" (1950), "I pagliacci" (1934 with Gigli, Pacetti) and in "Madame Butterfly" (1934 with Gigli, Dal Monte). Bechi can be heard in "Cavalleria rusticana" (1941 under the composer), "Andrea Chenier" (1941 with Caniglia, Gigli), "Un hallo in maschera" (1943 with Gigli, Caniglia), "Aida" (1946 with Gigli, Caniglia), "Carrnen" (1949 with Stignani, Gigli) and "11 barbiere di Siviglia" on LP. Gobbi's recording legacy surely is one of the largest. He participated in countless operas, "Tosca" (1953 with Callas, Di Stefano), "Simone Boccanegra", "Un hallo in maschera", just to. mention some of them. Mario Basiola (* 12. 7. 1892 in Annicco near Cremona, t 3. 1. 1965 in Annicco) was born into very modest circumstances. During World War I he was transferred to Rome where he was lucky to study with Antonio Cotogni. In 1915 he already debuted at the Teatro dell'Unione in Viterbo in "La favorita", but it was in 1919 that his career really started to take off (again, in Viterbo in "I puritani" and as Rigoletto). After numerous engagements in the Italian province the singer joined the San Carlo Opera Company and appeared in the United States. Basiola made his debut at the MET in 1925 as Sharpless in "Madame Butterfly" and appeared there until 1931/32 in "Aida", "11 trovatore", "Faust", "Rigoletto", "La traviata", "La forza del destino", "Carmen", etc. The singer returned to his home country in 1932/33 and enjoyed major successes at the Opera of Rome until 1937/38. Only in 1932/33 he sang for the first time at the Scala the role of Don Jose in Zandonai's "Una partita". Among other operas were Bellini's "La straniera" (1934/35), the part of Baldassarre in Cilea's "L'arlesiana", one of his favorite roles (1935/36), "Andrea Chenier" (1936/37) and in 1939/40 "Linda di Chamounix" and "Rigoletto". He was heard at the Festivals in the Arena di Verona (1933, 1936, 1937 and 1938) and the Maggio Musicale in Florence (1933 and 1937) and was equally successful in guest appearances at the Berlin State Opera (1938) and Covent Garden (1939). Being the last student of the great Antonio Cotogni, Mario Basiola possessed a well rounded voice of quite a wide range with a brilliant top. Inspite of these vocal qualities this unjustly underrated singer did not have the stage charisma of some of his colleagues and the voice itself began to show first signs of deterioration in the early Fourties. Basiola appeared at the Opera of Rome in "La traviata" in 1946 and 1947 and gave his farewell performance in 1951. Until his death in his home townAnnicco on January 1st 1965 Mario Basiola was active as a singing teacher. Carlo Tagliabue (* 13. 1. 1898 in Mariano Comese/Como, t 5. 4. 1978 in Monza) received a scholarship from Casa Musicale Sonzogno and debuted in 1922 at the Teatro Lodi as Amonasro in "Aida". After numerous engagements at important Italian opera houses Tagliabue made his Scala debut in 1930/31 as Hermann in "Loreley". For the following seven seasons the singer became a constant member of the Scala Ensemble and appeared in 39 roles under legendary conductors such as Toscanini, De Sabata, Serafin, Marinuzzi, Votto, Böhm, Guarnieri as well as the composers Giordano and Mascagni. Still, in Italy's inter-war years Tagliabue was always slightly overshadowed by colleagues like Galeffi and Franci and even younger ones like Armando Borgioli who often were preferred for the big roles of his repertory. Tagliabue was a baritone of the "old school": he compensated a certain lack of interpretation and a not too convincing stage presence with an excellent technique and the awareness of his limits which enabled him to be still successful at a time when most of his colleagues had already retired from the operatic stage. He was one of very few artists who sang with Caniglia, Muzio, Gigli and Lauri Volpi and was still around after World War II when he stood up to stars like Callas, Tebaldi, Dei Monaco and Di Stefano. At the MET (1937/38 and 1938/39) Tagliabue excelled in the big roles of the Italian baritone repertory: Amonasro, Iago, Rigoletto, Conte di Luna, Germont pere, etc. and sang a very well received Rigoletto at Covent Garden (1938). He appeared regularly at the Teatro San Carlo di Napoli where he could still be heard as Rigoletto in 1955/56 and as Iago in 1956/57. For over 30 years, until his farewell in 1958 in "La traviata" (with Callas and Raimondi), Tagliabue was a constant member of La Scala. He made his last appearance in "I pagliacci" in Forli in 1962 and from then on was active as a teacher until his death. Gino Bechi (* 16. 10. 1913 in Florence, t 1993 in Florence) studied at the Conservatory in Florence with Raoul Frazzi and later with De Giorgi. His debut in 1936 in Empoli as Germont pere in "La traviata" was an instant success. Until 1939 Bechi sang at the Teatro San Carlo, at the Opera di Roma, during the Summer Festival in the Terme di Caracalla as well as at the Teatro Communale in Bologna. He first appeared at La Scala in 1939/40 and continued to sing there until 1953 in "Zaza", "Poliuto", "Emani", "I puritani", "Otello", "Rigoletto", etc. Especially his Figaro in Rossini's "11 barbiere di Siviglia" was celebrated for Bechi's spirited and captivating interpretation of the barber's character. The singer performed repeatedly at the Teatro San Carlo and in the Arena di Verona in the years between 1945 and 1954. He was an active performer abroad …
Amazon, iTunes, Spotify & Co.