Lebendige Vergangenheit - Giacinto Prandelli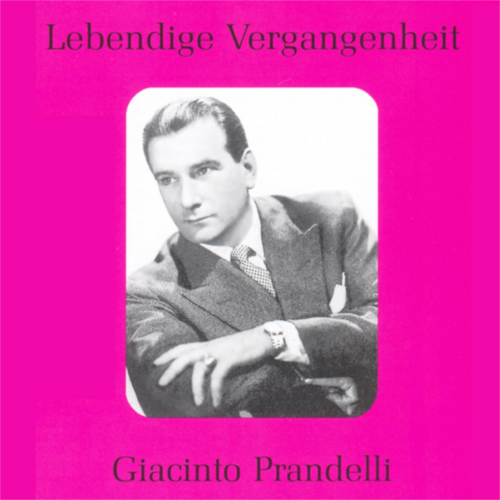 | | |
| --- | --- |
| Artist | Giacinto Prandelli |
| Title | Lebendige Vergangenheit - Giacinto Prandelli |
| | |
| Release Date | Sunday, September 10, 2006 |
| Genre | Classical > Choro |
| | |
| Composers | Gaetano Donizetti, Jules Massenet, Franco Alfano, Richard Wagner, Giacomo Puccini, Giuseppe Verdi, Amilcare Ponchielli |
| Songwriters | Giacinto Prandelli / Orchestra of the Accademia di Santa Cecilia, Giacinto Prandelli / The Milan Symphony Orchestra, Orchestra Sinfonica della Radio Italiana / Giacinto Prandelli, Giacinto Prandelli, The Milan Symphony Orchestra / Germana Di Giulio / Giacinto Prandelli, Giacinto Prandelli / Rosanna Carteri, Giacinto Prandelli / Orchestra Sinfonica della Radio Italiana, The Milan Symphony Orchestra / Giacinto Prandelli, Giacinto Prandelli / The Milan Symphony Orchestra / Germana Di Giulio |
| | |
| Copyright | © Preiser Records |
| Country | AUSTRIA |
Update Required
To play the media you will need to either update your browser to a recent version or update your
Flash plugin
.
Promotion Text
Lebendige Vergangenheit
One would never have guessed the age of the tall, elegant, slender gentlemen who readily talked about his singing career in April 2006 in Milan. The gentleman, Giacinto Prandelli, remains una bella presenza as they say in Italy and at the age of 92 is still a living legacy to the 21st century. But despite all his vitality, he has been a historical singer for decades now. Historical not because his career developed during the Second World War or because he had his heyday decades ago and is now forgotten, but because a listener to his recordings is transported back in time to a longlost world of vocal artistry. A world in which the virtues of the vocal training (much and unjustly criticised in Italy) in the period between the world wars can still be heard, its roots firmly planted in the singing of the great artists of the 19th century. It was a time in which high standards of vocal technique were basic prerequisites for a professional singer, as were elegance, imagination, sensitivity, fine phrasing, text clarity, taste and musical precision. The number of Italian tenors singing at a high level on the international stage was correspondingly high in those days. Today we find specialists singing Baroque opera or Rossini's works with a degree of skill that was unimaginable a few decades ago. But it is almost impossible to find a suitable cast for the 19th-century Italian operas that were the basis of Prandelli's career and remain a principal part of the standard repertoire of large and medium-sized opera houses today. This assertion is confirmed by Prandelli's recordings. Today it is obviously rare to find a tenor with the range of capabilities that Prandelli had at his disposal, including his manner of singing in soft mezza voce and of using his voix mixte, the expressive and dynamically modulated and always controlled shading of his voice in every register, his perfect legato and precise intonation, his messa di voce (seamless crescendo and diminuendo on a note) and his correctly executed passaggio di registro (the difficult transition around f', f#' and g') as well as, not least, his great musicality. To understand the high level this singer attained, it suffices to listen to his famous recording of Ernesto's recitative and aria from Don Pasquale, an interpretation that is in no way inferior to that of Tito Schipa and has never been bettered (a compelling example is Prandelli's impressive diminuendo on the word cancellar at the end of the aria's final phrase). Even as a child, Giacinto Prandelli (* 8.2.1914, Lumezzane near Brescia) showed an obvious love of opera and a preference not to follow in his industrialist father's footsteps. At the age of 20 he began studying voice with the baritone Edmondo Grandini in Brescia and made his first public appearance in 1938 at a Verdi concert in Busseto. A critic writing in the Gazzetta di Parma noted the abilities of the young singer and perceptively called him "a true revelation […] because of the beautiful timbre of his tenor voice and his pronounced musicality", predicting a great future for him. Because of this initial success, Prandelli further intensified his studies, which led to his debut at Teatro Donizetti in Bergamo in September 1940. Under the baton of Gianandrea Gavazzeni, who may be said to have discovered him, he appeared in the première performance of the opera Il mito di Caino by Franco Margola (earning a fee of 1000 Lire). The following year he appeared at the same house in Jamanto by Barbara Giuranna (the only female opera composer of the time). This, too, pointed the way ahead for Prandelli's future: over the course of his career he sang in numerous other modern operas. The success of the concerts that Prandelli sang in September and December 1941 in Venice, Bergamo and Turin with works by Gianandrea Gavazzeni and Francesco Cilea led to an invitation to appear in concerts of the radio network EIAR (Ente Italiano per le Audizioni Radiofoniche, the predecessor of the national broadcaster RAI) in Rome and Turin. This in turn led to his debut at Teatro Corso in Bologna. There he appeared with great success in Puccini's La bohème. The EIAR then engaged Prandelli for concerts and radio productions of opera and offered him the opportunity of taking part in vocal and musical training courses that it was staging. Apart from important performances, which included opening the radio season by singing in Catalani's La Wally with Pampanini, Tagliabue and Neroni, Prandelli also had the opportunity of taking part in big radio productions, such as Ponchielli's La Gioconda with Cigna, Stignani, Basiola and Neroni. These and other engagements in 1942 were a point of departure for Prandelli's great career in Italy and abroad. Following his success in La Gioconda in Rome, where he took over the role from Beniamino Gigli, and his debut as Alfredo in La traviata under the baton of Tullio Serafin (with Margherita Carosio and Tito Gobbi, 1943), he was invited by the artistic director of the Teatro alla Scala in Milan, Gino Marinuzzi, to take part in a stagione at Teatro Lirico in Milan to mark the 20th anniversary of Puccini's death. There he appeared in Gianni Schicchi, Le villi and Madama Butterfly. The Butterfly was conducted by the great maestro Antonio Guarnieri, and the result was that the two of them worked together for many years, beginning with Prandelli's appearances in Massenet's Manon (Bergamo, 1945) and Verdi's Messa da requiem (Trieste, 1945). After the war, Prandelli's debuts on the great stages of Naples, Palermo, Catania, Genoa, Parma, Florence, the Arena in Verona, Geneva, Brussels and Zurich followed one another in quick succession. In 1948 he toured Spain with Victoria de los Angeles, Gino Bechi and Carlo Tagliabue as his partners. In 1949 …
Amazon, iTunes, Spotify & Co.