Lebendige Vergangenheit - Georgi Vinogradov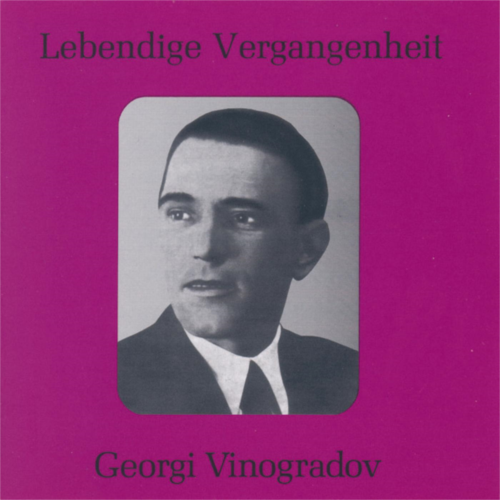 | | |
| --- | --- |
| Artist | Georgi Vinogradov |
| Title | Lebendige Vergangenheit - Georgi Vinogradov |
| | |
| Release Date | Monday, September 11, 2006 |
| Genre | Classical > Choro |
| | |
| Composers | Robert Schumann, Nicolai Rimsky - Korsakov, Sergej Wassiljewitsch Rachmaninoff, Anton Rubinstein, Peter Ilyich Tchaikovsky |
| Songwriters | Heinrich Heine, Konstantin Romanov, Pushkin, Yakov Petrovich Polonsky, Aleksei Apukhtin, Julius Mosen, Afanasii Fet, Nikolaus Lenau, Konstantin Balmont, Georgi Vinogradov |
| | |
| Copyright | © Preiser Records |
| Country | AUSTRIA |
Update Required
To play the media you will need to either update your browser to a recent version or update your
Flash plugin
.
Promotion Text
Lebendige Vergangenheit
Am 16. November 1908 in Kasan an der mittleren Wolga geboren, der Hauptstadt der Tatarischen Republik, schlug Georgy Vinogradov nach frühen musikalischen Erfahrungen im Kinder- und Kirchenchor zunächst eine ganz andere berufliche Richtung ein. Musik betrieb er lediglich nebenbei, zum Zeitvertreib, als Gasthörer in den Klassen für Geige und Bratsche am Kasaner musikalischen Technikum, während er sein eigentliches Ingenieurstudium an der sogenannten Arbeiterfakultät absolvierte. Diese Sonderklassen waren eine soziale Errungenschaft der Oktoberrevolution von 1917 und sollten Arbeiter und Bauern ohne höhere Schulbildung auf den Besuch der Universität vorbereiten. Nachdem Vinogradov nach Moskau gekommen war, um an der Militärakademie für Fernmeldetechnik zu studieren, schloss er sich einer Laienmusikgruppe an. Hier begann er sich erstmals gezielt dem Gesang zu widmen. Sein Talent fiel auf, und er wurde bald zu Konzerten und Rundfunksendungen eingeladen. Systematischen Gesangsunterricht erhielt er erst als knapp 30jähriger im Studio des Moskauer Konservatoriums in der Klasse von N. G. Raisky. Entscheidend für Vinogradov wurde die Begegnung mit M. L. Lvov, einem Pädagogen des Allunions-Radio-Komitees. Dieser formte aus einem begabten Amateur einen professionellen Sänger. Lvov entwickelte Vinogradovs Gefühl für musikalische Phrasierung, arbeitete mit ihm an der Perfektionierung der Atem­ technik, an der Kultivierung eines besonders weichen Tonansatzes, an der Flexibilität der Stimme - alles Qualitäten, die den späteren exzellenten Sänger Vinogradov auszeichneten. Weiter verfeinerte der Tenor seine Gesangstechnik bei der Sopranistin Valeria Barsova, einer der führenden Solistinnen des Moskauer Bolschoi-Theaters, mit der er später auch Duette auf Schallplatte aufgenommen hat. Durch Lvovs Empfehlung wurde Vinogradov noch während seiner Ausbildung ins Vokalensemble des Allunions-Radios aufgenommen. Nachdem er 1938 zu den Preisträgern des großen Allunions-Gesangswettbewerbs zählte, war sowohl seine Karriere gesichert als auch in ihrem Wirkungsfeld abgesteckt. Vinogradov blieb während seiner gesamten Sängerlaufbahn ausschließlich Radiosänger, ist nie auf einer Bühne gestanden. Als Solist des Moskauer Rundfunks wirkte er in zahlreichen Übertragungen von kompletten Opern mit, etwa in Mozarts "Zauberflöte" und "Don Giovanni", Massenets "Manon", Thomas' ,,Mignon", Rachmaninovs "Francesca da Rimini"; daneben war er an unzähligen Konzerten beteiligt. Während des 2. Weltkriegs gab er als Mitglied einer speziell gebildeten Künstler-Frontbrigade über 1000 Konzerte vor Soldaten und in der Heimat. Nach Kriegsende nahm er seine Tätigkeit im Rundfunk wieder auf, gastierte im ganzen Land und vermittelte seine Erfahrungen an junge Sänger. Am 11. November 1980 ist Georgy Vinogradov in Moskau gestorben. Im Gegensatz zu seinen beiden berühmten Tenorkollegen vom Bolschoi-Theater, Ivan Koslovsky und Sergei Lemeshev, ist Georgy Vinogradov … Georgei Pavlovitch Vinogradov was born on November 16, 1908 in Kazan, the capital of the Tatar Republic. As a child he sang in a church choir, music being a mere pastime for him at first. Later he attended classes for violin and viola at the Kazan music college, while simultaneously studying engineering at the "Workers Faculty". These special classes were a social attainment of the 1917 October revolution and were designed to prepare those workers and peasants without high school education for university. Eventually Vinogradov left for Moscow to study telecommunication at the Military Academy and joined an amateur music group. Here he started study singing in earnest. Soon he was invited to give concerts and to broadcast. Only when he was in his thirties did he start serious singing tuition at the Moscow conservatoire in the class of N. G. Raisky. Of great importance for Vinogradov was his meeting with M. L. Lvov, a distinguished teacher at the All Union Radio Committee. It was he who turned the talented amateur into a professional singer. Lvov developed Vinogradov's empathy for musical phrasing, worked on the perfectioning of his breathing technique, the cultivation of a unusually gentle vocal emission, the flexibility of the voice - all the qualities, in fact, that subsequently characterized Vinogradov's excellence. Vinogradov also honed and polished his vocal technique with the soprano Valeria Barsova, one of the leading soloists at the Bolshoi theatre, with whom he later recorded duets. While still a student but replete with Lvov's letter of recommendation, Vinogradov was asked to join the vocal ensemble of the All Union Radio. In 1938 he was one of the prize-winners of the grand All Union Singing Competition, which ensured him not only a career, but also delineated his subsequent sphere of activity. Throughout his career, Vinogradov remained exclusively a radio singer. He never appeared on stage. As soloist of Moscow Radio, he took part in several complete opera broadcasts, viz: Mozart's "Magic Flute" and "Don Giovanni", Massenet's "Manon", Thomas' "Mignon", Rachmaninov's "Francesca da Rimini" as well as innumerable concerts. During World War II he became a member of the Red Army ensemble, especially formed to entertain the soldiers at the front and he took part in more than 1000 concerts. After 1945 Vinogradov continued his radio broadcasts, making guest appearances throughout the country and passing on his knowledge to young singers. Georgei Vinogradov died on November 11, 1980 in Moscow. Unlike Ivan Koslovsky and Sergei Lemeshev, his two famous tenor colleagues at the Bolshoi Theatre, Georgei Vinogradov …
Amazon, iTunes, Spotify & Co.