Four German Basses of the Past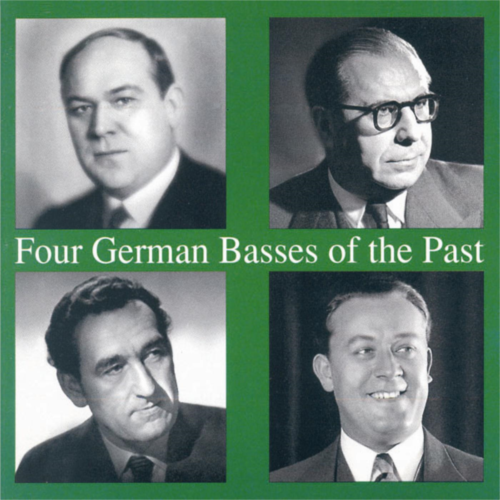 | | |
| --- | --- |
| Artist | Georg Hann |
| Title | Four German Basses of the Past |
| | |
| Release Date | Friday, October 6, 2006 |
| Genre | Classical > Choro |
| | |
| Composers | Wolfgang Amadeus Mozart, Richard Wagner, Giuseppe Verdi, Carl Orff, Hugo Wolf, Gioacchino Rossini |
| Songwriters | Sächsische Staatskapelle / Gottlob Frick, Sächsische Staatskapelle / Kurt Böhme, Ludwig Weber / Herbert Janssen / London Philharmonic Orchestra, Bayrisches Staatsorchester / Georg Hann, Orchester des Deutschen Opernhauses Berlin / Georg Hann, Gewandhausorchester Leipzig / Gottlob Frick / Erna Westenberger, Ludwig Weber / London Philharmonic Orchestra, Gottlob Frick / Sächsische Staatskapelle / Josef Herrmann / Margarete Teschemacher, Josef Herrmann / Kurt Böhme, Georg Hann / Bayrisches Staatsorchester |
| | |
| Copyright | © Preiser Records |
| Country | AUSTRIA |
Update Required
To play the media you will need to either update your browser to a recent version or update your
Flash plugin
.
Promotion Text
Lebendige Vergangenheit
Georg Hann was born in Vienna on 30 January 1897. He studied singing with Theodor Lierhammer at the Academy of Music in his home town, finishing in 1927. In that year he joined the Bavarian State Opera in Munich, remaining a member of the company until his death. Originally a baritone (one of his starring roles was Wolfram in "Tannhäuser"), he was cast mainly as a bass after Clemens Krauss took over as opera director in Munich. The change did not present a problem, thanks to his enormous ·range. Georg Hann was a favorite artist of the wartime "Reichsrundfunk", as is evident in recordings of countless complete operas and many songs. The record industry did not take notice of him until after the change to the bass repertoire; by this time Georg Hann was already 45 years old. Guest appearances took him to Vienna, Berlin, Paris, London and Brussels and to La Scala in Milan. At the Festivals in Salzburg he was heard in a wide range of roles. Georg Hann died unexpectedly in Munich on 9 December 1950. Like Georg Hann, Ludwig Weber was Viennese, born on 29 July 1899. He studied singing with Alfred Boruttau and made his debut in 1920 at the Vienna Volksoper, where he remained for five years. From 1925 to 1927 he was leading bass at the Stadttheater in Wuppertal and from 1927 to 1932 at the opera house in Düsseldorf. After singing at the Cologne Opera in 1932-33 he became a member of the Bavarian State Opera, to which he belonged until 1945. In that year he joined the Vienna State Opera, where his career reached its climax. He scored sensational successes at the Salzburg Festival and he was one of the first stars in post-war Bayreuth. Among the scenes of guest appearances were La Scala in Milan, London's Covent Garden Opera, the Teatro Colon in Buenos Aires, Amsterdam and Brussels, as well as the Maggio musicale in Florence. Ludwig Weber was later made an honorary member of the Vienna State Opera. After leaving the stage he worked as a singing teacher. His recording career did not really start until after the Second World War, if one leaves out the live recordings of his guest performances in Paris and London. Ludwig Weber died on 9 December 1974 in Vienna. Gottlob Frick came from Württemberg, where he was born on 28 July 1906 in Ölbronn. He began his musical career singing in the chorus of the Stuttgart State Opera, while continuing his vocal training. In 1934 he made his debut as a soloist in Coburg and then sang at the municipal theatres in Freiburg im Breisgau and Königsberg. In 1938 Karl Böhm engaged him for the Dresden State Opera, where he shared the bass repertoire with Sven Nilsson and Kurt Böhme. His brilliant international career began after the Second World War. In 1950 he sang for the first time at the Metropolitan Opera in NewYork, in 1951 at Covent Garden and in Bayreuth. Vienna, Berlin and Hamburg were the focal points of his activities. In 1954 he became a member of the Bavarian State Opera and he appeared as a guest in Milan, London, Paris, Amsterdam and Brussels, as well as in South America. There are countless recordings of his voice, including an impressive number of complete operas. The cast of a "Reichsrundfunk" recording of the opera "Der Corregidor" by Hugo Wolf is rather an oddity, with Gottlob Frick appearing alongside Georg Hann and Kurt Böhme. Described by many experts as "the German king of 'black' basses", Gottlob Frick was still singing opera at the age of 70. He then retired to his Württemberg-Swabian home, where he died on 18 August 1994. Kurt Böhme was born on 5 May 1908 in Dresden, where he studied singing with Adolf Kluge at the local conservatory. After his debut at the Stadttheater in Bautzen, he had a contract with the Dresden State Opera from 1930 until 1949. After 1950 he was a member of the Bavarian State Opera, and he was also engaged by the Vienna State Opera as of 1955. In 1952 he sang the role of Pogner in "Meistersinger" in Bayreuth. Kurt Böhme was heard in guest performances in Milan, London, Lisbon and Budapest. In 1954 he made his Metropolitan debut as Pogner and toured South Africa. He was considered an outstanding interpreter of Ochs auf Lerchenau in "Rosenkavalier" and was highly regarded, especially in bass buffo roles. After the sudden death of his wife, he ended his career in 1985. His first recordings, by Electrola in Dresden, date from 1943. Kurt Böhme is heard as the duet partner of Josef Herrmann. Due to the scarcity of raw materials, these recordings were never issued, and the matrixes were destroyed in the war. Luckily, test pressings survived. Kurt Böhme died on 20 December 1989 in Munich.
Amazon, iTunes, Spotify & Co.