Four Famous Sopranos Of The Past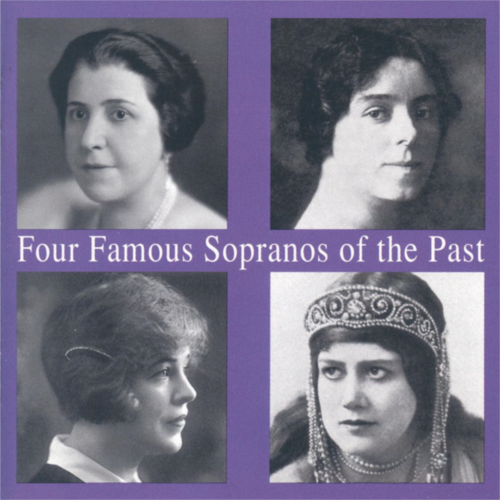 | | |
| --- | --- |
| Artist | Frida Leider |
| Title | Four Famous Sopranos Of The Past |
| | |
| Release Date | Wednesday, September 13, 2006 |
| Genre | Classical > Choro |
| | |
| Composers | Carl Maria von Weber, Richard Strauss, Giacomo Puccini, Pietro Mascagni, Ludwig van Beethoven, Wolfgang Amadeus Mozart, Richard Wagner, Christoph Willibald Gluck, Georges Bizet |
| Songwriters | Delia Reinhardt, Göta Ljungberg, Barbara Kemp, Frida Leider, Barbara Kemp / Tino Pattiera, Barbara Kemp / Delia Reinhardt / Marion Claire |
| | |
| Copyright | © Preiser Records |
| Country | AUSTRIA |
Update Required
To play the media you will need to either update your browser to a recent version or update your
Flash plugin
.
Promotion Text
Lebendige Vergangenheit
Born on April 18, 1888 in Berlin, Frida Leider studied singing in her free time while working in a bank in that city. She concluded her training with Otto Schwarz in Berlin. In 1915 she made her debut at the Stadttheater in Halle as Venus in "Tannhäuser". Her next engagement took her to Rostock in 1916, where she stayed until 1918. The theatre there did not have a heroic tenor in its opera department, Frida Leider therefore sang mainly Italian and Mozart roles. In 1918 she moved to the Opera House in Königsberg, andin 1920 she got a contract with the Hamburg Stadttheater. There she became the successor to Thea Drill-Oridge, one of the best known Wagner sopranos of the early 20th century. Her debut was as Leonore in "Fidelio", and that was followed by Aida. In three seasons she sang all the Wagner roles, as well as Ariadne, Donna Anna and several Italian parts. In 1921, during a guest appearance as Isolde, Frida Leider was hired by Max von Schillings for the Berlin State Opera; the engagement was sealed by a handshake while the performance was going on. A string of major successes at that house date from 1923. Under Erich Kleiber she sang Leonore in a new production of "Fidelio". Her debut role at London's Covent Garden Opera in 1924 was Isolde. Frida Leider was always a welcome guest in London, where she sang such Italian roles as Donna Anna, Leonora in "II trovatore" and Armida, in addition to her Wagner parts. 1928 marked her first appearance at the Bayreuth Festival, where she was heard as Brünnhilde and Kundry. In the same year she made her debut at the Chicago Opera as Brünnhilde in "Die Walküre". For four seasons she was one of the Chicago Opera's biggest star, singing Isolde, Venus, Leonore (Fidelio), Recha, Amelia, Kundry, the Marschallin and Mona Lisa. When her contract ended she was hired immediately by the Metropolitan Opera, where she made her debut on January 16, 1933 as Isolde. She stayed at the Metropolitan for only two seasons, however, and was heard only in Wagner roles. In 1931 she appeared at the Teatro Colon in Buenos Aires, and in 1927 she sang for the first time at La Scala in Milan - Brünnhilde in Italian. In 1938 Frida Leider's operatic career came to a sudden end. She was married to the leader of the Berlin State Opera Orchestra, Rudolf Demann, a non-Arian who was forced to emigrate to Switzerland in 1938. From that moment on, Frida Leider never set foot on the opera stage. We owe it to the well-known accompanist Michael Rauch­ eisen that her voice continued to be heard; he persuaded her to build up a song repertoire and give recitals with him. Her last appearance as a concert singer was on February 16, 1946 in a song recital together with her colleague and friend Margarete Klose. In later years, Frida Leider turned to opera direction; the crowning achievement of her work in this line was a production of Tristan in the autumn of 1947, conducted by Wilhelm Furtwängler. Frida Leider spent the last years of her life in her native city, Berlin. She died there on June 4, 1975. Barbara Kemp was born on December 12, 1881 in Kochern on the Mosel river. From 1902 to 1905 she studied at the conservatory in Strassburg. Already in 1903 she was engaged to sing small roles at the local state theatre. From 1906-08 she was an ensemble member of the State Theatre of Rostock, from 1909-13 she sang in Breslau. lt was there that she married the physician Dr. Mickley from whom she was subsequently divorced. In 1913 she joined the ensemble of the Berlin Hofoper where her career took wing. She sang Senta in the "Flying Dutchman" at the Bayreuth Festival in 1914 and, from 1924-27 she appeared regularly at the Vienna State Opera, 1922-24 she sang at the Metropolitan Opera, New York (debut: the eponymous heroine in Max von Schillings "Mona Lisa"). She also appeared in Den Haag and in Amsterdam, in Budapest and Prague, in Munich, Dresden and Hamburg. In 1923 she married the composer/conductor Max von Schillings, who - from 1919-25 - was director of the Berlin State Opera. Barbara Kemp's repertoire included the Italian spinto roles (Aida, Leonora in "II Trovatore", Santuzza) and also the Wagner and Strauss heroines. How highly Richard Strauss must have esteemed her is also shown by a letter he wrote to Max von Schillings in which he referred to a Vienna guest appearance of the artist: "I would like her (Barbara Kemp) to sing first in my production of "Flying Dutchman" and then immediately appear as Färberin in "Frau ohne Schatten", Marschallin in "Rosenkavalier", Salome, and perhaps Elektra, Eisa, Valentine, Donna Anna and Carmen." When Max von Schillings gave up his position as the director of the Berlin State Opera because of a disagreement with the Minister of Culture, Dr. Becker, Barbara Kemp also left the ensemble and concluded a guest artist contract. She terminated her career in 1932 and subsequently taught singing in Berlin. In 1939 she directed a splendid new production of "Mona Lisa" at the Berlin State Opera, in order - so it was said - to fulfill the exact intentions of the composer. On 17 April 1959 she died in Berlin. Delia Reinhardt was born on 27 April 1892 in Elberfeld. She had her first singing lessons from Prof. Strakosch in Wiesbaden, and then enrolled at the Conservatory in Frankfurt, where her teacher, Hedwig Schacko, …
Amazon, iTunes, Spotify & Co.