Frida Leider - Her rarest recordings 1921-1926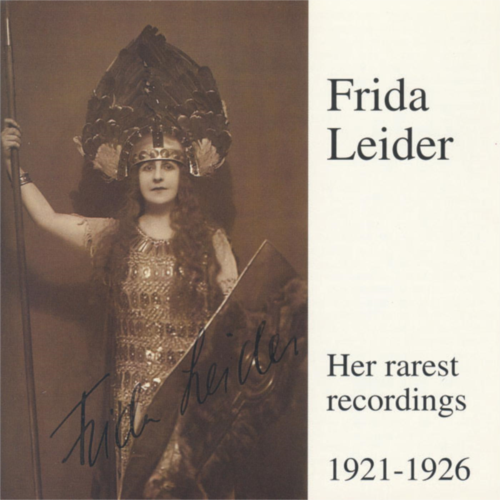 Update Required
To play the media you will need to either update your browser to a recent version or update your
Flash plugin
.
Promotion Text
Lebendige Vergangenheit
Frida Leider nimmt in der Reihe hervorragender hochdramatischer Sopranistinnen eine Sonderstellung ein. Ihr gelang in besonderem Maß die Vermenschlichung der Wagner-Heroinen und sie schuf damit einen neuen Sängertyp, der heute in geradezu glückhafter Weise von Birgit Nilsson verkörpert wird. So wie dieser war es Frida Leider möglich, sich im italienischen Fach ebenso zu bewähren, wie im Wagner-Repertoire. Die am 18. April 1888 in Berlin geborene Sängerin arbeitete zunächst als Angestellte in einer Berliner Bank und studierte in ihrer Freizeit Gesang. Sie schloss ihre Ausbildung bei Otto Schwarz in Berlin ab. 1915 debütierte sie am Stadttheater von Halle als Venus im "Tannhäuser". Ihr nächstes Engagement brachte sie 1916 nach Rostock, wo sie bis 1918 blieb. Das dortige Stadttheater verfügte jedoch über keinen Heldentenor, so dass Frida Leider in erster Linie in italienischen und in Mozart-Opern sang. 1918 erfolgte ein Engagement an das Opernhaus von Königsberg, 1920 wurde die Künstlerin an die Hamburgische Staatsoper berufen. Hier trat sie die Nachfolge von Thea Drill Oridge, einer der bekanntesten Wagner-Sängerinnen zu Beginn unseres Jahrhunderts an. Ihr Debüt fand als Leonore im "Fidelio" statt, gefolgt von einer Aida. In drei Spielzeiten sang sie alle Wagner­ Rollen, Ariadne, Donna Anna und verschiedene italienische Partien. 1923 wurde sie Mitglied der Berliner Staatsoper, an der sie bald große Erfolge hatte. Unter Erich Kleiber sang sie in einer Neuinszenierung des "Fidelio" die Leonore. 1924 erfolgte ihr Debüt an der Londoner Covent Garden Opera als Isolde im "Tristan". Frida Leider blieb ein gerngesehener Gast in London, wo sie auch in italienischer Sprache als Donna Anna, Troubadour-Leonore und als Armide zu hören war. 1928 sang sie erstmalig bei den Bayreuther Festspielen. Im gleichen Jahr debütierte sie an der Oper von Chicago als Brünnhilde in der "Walküre". Für vier Spielzeiten war sie einer der größten Stars dieses Institutes und sang dort Isolde, Venus, Leonore, Recha, Amelia, Kundry, Marschallin und Mona Lisa. Nach Ablauf ihres Vertrages wurde sie sofort an die Metropolitan Opera engagiert, an der sie am 16. Januar 1933 als Isolde debütierte. Hier blieb sie jedoch nur zwei Spielzeiten und war ausschließlich im Wagner-Fach zu hören. 1931 erschien sie am Teatro Colon von Buenos Aires, 1927 trat sie zum ersten Mal an der Mailänder Scala mit einer italienisch gesungenen Brünnhilde auf. 1938 fand ihre Opernkarriere ein jähes Ende; Frida Leider war mit dem Konzertmeister der Berliner Staatsoper Rudolf Deman verheiratet, der als Nichtarier 1938 …. Among dramatic sopranos, Frida Leider occupied a special place. She was able, to an un­ precedented degree, to lend human touches to Wagner's heroines, and by doing so she created a new kind of singer, of which a more recent exponent was Birgit Nilsson. Like her, Frida Leider made a name in the Italian repertoire as weil as in Wagner. Born on April 18, 1888 in Berlin, Frida Leider studied singing in her free time while working in a bank in that city. She concluded her training with Otto Schwarz in Berlin. In 1915 she made her debut at the Stadttheater in Halle as Venus in "Tannhäuser." Her next engagement took her in 1916 to Rostock, where she stayed until 1918. The theatre there did not have a heroic tenor in its opera department; Frida Leider therefore sang mainly Italian and Mozart röles. In 1918 she moved to the Opera House in Königsberg, and in 1920 she got a contract with the Hamburg Stadttheater. There she became the successor to Thea Drill-Oridge, one of the best known Wagner sopranos of the early 20th century. Her debut was as Leonore in "Fidelio," and that was followed by Aida. In three seasons she sang all the Wagner roles, as well as Ariadne, Donna Anna and several Italian parts. In 1921, during a guest appearance as Isolde, Frida Leider was hired by Max von Schillings for the Berlin State Opera; the engagement was sealed by a handshake while the performance was going on. Astring of major successes at that house date from 1923. Under Erich Kleiber she sang Leonore in a new production of "Fidelio." Her debut role at London's Covent Garden Opera in 1924 was lsolde. Frida Leider was always a welcome guest in London, where she sang such Italian roles as Donna Anna, Leonora in "II trovatore" and Armida, in addition to her Wagner parts. 1928 marked her first appearance at the Bayreuth Festival, where she was heard as Brünnhilde and Kundry. In the same year she made her debut at the Chicago Opera as Brünnhilde in "Die Walküre." For four seasons she was one of the Chicago Oper's biggest stare, singing Isolde, Venus, Leonore (Fidelio), Recha, Amelia, Kundry, the Marschallin and Mona Lisa. When her contract ended she was hired immediately by the Metropolitan Opera, where she made her debut on January 16, 1933 as Isolde. She stayed at the Metropolitan for only two seasons, however, and was heard only on Wagner roles. In 1931 she appeared at the Teatro Colon in Buenos Aires, and in 1927 she sang for the first time at La Scala in Milan - Brünnhilde in Italian. In 1938 Frida Leider's operatic career came to a sudden end. She was married to the leader of the Berlin State Opera Orchestra, Rudolf Demann, a non-Arian who was forced to emigrate to Switzerland in 1938. …
Amazon, iTunes, Spotify & Co.