Lebendige Vergangenheit - Franz Völker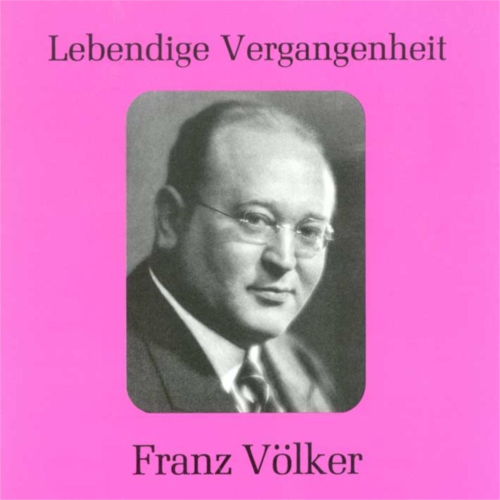 Update Required
To play the media you will need to either update your browser to a recent version or update your
Flash plugin
.
Promotion Text
Lebendige Vergangenheit
Zu den bekanntesten und bedeutendsten Sängern deutscher Herkunft zählt der Tenor Franz Völker. Der Künstler wurde in der Nähe von Frankfurt am Main, in Neu-Isenburg geboren, und zeigte schon von Kindheit an eine ausgeprägte Neigung zum Gesang. Bereits im Alter von zehn Jahren trug er in einem öffentlichen Konzert ein größeres Solo vor. In späteren Jahren war er geschätztes Mitglied zahlreicher Gesangsvereine und Liedertafeln, und wurde auch hier oftmals mit solistischen Aufgaben betraut. Nach dem Abitur, das er in Offenbach ablegte, trat Völker als Bankbeamter in den öffentlichen Dienst. Seine Tätigkeit währte zunächst nicht lange, denn er wurde bald darauf zum Militärdienst eingezogen. Während der Kriegsjahre fand er in der Artillerie Verwendung. Nebenher leitete er einen Männerchor, den er aus musikbegabten Soldaten zusammengestellt hatte. Einer seiner militärischen Vorgesetzten erkannte das große stimmliche Talent Völkers und stellte eine Verbindung mit dem Großherzoglichen Theater in Darmstadt her. Völker sang dort eines Tages vor und erweckte so starkes Interesse seitens der Theaterleitung, dass man ihm das Angebot einer kostenlosen stimmlichen Ausbildung machte. Das Ende des Krieges und die zweifelhafte Situation der Nachkriegszeit machten jedoch dieses Projekt zunichte, und Völker kehrte wieder zu seinem gesicherten bürgerlichen Beruf zurück. So verblieb er mehrere Jahre als Bankbeamter und brachte es schließlich zum Kassier der Frankfurter Disconto-Gesellschaft. In seiner Freizeit betätigte er sich weiterhin fleißig als Chorsänger. Die Wende in seinem Lebenslauf wurde erst bewirkt, als der Frankfurter Rundfunk im Jahre 1925 einen Amateursänger-Wettbewerb veranstaltete, an dem sich Völker beteiligte. Die Abstimmung erfolgte aufgrund einer Bewertung aus Hörer­ kreisen, und Völker, der die Arie "Freundlich blick ich auf diese und jene" aus Verdis Rigoletto vortrug, gewann die höchste Stimmenquote. Von nun an ergingen zahlreiche Angebote an ihn, Dirigenten und Theaterdirektoren begannen sich für ihn zu interessieren, …Franz Völker is one of the best known and most outstanding singers of German origin. He was born in Neu-Isenburg near Frankfurt am Main and his talent for singing became evident while he was still a child. At the age of only ten he sang a lengthy solo in a public concert. In the years that followed he was a valued member of a number of singing societies, in which he was frequently entrusted with solo parts. After graduating from high school in Offenbach, Völker went to work in a bank. He did not stay there long, for he was conscripted for mitlitary service. In the First World War he was in the artillery, but he also conducted a male chorus made up of soldiers who were musically gifted. One of Völker's superiors discovered his vocal talent and arranged an audition for him at the Grand-Duca! Theatre in Darmstadt. Völker's singing aroused such great interest that he was offered a free course of vocal training by the theatre's management. The end of the war and the uncertainties of the post-war era put an end to that project, and Völker returned to his secure pre-war occupation. For several years he remained a bank employee, gradually rising to the post of teller in the Frankfurt Disconto Gesellschaft. In his freetime he went on singing in choruses. The turning point in his career came in 1925, when Frankfurt Radioheld a contest for amateur singers, which Völker entered. The contest was decided by the response from listeners, and Völker, who san the aria "Questa o quella" from Verdi's "Rigoletto," got the highest number of votes. This brought Völker a number of offers. Conductors and theatre directors began to show an interest, …
Amazon, iTunes, Spotify & Co.