Lebendige Vergangenheit - Fernand Ansseau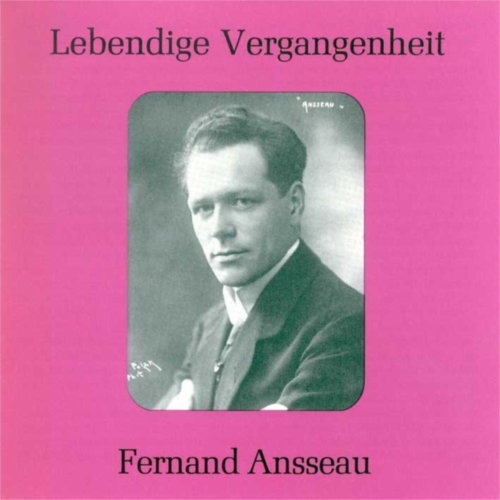 | | |
| --- | --- |
| Artist | Fernand Ansseau |
| Title | Lebendige Vergangenheit - Fernand Ansseau |
| | |
| Release Date | Wednesday, October 25, 2006 |
| Genre | Classical > Choro |
| | |
| Composers | Giacomo Puccini, Henry Fevrier, Hector Berlioz, Giacomo Meyerbeer, Ruggiero Leoncavallo, Jules Massenet, Richard Wagner, Georges Bizet, Charles Gounod |
| Songwriters | Fernand Ansseau, Fanny Heldy / Fernand Ansseau |
| | |
| Copyright | © Preiser Records |
| Country | AUSTRIA |
Update Required
To play the media you will need to either update your browser to a recent version or update your
Flash plugin
.
Promotion Text
Lebendige Vergangenheit
Die absolute Sesshaftigkeit ist ein Signum der großen Gesangskünstler belgischer Herkunft. Die Verehrung und Liebe, die ihnen das einheimische Publikum zu teil werden ließ, war ihnen offenbar von höherer Bedeutung als der Kampf um internationale Anerkennung. In gewissem Ausmaß trifft-diese Charakteristik auch auf den belgischen Tenoristen Ansseau zu, der zwar zahlreiche große Auslandserfolge verbuchen konnte, und doch nicht jene Spitzenposition erreichte, die ihm aufgrund seiner außerordentlichen künstlerischen Fähigkeiten zugestanden wäre. Fernand Ansseau kam in der Nähe von Mons als Sohn eines Organisten zur Welt, und betätigte sich bereits im Kindesalter als Chorsänger. Auch während seiner Lehrzeit (er strebte den Beruf eines Buchdruckers an) wirkte er häufig als Sänger im heimischen Kirchenchor. In dieser Sphäre der kirchlichen Musik konnte er die ersten Anzeichen seiner großen gesanglichen Begabung unter Beweis stellen. Schließlich widmete er sich auf den Konservatorien in Mons und Brüssel ganz dem Studium der Musik. Anfänglich wurde er noch im Baritonfach unter­ richtet, aber im Laufe der Studienzeit stellte sich seine wahre Stimmlage (Tenor) eindeutig heraus. Im Jahre 1913 debütierte er in Dijon als Jean in Massenets Oper "Herodiade". Während seiner Wirkungszeit in Dijon (1913 - 1918) sang er mit wachsendem Erfolg in den weiteren Opern: ,,Margarethe", ,,Louise", ,,Sigurd" (Reyer), ,,Les Barbares" (Saint-Saens). Während der Jahre der deutschen Besetzung Belgiens weigerte er sich aufzutreten und wirkte nur fallweise bei Akademien und Konzerten mit. Als nach Beendigung der Kriegswirren das Opernhaus zu Brüssel feierlich wiedereröffnet wurde, befand sich Ansseau als Erster dramatischer Tenor unter den neuen engagierten Kräften des Hauses. Namentlich in Aubers Freiheitsoper "Die Stumme von Portici" wurde er als Sänger und Patriot gefeiert. In seiner Brüsseler Wirkungszeit sang er nun in "Carmen", ,,Manon", "Aida", ,,Tosca", ,,Bajazzo", ,,Fausts Verdammung", ,,Romeo und Julia". Brüssel blieb von nun bis zum Ende seiner Karriere der Zentralpunkt seines künstlerischen Wirkens. Bedeutende Erfolge waren ihm in England und Amerika beschieden. Am 23. Mai 1919 debütierte Ansseau an der Londoner Covent Garden Opera in "Manon" und hinterließ hier auch als Faust, Romeo, Canio und Cavaradossi bedeutende Eindrücke. Unter seinen Partnerinnen befanden sich Opernsterne vom Range der Nellie Melba und Marie- Louise Edvina. Während der Jahre 1923 bis 1928 gehörte er als stabiles Mitglied dem Chicago Civic Opera House an, und erntete hier triumphale Erfolge. Seine bedeutendsten Kreationen waren hier der Samson (eine Partie, in der man ihn häufig mit Caruso verglich), Don Jose, Romeo, sowie die führenden Tenorrollen in "Louise" und Montemezzis ,,L' Amore dei tre Re". Während der Saison 1925 /26 nahm er an einer großen Tournee der Chicago Opera teil, die von San Franziska bis nach Miami führte. 1920 sang er in Paris an der "Opera comique" (Werther, Don Jose, Cavaradossi, Des Grieux), im darauffolgenden Jahre ebendort den Gluckschen Orpheus in einer aufsehenerregenden Darbietung. Weitere Gastspiele führten ihn nach Cannes, Monte Carlo und in verschiedene andere Städte. Den letzten Abschnitt seiner Wirkungszeit verbrachte er wieder in Brüssel, … Absolute artistic allegiance to home soil has always been characteristic of the great Belgian artists. The veneration accorded to them by the native public was, it seems, of greater importance than the fight for international recognition. To a certain extent this also applies to the Belgian tenor Fernand Ansseau, who, although he frequently appeared abroad, nevertheless did not enjoy the international career that his vocal capabilities would have predestined him for. Ansseau was born near Mons, the son of an organist and, during his childhood, he sang in the choir. Later he was apprenticed to a book printer but continued to sing in the church choir. lt was in church music, that he initially made his mark. Subsequently he concentrated on his music studies at the conservatoire in Mons and Brussels. Trained as a baritone, he eventually realised his true vocation as a tenor. In 1913 he made his debut in Dijon as Jean in Massent's Opera "Herodiade". During his time in Dijon (1913 - 1918) he appeared, with increasing success, in "Faust", "Louise", "Sigurd" (Reyer) and "Les Barbares" (Saint­ Saens). He refused to appear on the operatic stage during the German occupation of Belgium and only occasionally gave concerts. When the Brussels opera house was ceremoniously reopened after the war, Ansseau' was the leading dramatic tenor of the house. Especially in Auber's liberation opera "La muette di Portici" he was frenetically applauded not only as tenor but also as a patriot. During his time in Brussels he appeared as Don Jose, Des Grieux "Manon", Radames, Cavaradossi, Canio Faust (Berlioz) and Romeo. He remained in Brussels until he terminated his artistic career. He also made successful guest appearances in England and USA. On 23. May 1919 Ansseau made his debut at Covent Garden in "Manon" and was acclaimed as Faust, Romeo, Canio and Cavaradossi. Among his partners were such stellar singers as Nellie Melba and Marie­ Louise Edvina. From 1923 to 1928 he was a regular member of the Chicago Civic Opera and enjoyed enormous popularity. His most important roles there were Samson (a portrayal which was equated with Caruso's), Don Jose, Romeo as well as the tenor lead in "Louise" and Montemezzi's "L' Amore dei tre Re". During the 1925 26 season he toured with the Chicago Opera, from San Francisco to Miami. In 1920 he sang in Paris at the Opera Comique (Werther, Don Jose, Cavaradossi, Des Grieux) and the next year Gluck's "Orfeo" in a highly acclaimed production. Further guest appearances took him to Cannes, Monte Carlo as well as various other cities. He spent the final years of his career in Brussels …
Amazon, iTunes, Spotify & Co.