Lebendige Vergangenheit - Four Famous Basses of the Past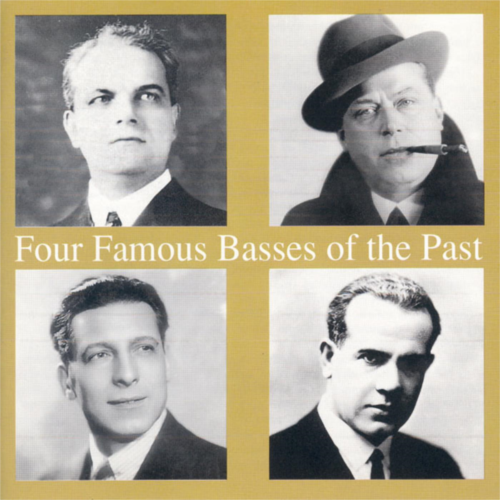 | | |
| --- | --- |
| Artist | Ezio Pinza |
| Title | Lebendige Vergangenheit - Four Famous Basses of the Past |
| | |
| Release Date | Tuesday, September 12, 2006 |
| Genre | Classical > Choro |
| | |
| Composers | Arrigo Boito, Giacomo Puccini, Giuseppe Verdi, Gioacchino Rossini, Giacomo Meyerbeer, Vincenzo Bellini, Ambroise Thomas, Jules Massenet, Jacques Fromental Halevy, Wolfgang Amadeus Mozart, Gustave Charpentier |
| Songwriters | Tancredi Pasero, Ezio Pinza, Marcel Journet, Nazzareno De Angelis |
| | |
| Copyright | © Preiser Records |
| Country | AUSTRIA |
Update Required
To play the media you will need to either update your browser to a recent version or update your
Flash plugin
.
Promotion Text
Lebendige Vergangenheit
Of the four basses represented on this CD Marcel Journet unquestionably was the most versatile one. During his remarkably long career, from 1891 until his death in 1933, he sang roles of the French, Italian, German and even Russian repertoire; in his late years he also attempted baritone roles. Born on July 25th 1867 in a town called Grasse in Southern France Journet studied at the Conservatory in Paris and debuted in 1891 in Beziers. From 1892 on he was a member of the Theatre de Monnaie in Brussels. At Covent Garden the singer appeared for the first time in 1897 and in November 1900 Journet arrived at the MET; at both opera houses he was overshadowed by the famous basses Edouard De Reszke and Pol Plan9on. To everybody 's surprise the singer left the MET in the middle of the 1907/08 season to become the celebrated star of the Grand Opera de Paris where he remained until his death. Journet appeared in the United States, London, Buenos Aires and Monte Carlo. In 1917 Marcel Journet made his "Scala" debut and became a regular member of the Toscanini Ensemble in 1922. In this and the following year he inter­ preted the role of Hans Sachs - in Italian '- Veit Pogner, by the way, was a young newcomer called Ezio Pinza. Mephistopheles in Gounod's "Faust" was considered Journet's greatest achievement; he recorded the complete opera at the age of 63. Marcel Journet made his first records in 1905 and his last one in 1933, the year of his death. Nazzareno De Angelis, Ezio Pinza and Tancredi Pasero represent Italy's glorious Bass-Triad of the first half of our century. Three singers who, although sharing the same repertory at nearly the same time, had a very distinct artistic conception which made each of them excell in his own field. Nazzareno De Angelis was born in Rome in 1881. After having finished school he studied singing at Rome's Accademia di Santa Cecilia and made his stage debut in Aquila in 1903. He enjoyed a big success at the Teatro Quirino in Rome in 1904 and went on tour through Holland in 1905. De Angelis made his first appearance at "La Scala" on January 15th 1907 in "La Gioconda". In 1911 the singer made the first of his numerous tours through South America. One of his career's highpoints was his participation in the world premiere of Montemezzi's "L'amore dei tre re" at "La Scala" on April 10th 1913. Guest appearances brought De Angelis to all important European opera houses as well as to the United States. De Angelis retired from the operatic stage in 1939 but remained active as a concert singer throughout the years of World War II. On December 14th 1962 Nazzareno De Angelis died in Rome. Ezio Pinza was a singer of world wide reputation. He was highly esteemed for his brilliant musicality by all significant conductors of his time, especially by Toscanini, although - like the singer admitted once - he never really leamed to read notes... Little is known about the artist's youth and his first experiences with opera. Even the date of his birth ----: mostly dated May 1892 - is questionable. Pinza himself made known greatly varying versions of his youth and his years of studying. Being born in Rome as the seventh son of a workman he devoted himself to sport. For a certain time Pinza even was a professional bicycle racer. Gradually he started to take interest in music and studied only for a short period at the Conservatories of Ravenna and Bologna - where Pinza said to have been dismissed for lack of musical talent. In 1914 his debut took place in Soncino as Oroveso in a Stagione performance of Bellini's "Norma". During World War I Pinza was called into the army and attained the rank of a captain of the artillery. In 1922 he appeared for the first time on the stage of "La Scala" and continued to sing there, mainly under Toscanini's baton, the bass roles of the old Belcanto repertoire: "Norma", "La vestale", "I puritani", "Lucia di Lammermoor", etc. From 1926 to 1948 Pinza was the leading bass singer of his time at the MET. After he bade farewell to the operatic stage the singer switched to entertainment, became the star of various "shows" and appeared in musicals on Broadway. On May 9th 1957 Ezio Pinza died of a sudden heart attack. Tancredi Pasero owes his vocal training to the once well known baritone Arturo Pessina. Born on January 11th 1893 he made his debut in 1917 in Turin, the city of his birth, in the role of the King in "Aida". There followed numerous engagements in smaller parts before he sang his first major role (Rodolfo in Bellini's "Sonnambula") in Vicenza on December 15th 1918 - the date which the singer later considered to be the beginning of his artistic life. Shortly afterwards he repeated the role at "La Scala" in Milan. In the course of his illustrious and unusually long career Pasero appeared mostly in Italy. His main house was "La Scala" where Toscanini engaged him for leading roles. He made successful guest appearances at Covent Garden, in Paris, Brussels, Barcelona, Buenos Aires, Berlin and Hamburg. He was a member of the MET from November 1929 to March 1933 where he had the opportunity to appear in the great bass roles of the Italian repertoire. Pasero also appeared very often at the Arena di Verona during the summer seasons. The repertory presented there in the course of more than a decade and a half clearly indicates the artistic breadth of this artist. In 1933 he sang Marcel in Meyerbeer's "Les Huguenots", in 1935 Oroveso in "Norma" …
Amazon, iTunes, Spotify & Co.