Lebendige Vergangenheit - Erna Berger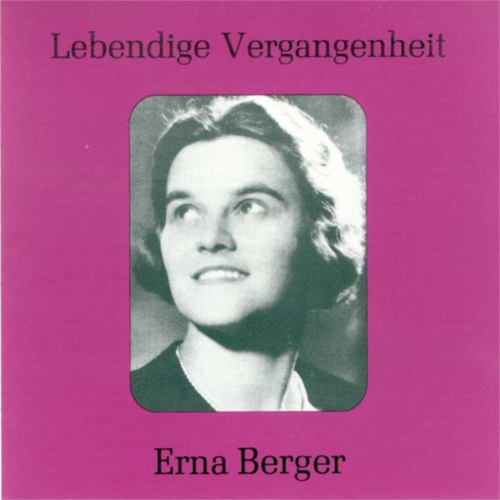 | | |
| --- | --- |
| Artist | Erna Berger |
| Title | Lebendige Vergangenheit - Erna Berger |
| | |
| Release Date | Monday, September 11, 2006 |
| Genre | Classical > Choro |
| | |
| Composers | Giacomo Puccini, Johann (Sohn) Strauß, Giuseppe Verdi, Otto Nicolai, Carl Maria von Weber, Wolfgang Amadeus Mozart, Gioacchino Rossini, Edward Grieg, Georges Bizet, Richard Strauss, Daniel - François Auber |
| Songwriters | Orchester der Staatsoper Berlin / Erna Berger, Orchester der Staatsoper Berlin / Erna Berger / Charlotte Müller, Erna Berger / Orchester der Staatsoper Berlin, Orchester der Staatsoper Berlin / Erna Berger / Heinrich Schlusnus, Erna Berger / Orchester der Staatsoper Berlin / Tiana Lemnitz, Orchester der Staatsoper Berlin / Erna Berger / Viorica Ursuleac |
| | |
| Copyright | © Preiser Records |
| Country | AUSTRIA |
Update Required
To play the media you will need to either update your browser to a recent version or update your
Flash plugin
.
Promotion Text
Lebendige Vergangenheit
Die Stimme dieser hervorragenden Künstlerin lässt uns an Goethes berühmtes Gedicht "Der Sänger" denken, in welchem die Worte enthalten sind: ,,Ich singe wie der Vogel singt, der in den Zweigen wohnet". Denn trotz aller Schulung und technischer Finesse haftet dieser Gesangsstimme etwas erfrischend Naturbelassenes an, eine besondere Ausstrahlung von Sympathie, die sich mühelos auf den Hörer überträgt. Es ist eine bekannte Tatsache, dass sich das Geheimnis der Weitenwirkung von Gesangsstimmen nie eindeutig enträtseln lässt. Bei Erna Berger könnte man die wohltuende Leichtigkeit ihrer Tongebung als Argument angeben, ebenso den in allen Lagen ungetrübten, frei quellenden Klang ihres allzeit mädchenhaft wirkenden Organs. Dazu kommt noch eine ausdrucksmäßige Wärme, die bei Stimmen von so außerordentlich hoher Timbrierung sehr selten ist. Alle diese Eigenschaften, verbunden mit größter künstlerischer Vielseitigkeit und nimmermüdem Fleiß haben Erna Berger zu einer der größten Gesangskünstlerinnen erhoben, die Deutschland jemals hervorgebracht hat. Die Sängerin wurde im Jahr 1900 in der Nähe von Dresden als Tochter eines Eisenbahn-Ingenieurs geboren. Nach dem Ersten Weltkrieg wanderte ihre Familie nach Südamerika aus und die junge Erna Berger verbrachte einige Zeit in Paraguay als Hauslehrerin. Anfangs der Zwanzigerjahre kehrte sie wiederum nach Deutschland zurück. Auf den Rat von Elisabeth Rethberg wandte sie sich nun dem Gesangsstudium zu. Nach schwierigen Lehrjahren, in denen sie sich auch als Chorsängerin ihren Lebensunterhalt verdienen musste, wurde sie im Jahr 1925 von Fritz Busch an das Dresdener Opernhaus verpflichtet. Dresden war zu dieser Zeit die wohl interessanteste Opernstadt des deutschen Musikraums, sowohl vom Spielplan als auch vom Künstlerensemble her betrachtet. Erna Berger, die in Dresden als einer der drei Knaben in Mozarts "Zauberflöte" debütierte, sang zunächst verschiedene Soubrettenrollen aber auch Partien des Koloraturfachs wie etwa die Olympia in "Hoffmanns Erzählungen". Bald wurden ihr Rollen mit größeren Anforderungen anvertraut, wie etwa die Titelpartie in Paul Graeners Oper "Hanneles Himmelfahrt" (Uraufführung 1927). Als "Christelflein" in Pfitzners Oper gastierte sie 1929 an der Städtischen Oper Berlin und im darauf­ folgenden Jahr wirkte sie bei den Bayreuther Festspielen mit (Hirtenknabe in "Tannhäuser"). Im Jahr 1934 wurde sie von Wilhelm Furtwängler an die Berliner Staatsoper geholt, wo man sie als Ännchen im "Freischütz", als Martha, Gilda in "Rigoletto", Oskar in "Maskenball", Violetta in "La Traviata" und in vielen anderen Partien des Koloratur- und lyrischen Sopranfachs bewunderte. Eine besondere Hinneigung zeigte die Künstlerin zum Mozartgesang: ihre Konstanze in der "Entführung aus dem Serail", ihre Königin der Nacht in der "Zauberflöte", ihre Zerlina in "Don Giovanni" … The voice of this outstanding artist evokes Shelley's poem "To a skylark", which begins: "Hail to the, blithe Spirit! / Bird thou never wert / That from Heaven, or near it / Pourest thy full heart / In profuse strains of unpremeditated art," for, despite the evident schooling and technical finesse, Erna Berger's soprano does indeed seem so 'unpremeditated', that its very naturalness conveys itself directly to the listener. What exactly constitutes the effectivity of the singing voice has never been - nor will is ever be - fully explained. In Erna Berger's case one could cite the effortless ease of vocal production, the lithe limpidity throughout the range as well as the unusually youthful timbre. Erna Berger's voice was, moreover, blessed with an expressive warmth only too rare in stratospheric coloratura voices. All these characteristics, in combination with the utmost artistic diversity and unflagging industry have firmly established Erna Berger as one of the pre-eminent German artists. Erna Berger was born in 1900 near Dresden, the daughter of a railway engineer. After the First World War her family emigrated to South America and the young Erna Berger spent some time in Paraguay as a private tutor. In the early 1920s she returned to Germany. lt was Elisabeth Rethberg who advised her to undertake vocal training, but the times were difficult and, to make ends meet, Erna Berger eventually found herself in the opera chorus. Matters began to improve in 1925 when Fritz Busch asked her to join the ensemble of the Dresden Opera, at that time probably the most interesting opera house in all of Germany, not only as regards the repertoire but also the ensemble. Erna Berger made her debut in Dresden as one of the three boys in Mozart's "Magic Flute". Subsequently she was entrusted with various soubrette roles but was soon promoted to coloratura roles such as Olympia in "Tales of Hoffmann". Her success led more demanding roles such as the sponymous heroine in Paul Graener's opera "Hanneles Himmelfahrt" (World Premiere 1927). She made a guest appearance at the Berlin State Opera in 1929 as "Christelflein" in Pfitzner's opera and the following year she appeared at the Bayreuth Festival as the shepherd boy in "Tannhäuser". In 1934 Wilhelm Furtwängler engaged her to appear at the Berlin State Opera, where she sang Ännchen in "Freischütz", Martha, Gilda in "Rigoletto", Oscar in "Ballo in Maschera", Violetta in "La Traviata" as well as many other coloratura- and lyric roles. Erna Berger evinced a particular aptitude for the Mozart repertoire: her Constance in "Entführung", her Queen of the Night in the "Magic Flute", her Zerlina in "Don Giovanni" …
Amazon, iTunes, Spotify & Co.