Lebendige Vergangenheit - Erna Berger (Vol. 3)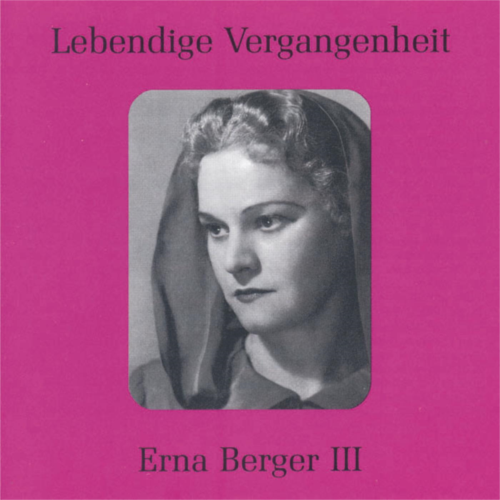 Update Required
To play the media you will need to either update your browser to a recent version or update your
Flash plugin
.
Promotion Text
Lebendige Vergangenheit
The voice of this outstanding artist evokes Shelley's poem "To a skylark", which begins: "Hail to the, blithe Spirit! / Bird thou never wert / That from Heaven, or near it / Pourest thy full heart / In profuse strains of unpremeditated art," for, despite the evident schooling and technical finesse, Erna Berger's soprano does indeed seem so 'unpremeditated', that its very naturalness conveys itself directly to the listener. What exactly constitutes the effectivity of the singing voice has never been - nor will is ever be - fully explained. In Erna Berger's case one could cite the effortless ease of vocal production, the lithe limpidity throughout the range as well as the unusually youthful timbre. Erna Berger's voice was, moreover, blessed with an expressive warmth only too rare in stratospheric coloratura voices. All these characteristics, in combination with the utmost artistic diversity and unflagging industry have firmly established Erna Berger as one of the pre-eminent German artists. Erna Berger was born in 1900 near Dresden, the daughter of a railway engineer. After the First World War her family emigrated to South America and the young Erna Berger spent some time in Paraguay as a private tutor. In the early 1920s she returned to Germany. lt was Elisabeth Rethberg who advised her to undertake vocal training, but the times were difficult and, to make ends meet, Erna Berger eventually found herself in the opera chorus. Matters began to improve in 1925 when Fritz Busch asked her to join the ensemble of the Dresden Opera, at that time probably the most interesting opera house in all of Germany, not only as regards the repertoire but also the ensemble. Erna Berger made her debut in Dresden as one of the three boys in Mozart's "Magic Flute". Subsequently she was entrusted with various soubrette roles but was soon promoted to coloratura roles such as Olympia in "Tales of Hoffmann". Her success led more demanding roles such as the sponymous heroine in Paul Graener's opera "Hanneles Himmelfahrt" (World Premiere 1927). She made a guest appearance at the Berlin State Opera in 1929 as "Christelflein" in Pfitzner's opera and the following year she appeared at the Bayreuth Festival as the shepherd boy in "Tannhäuser". In 1934 Wilhelm Furtwängler engaged her to appear at the Berlin State Opera, where she sang Ännchen in "Freischütz", Martha, Gilda in "Rigoletto", Oscar in "Ballo in Maschera", Violetta in "La Traviata" as well as many other coloratura- and lyric roles. Erna Berger evinced a particular aptitude for the Mozart repertoire: her Constance in "Entführung", her Queen of the Night in the "Magic Flute", her Zerlina in "Don Giovanni" were among her most outstanding achievements. By 1945 Erna Berger had appeared as a guest in many German opera houses. Now her international career started. She appeared at the Metropolitan Opera in the 1949/50 season, where she enjoyed an enormous success as Gilda in "Rigoletto". Subsequently her vocal artistry was acclaimed in Australia, Japan and many other countries. Apart from her operatic activities Erna Berger was also an outstanding concert artist, on an equal footing with the most renowned lieder singers of her time. Special mention must be made of the fact that Erna Berger was able to retain the youthfulness and individuality of her voice for a quite extraordinary length of time.
Amazon, iTunes, Spotify & Co.