Four Famous Sopranos of the Past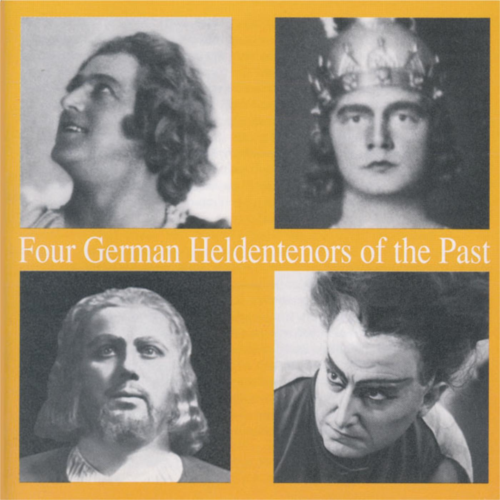 | | |
| --- | --- |
| Artist | Erna Berger |
| Title | Four Famous Sopranos of the Past |
| | |
| Release Date | Monday, September 11, 2006 |
| Genre | Classical > Choro |
| | |
| Composers | Wolfgang Amadeus Mozart, Gioacchino Rossini, Friedrich von Flotow, Carl Maria von Weber, Giuseppe Verdi, Jacques Offenbach, Giacomo Meyerbeer, Edward Grieg, Gaetano Donizetti, Ludwig van Beethoven, Charles Gounod, Luigi Arditi, Giacomo Puccini, Georges Bizet, Daniel - François Auber |
| Songwriters | Adele Kern, Erna Sack, Erna Berger, Miliza Korjus |
| | |
| Copyright | © Preiser Records |
| Country | AUSTRIA |
Update Required
To play the media you will need to either update your browser to a recent version or update your
Flash plugin
.
Promotion Text
Lebendige Vergangenheit
Erna Sack was born in Berlin-Spandau on 6 February 1898 and studied singing in Prague and Berlin. In 1928 she was engaged by the Städtische Oper in Berlin, but she was given only minor roles to sing. Finally, Bruno Walter advised her to build up her career via provincial theatres. Her first stop was Bielefeld, where she sang larger parts. At the end of the 1932 season she left the Bielefeld Stadttheater to begin an engagement at the State Theatre in Wiesbaden. Within a very short time she became a celebrated coloratura soprano. When the director of the Wiesbaden Opera left in 1933, Erna Sack followed him to his new location, Breslau, and there she had brilliant successes as Konstanze and Susanna. After some successful guest appearances, Karl Böhm invited her to join the Dresden Opera, where her contract began with the 1935-36 season. Before starting her engagement, she went on a concert tour to The Netherlands, England and France. In Dresden, Erna Sack sang Gilda, Zerbinetta, Marie in "The Daughter of the Regiment", Angelina in "Cinderella", and finally, in 193,7, Lucia in "Lucia di Lammermoor". When her concert tour schedule became more and more crowded, she dissolved her contract and worked from then on as a travelling star. Her career as a concert artist lasted until about 1956. She then took up residence again in Germany, spending the last years of her life in Wiesbaden, where, after a brief illness, she died on 2 March 1972. Erna Berger was born on 19 October 1900 in Cossebaude near Dresden. Her father was a railway engineer. After the First World War the family moved to South America, and the young Erna Berger spent some time in Paraguay as a private governess. At the beginning of the 1920s she returned to Germany. On the advice of Elisabeth Rethberg she began to study singing. After years of hardship spent mastering her trade, when she had to earn a living singing in choirs, she was engaged by Fritz Busch for the Dresden Opera in 1925. Her debut was as one of the three boys in "The Magic Flute". She started out by singing various soubrette parts, but also coloratura roles such as Olympia in "The Tales of Hoffmann". Soon she was entrusted with more demanding parts, for example the title role in Paul Graener's "Hanneles Himmelfahrt" (world premiere in 1927). As "Christelftein" in Pfitzner 's opera she made a guest appearance in 1929 at the Städtische Oper in Berlin, and the year after that she was in Bayreuth singing the Shepherd Boy in "Tannhäuser". In 1934 Wilhelm Furtwängler brought her to the Berlin State Opera where she was greatly admired as Ännchen in "Der Freischütz", as Martha, Gilda, Oskar, Violetta and in other coloratura and lyric soprano roles. Erna Berger had a special predisposition for Mozart; her Konstanze, Queen of the Night and Zerlina were among her finest performances. Until 1945 she appeared as a guest artist at many German opera houses; After the war her inter­ national career began. In the 1949-50 season she sang at the Metropolitan. Opera in New York, where her Gilda caused a sensation. Australia, Japan and many other countries were the scenes of further brilliant guest appearances. Erna Berger died at the age of 89 on 14 June 1990. Miliza Korjus, according to reports, was born on 18 August 1912 in Warsaw, but doubts have often been raised as to both the date and place of her birth. Her extra­ ordinary vocal talent was noticeable at a very early age, and her parents saw to it that she was given the best training available. Her first public appearance as a concert singer was in 1929 in Reval (Tallinn), Estonia. In 1933 she set out on a big concert tour which took her through Russia, Finland, Scandinavia, Germany and Austria. Max von Schillings heard her at a concert in Magdeburg and recommended her to the Berlin State Opera. In 1934 she made her operatic debut as Gilda, scoring an outstanding success. Miliza Korjus acquired a repertoire of some twenty roles, among them Lakme, Rosina, Violetta, the Queen of the Night and Santuzza. She sang opera not only •in Berlin but also in Kiev, Luceme, Stuttgart and Budapest, and otherwise concentrated mainly on her concerts. Her recordings gradually made her famous all over the world. America began to show interest in this stunning soprano for whom even the highest register posed no problems. The Metro-Goldwyn-Mayer Company brought her to Hollywood, where she had a leading role in the Johann Strauss film "The Great Waltz". In America she quickly became a popular star, and between 1938 and 1940 she gave a large number of concerts. From 1940 until 1944 Miliza Korjus lived in Mexiko, working mainly as a singer in radio broadcasts. In 1944 she appeared for the first time in New York's Camegie Hall; her concert was a triumph. A year later she went on tour in Canada; a series of concerts in South America followed. In the ensuing years, little was heard of Miliza Korjus. Not until 1964 did she draw public attention again with a new recording. She died in Los Angeles on 21 August 1980. Adele Kern came from Munich, where she was born on 25 November 1901 and also got her vocal training. After working for a short time in Munich, she went to Frankfurt am Main where director Clemens Krauss and producer Lothar Wallerstein supervised the development of her talent. On 10 March 1927 she made her debut in Vienna in the most difficult coloratura role of an; Zerbinetta, and this was followed by Philine in "Mignon" and Sophie in "Der Rosenkavalier". In the next season she appeared 22 times as a guest in Vienna, for she was still under contract to Frankfurt and for a tour of South America. As of September 1929 …
Amazon, iTunes, Spotify & Co.