Lebendige Vergangenheit - Enrico Molinari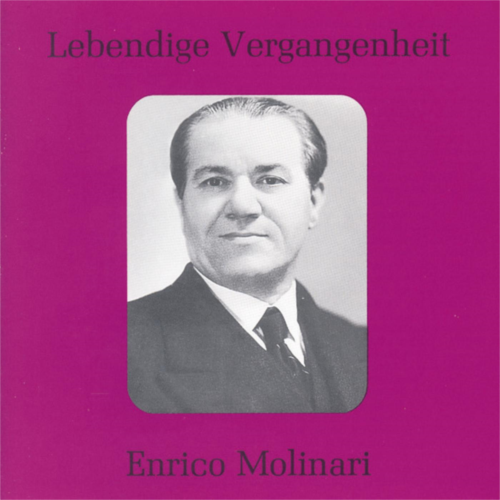 | | |
| --- | --- |
| Artist | Enrico Molinari |
| Title | Lebendige Vergangenheit - Enrico Molinari |
| | |
| Release Date | Monday, September 4, 2006 |
| Genre | Classical > Choro |
| | |
| Composers | Giacomo Meyerbeer, Arrigo Boito, Giuseppe Verdi, Richard Wagner, Umberto Giordano, Gioacchino Rossini, Charles Gounod |
| Songwriters | Enrico Molinari, Enrico Molinari / Nunu Sanchioni, Enrico Molinari / Ida Mannarini / Elena Cheni, Nunu Sanchioni / Enrico Molinari |
| | |
| Copyright | © Preiser Records |
| Country | AUSTRIA |
Update Required
To play the media you will need to either update your browser to a recent version or update your
Flash plugin
.
Promotion Text
Lebendige Vergangenheit
Quite a number of tenors started out as baritones. Rarely, however, have baritones begun as basses. While some basses - e.g. Marcel Journet or Paul Bender - extended their range sufficiently to sing selected baritone roles only Enrico Molinari successfully shifted from the bass to the true baritone repertoire. Molinari studied at the Liceo Marcello in Venice and made his debut as a bass, aged 24. His career at the time remained confined to Italy. Thus in 1908 we find him at the Teatro Reggio in Parma, where he sang in "La Sonnambula" oppposite Pareto and Macnez. In 1909 he was in Bergamo singing in "Mignon" (Maria Roggero and Luigi Marini) and in 1911 he sang Count Robinson there in "11 Matrimonio Segreto". Gradually he noticed that the tonal fulcrurn of his lyrical bass voice was shifting upwards. He resumed his vocal tuition and on January 25, 1916 he made his sec'ond debut at the Teatro Massimo in Palermo, singing Alfonso in "La Favorita" opposite Fanny Anitua and Navia. That same season fie also sang in "La Traviata" (opposite Ferraris), "lsabeau" (opposite Llopart, Anitua, Dolci and Autori) and Valentin in "Faust" (opposite Llopart, Navia and Masini-Peiralli). In 1917 he sang in the world premiere of "Liacle", his partners being Maria Wroblewska, Dolci and Baracchi and also "La Traviata" (opposite Mazzoleni and Dolci). In 1919 he made his debut in Rome, singing Figaro (opposite Elvira de Hildalgo, Perea and de Angelis), Scarpia (opposite Maria Labia), Amonasro and on March 6, the world premiere of "Jacqueri" by Gino Marinuzzi (opposite Gilda Dala Rizza and Edward Johnson, conducted by the composer). In 1920 he ventured abroad for the first time, singing Rigoletto, Amonasro, Escamillo and Alfonso in Barcelona. In 1923/24 he was back in Rome, singing Carlo Gerard (opposite De Muro, Nelusco opposite Poli-Randaccio, Pasini, Crimi and Pasero) and Gunther (opposite Burchi, Bassi and Pasero). The following year he sang Escamillo at La Scala (opposite Zinetti, Ctimi and Autori) Gerard (opposite Pertile and Hina Spani), Amonasro (Arangi Lombardi, Zinetti.and Pertile) and Telramund (Zamboni, Casazza and Pertile). Subsequently he sang in "Traviata" under Toscanini (Dalla Rizza). Returning to Rome in 1926 he sang Iago opposite Zenatello, Rigoletto opposite the young Bidu Sayao, as well as Amonasro, Gerard and Barnaba. He also made frequent guest appearances in Bologna, Genua and Parma as well as Budapest, Monte Carlo, Lisbon, Bukarest, Madrid and others. After 1935 his voice deteriorated and so - like Adolfo Pacini, Gino Lussardi and others before him - he starting buffo roles. For another ten years he sang cameo roles like the Sacristan in "Tosca", Alcindor in "Boheme" and, above all, Simone in Wolf-Ferrari's "I quattro Rusteghi", a role he sang at almost all Italian theatres. He retired in 1950 and spent his last years in Verdi's "Casa di Riposo" where he died in 1956. Molinari made quite a number of recordings when still singing the bass repertoire. These arias and duets were all recorded by HMV Italy. As a baritone he recorded exclusively for Columbia - making both acoustic (duets with Lina Romelli and Francesco Merli) and electric recordings. He took part in three complete opera recordings, viz: "Tosca" (Scacciati and Granda), "Trovatore" (Scacciati, Zinetti and Merli) and "Lucia" (Capsir, de Muro Lomanto and Baccaloni). Due to the plethora of baritones active at the time - viz: De Luca, Granforte, Rimini, Stabile, Galeffi, De Franceschi, Viglione Borghese, Ruffo, Beuf, Montesanto, Basiola, Stracciari - Molinari has been somewhat underrated by present-day collectors. Yet, after all, so plentiful was the supply of first-rate baritones that not all could sing at the Metropolitan Opera or Covent Garden. Molinari's records prove that he was a first-class bel canto singer. Having started his career as bass he managed to retain a beautifully resonant lower register, a weak area of so many Italian baritones. Enrico Molinari was a truly noble Verdi baritone. It is high time that his vocal stature is afforded the recognition it deserves.
Amazon, iTunes, Spotify & Co.