Lebendige Vergangenheit - Emmy Bettendorf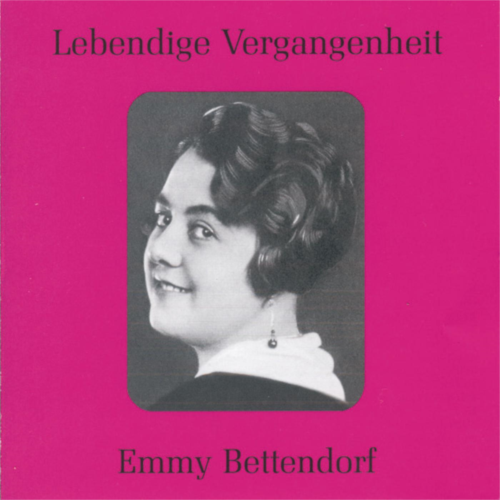 | | |
| --- | --- |
| Artist | Emmy Bettendorf |
| Title | Lebendige Vergangenheit - Emmy Bettendorf |
| | |
| Release Date | Saturday, November 18, 2006 |
| Genre | Classical > Choro |
| | |
| Composers | Richard Strauss, Wolfgang Amadeus Mozart, Richard Wagner, Carl Maria von Weber, Giuseppe Verdi, Peter Cornelius, Charles Gounod |
| Songwriters | Orchester der Staatsoper Berlin / Emmy Bettendorf, Emmy Bettendorf / Orchester der Staatsoper Berlin / Alfred Jerger, Emmy Bettendorf / Orchester der Staatsoper Berlin, Emmy Bettendorf / Lauritz Melchior / Orchester der Staatsoper Berlin, Orchester der Staatsoper Berlin / Emmy Bettendorf / Mizzi Fink, Emmy Bettendorf / Orchester der Staatsoper Berlin / Waldemar Henke / Margarete Arndt-Ober |
| | |
| Copyright | © Preiser Records |
| Country | AUSTRIA |
Update Required
To play the media you will need to either update your browser to a recent version or update your
Flash plugin
.
Promotion Text
Lebendige Vergangenheit
Emmy Bettendorf kam bereits in jungen Jahren zum Gesang. Sie war noch nicht einmal fünfzehn Jahre alt, als sie in der Frankfurter Oper vorsang. Ihre stimmliche Naturbegabung war so stark, dass sie von allen Seiten bedrängt wurde, um jeden Preis die Künstlerlaufbahn zu ergreifen. Im Jahre 1914 wurde sie mit einem Zweijahresvertrag an das Frankfurter Opernhaus verpflichtet. Ihre Debütrolle war die Gabriele in Kreutzers "Nachtlager von Granada". 1916 gastierte sie als Agathe an der Wiener Hofoper und ging sodann für vier Jahre nach Schwerin ins Engagement. Hier hatte sie Gelegenheit, ihr Repertoire nach allen Richtungen hin zu vergrößern, und sang mit wachsendem Erfolg sowohl lyrische als auch jugendlich-dramatische Partien. Eine Anzahl von Gastvorstellungen, die Emmy Heckmann-Bettendorf (diesen Namen trug sie am Anfang ihrer Karriere) an der Berliner Staatsoper im Jahre 1920 gab, führten schließlich zu einer Bindung an dieses Haus. Im selben Jahr unterzeichnete sie auch einen Kontrakt mit der Schallplattenfirma Parlophon. An der Berliner Staatsoper wirkte sie unter anderem auch in mehreren Uraufführungen mit, so in Franz Schrekers Oper "Die Gezeichneten" (1920) und in Max von Schillings "Mona Lisa" (1921). Ferner zählten folgende Rollen zu ihrem Berliner Repertoire: Marschallin im "Rosenkavalier", Leonore im "Troubadour", Tosca, Margarethe, Amelia, Senta, Elisabeth, Eva, Santuzza, Ighino in Pfitzners "Palestrina", Donna Anna und - allerdings nur ein einziges Mal - die Königin der Nacht. Im Jahre 1924 wechselte Emmy Bettendorf von der Staatsoper zur Berliner Städtischen Oper über, wo sie noch fünf Jahre in vielen Opern- und Operettenaufführungen wirkte. Gastrollen gab sie im Rahmen der von dem Sänger Cornelis Bronsgeest geleiteten Operngesellschaft in Holland, wo sie vor allem Gelegenheit hatte, als Mozartsängerin in Erscheinung zu treten. Auch bei ihrem Gastspiel am Teatro Liceo von Barcelona war sie im Mozart-Fach (Gräfin in "Die Hochzeit des Figaro") zu hören. Sie trat auch in der Waldoper von Zoppot auf und gab Operngastspiele und Konzertabende in fast allen größeren deutschen Städten. Während des Hitler-Regimes bemühte sich Emmy Bettendorf um ein Wieder-Engagement an eine der Berliner Bühnen, doch wegen ihrer strikten Weigerung, der nationalsozialistischen Partei beizutreten, kam es nicht dazu. Sie sang jedoch noch bis zum Kriegsende häufig bei Frontkonzerten und bereiste bei dieser Gelegenheit Griechenland, Albanien usw. Nach dem Jahre 1945 verlegte sich die Künstlerin auf die pädagogische Tätigkeit und leitete eine Opernklasse an der Berliner Musikhochschule. Zuletzt geriet die Künstlerin in jener Stadt, in der sie ihre größten Erfolge errungen hatte, ziemlich in Vergessenheit, sodass ihr Ableben im Jahre 1963 im Zuge der Ereignisse kaum bemerkt wurde. Emmy Bettendorf began singing at an early age. She had not yet turned fifteen when she sang an audition at the Frankfurt Opera, but her natural vocal talent was so great that she was pressured from all sides to pursue a career as a musical artist. In 1914 she signed a twoyear contract with the Frankfurt Opera, where she made her debut as Gabriele in Kreutzer's Nachtlager von Granada. In 1916 she made a guest appearance as Agathe at the Vienna Hofoper and then accepted an engagement in Schwerin, where she remained for four years. There she had the opportunity to expand her repertoire in every direction, singing both lyric and young-dramatic roles with increasing success. After a number of guest appearances at Berlin's Staatsoper in 1920, Emmy Heckmann- Bettendorf (the name she used early in her career) was engaged to sing at that house. In the same year she signed a contract with the record label Parlophon. At the Staatsoper she sang in a number of first performances, including Franz Schreker's opera Die Gezeichneten (1920) and Max von Schilling's Mona Lisa (1921). In addition, her Berlin repertoire included the following roles: Marschallin in Der Rosenkavalier, Leonore in Il trovatore, Tosca, Margarethe, Amelia, Senta, Elisabeth, Eva, Santuzza, Ighino in Pfitzner's Palestrina, Donna Anna and – although in one performance only – the Queen of the Night. In 1924 Emmy Bettendorf left Berlin's Staatsoper to go to the Städtische Oper in that city, participating in many performances of operas and operettas over the next five years. She made guest appearances in Holland with the opera society run by the singer Cornelis Bronsgeest, which gave her opportunities to appear primarily in Mozart operas. She was again heard as a Mozart singer during a guest appearance at Barcelona's Teatro Liceo (Countess in The Marriage of Figaro). She also appeared at the Waldoper in Zoppot (now Sopot, Poland) and sang in operas and concerts in almost every larger German city. During the Nazi regime, Bettendorf tried again to be engaged at one of the Berlin houses but was not hired because of her strict refusal to join the National Socialist Party. Nevertheless, until the end of the war she frequently appeared in concerts at the front, travelling to Greece, Albania, etc. as part of this activity. Bettendorf switched to teaching after 1945, directing an opera class at the Musikhochschule in Berlin. In the end the artist was largely forgotten in the city where she had achieved her greatest success, and her death in 1963 attracted little attention.
Amazon, iTunes, Spotify & Co.