Lebendige Vergangenheit - Emanuel List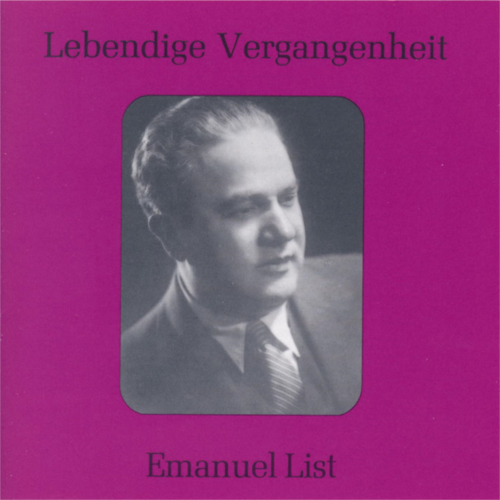 | | |
| --- | --- |
| Artist | Emanuel List / Orchester der Staatsoper Berlin |
| Title | Lebendige Vergangenheit - Emanuel List |
| | |
| Release Date | Monday, September 11, 2006 |
| Genre | Classical > Choro |
| | |
| Composers | Richard Strauss, Traditional Traditional, Carl Maria von Weber, Richard Wagner, Friedrich August Reissiger, Charles Gounod, Leopold Knebelsberger, Karl Binder, Ludwig Fischer, Otto Nicolai, Wolfgang Amadeus Mozart, Albert Lortzing, Peter Peters, Carl Michael Ziehrer |
| Songwriters | Emanuel List / Else Schürhoff, Traditional Traditional, Emanuel List / Orchester der Staatsoper Berlin, Emanuel List, Emanuel List / Meta Seinemeyer / Orchester der Staatsoper Berlin, Wolfgang Amadeus Mozart |
| | |
| Copyright | © Preiser Records |
| Country | AUSTRIA |
Update Required
To play the media you will need to either update your browser to a recent version or update your
Flash plugin
.
Promotion Text
Lebendige Vergangenheit
Emanuel List's dark, sonorous voice, a veritable black bass, can justifiably be considered one of the most important of his age. His vocal virility enabled him to plummet depths at which many a colleague was virtually inaudible. "Herr List did not achieve these notes by 'sleigh of voice', as it were, he truly possesses this range" wrote a surprised critic about the rare phenomenon of List's voluminous lower notes. List's voice, however, also extended to a powerful baritonal height, and, if needs be, he could taper off his vocal phrases in a softly floated piano. Thus, unlike many a colleague, the artist possessed a plethora of abilities which are a precondition for a world career. If his father had had his way, Emanuel List (born March 22, 1890 in Vienna) should have made his way as a tailor, but once his voice had been discovered a stage career seemed inevitable. Initially he appeared as an extra at the Theater an der Wien and also sang in the chorus. Subsequently the well-known teacher Emil Steger supervised the polish of this promising voice. Eventually he joined a vocal quartet that toured throughout Europe. Via London he came to New York where he continued his vocal studies, funding them by singing in cinemas. He did not return to Vienna until 1922 and was engaged to appear at the Vienna Volksoper. Tue house being relatively small, his towering portrayal of Mephistofele in "Faust" caused a sensation. At this point of time an engagement to the State Opera did not come about partly because there was not dearth of basses there at the time but chiefly because the overwhelming personality of Richard Mayr brooked not competition. Tue artist thus left for Berlin. There he initially sang at the Städtische Oper under Bruno Walter and, as of 1924, as 1. Bass at the. Staatsoper unter den Linden. Frequently he was compared to bis famous predecessor Paul Knüpfer, whose vocal style bad indeed been very similar. lt is common knowledge that the bass voices take langer time to mature, rarely reaching their full potential and beauty before the age of 40 - at a time when other singers, particularly tenors, evince the first signs of vocal decline. Emanuel List was no exception to this rule. His voice, bis theatrical ability and personality reached their mastery around 1930. Internationally he became well-known when he sang Mozart's-Commendatore in Salzburg in 1926, followed by a surprisingly humorous Osmin, who justifiably trembled in the encounter with the temperamental Blondchen but showed no trepidation whatever when he had to sing the feared low D's. List was especially acclaimed as Hagen - a role he endowed with a truly frightening devious­ ness and falsehood. When summoning bis vassals bis voice boomed with predatory power. As it happened, bis engagement in Bayreuth 1933 marked the end of bis career in Europe. He left for the US, appearing in many cities but, primarily, at the Metropolitan Opera, chiefly in Wagner operas. But also bis Ochs von Lerchenau was much admired, especially for the Viennese slant he gave the role. At the Vienna State Opera he first appeared on April 28, 1929 as Cardinal Brogni in Halevy's "La Juive". He did justice not only to the cantilena in Act I but also to the thunderous anathema of Act III. Tue full range of bis capabilities became apparent in Act IV in the encounter with Leo Slezak's Michelangelo-like Eleazar. An unforgettable Grant Opera scene of vocal and histrionic splendor. In 1934 he sang a wonderful Sarastro, evincing no difficulties whatever with the bottom F m the word "Doch" in the Sarastro/Pamina duet and in 1935 he presented bis Ochs von Lerchenau. In view of bis healthy vocal condition bis portrayal was primarily vocally oriented and from this sound foundation he developed bis theatrical characterisation, without any exaggeration or vulgarity. He played a jovial country gentleman who gets caught up in the snares of urban life but who never loses bis poise. Also, in this role bis stupendous range from a fully-rounded low C to a clarion high F sharp in Act II was much admired. Also, after World War II he sang this role at the Theater an der Wien but bis appearances were infrequent. His operatic career had thus come full circle. He spent the remainder of bis life in Vienna, continuing to take great interest in the artistic life of the city. List's fulfilled life came to an end on June 21, 1967. Emanuel List did not play fast and loose with bis natural gifts, he worked seriously and always strove for artistic perfection. This endeavor is fully borne out by bis recorded legacy.
Amazon, iTunes, Spotify & Co.