Four Famous German Sopranos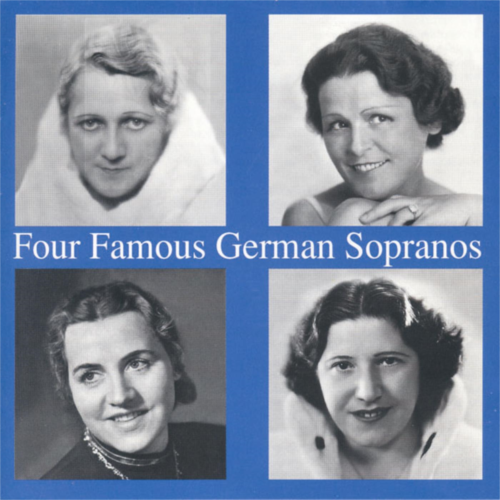 | | |
| --- | --- |
| Artist | Elisabeth Rethberg |
| Title | Four Famous German Sopranos |
| | |
| Release Date | Tuesday, September 12, 2006 |
| Genre | Classical > Choro |
| | |
| Composers | Richard Wagner, Carl Maria von Weber, Giacomo Meyerbeer, Giuseppe Verdi, Giacomo Puccini, Bedrich Smetana |
| Songwriters | Orchester der Bayreuther Festspiele / Maria Müller, Orchester der Bayreuther Festspiele / Maria Müller / Franz Völker, Städtisches Orchester Berlin / Maria Müller, Orchester der Staatsoper Berlin / Tiana Lemnitz, Elisabeth Rethberg / Orchester der Staatsoper Berlin, Orchester der Staatsoper Berlin / Tiana Lemnitz / Bruno Seidler - Winkler, Orchester der Staatsoper Berlin / Margarete Teschemacher, Orchester der Staatsoper Berlin / Margarete Teschemacher / Bruno Seidler - Winkler, Orchester der Staatsoper Berlin / Bruno Seidler - Winkler / Margarete Teschemacher |
| | |
| Copyright | © Preiser Records |
| Country | AUSTRIA |
Update Required
To play the media you will need to either update your browser to a recent version or update your
Flash plugin
.
Promotion Text
Lebendige Vergangenheit
Elisabeth Rethberg was born on 22. September 1894 in Schwarzenberg (Saxony). Her father, a school teacher, taught her the rudiments of music. In 1912 she registered at the Dresden conservatoire as a piano student and, although she had already participated in a few vocal recitals, favorably cominented upon in the local paper, singing was initially relegated to a secondary position. She proved so talented a pianist that she originally planned to become a concert pianist. Eventually her vocal coach, Otto Watrin, persuaded her otherwise. In 1915, at the age of twenty-one, she made her debut at the Dresdener Hofoper as Arsena in "Gypsy Baron". She remained in Dresden for the next seven years, where her partners included Richard Tauber and Robert Burg. Her exceptional musicality and her ability to learn new roles rapidly - she learnt the role of Elisabeth in "Tannhäuser" within ten days - enabled her to build up a considerable repertoire. By the time she left Dresden she had already mastered more than one hundred roles, including such diverse parts as Octavian and Sophie in "Rosenkavalier" (later she sang the Marschallin as well), Konstanze, Mimi, Empress (Frau ohne Schatten), Tosca, Madame Butterfly etc. In 1923 she and her teacher, Otto Watrin, travelled to New York and headed straight for the MET, where an Aida rehearsal was underway. The story goes that she was immediately requested to sing and, still in her travelling clothes, she launched into: "Ritoma vincitor?" rapturously applauded by the orchestra. She remained on the roster of the MET for the next twenty seasons, singing thirty-five roles, primarily in the Italian repertoire. Especially noted were her Aida, Desdemona, Leonora (Forza and Trovatore ), Santuzza but also Donna Anna, Sieglinde, Agathe, Pamina, Elsa and Recha (La Juive). She frequently retumed to Dresden where special "Rethberg weeks" were organised. She also appeared at the Salzburg Festival (Konstanze, Countess, Donna Anna), at La Scala and in most other important houses around the world. During her last season at the MET (1941/42) she even ventured to sing Brünnhilde in "Siegfried". Soon afterwards she retired from the stage but continued to live in New York. Maria Müller was born in the Sudetenland. She trained first at the Prague Conservatory, and subsequently was taught singing and stage deportment in Vienna by Erik Schmedes and Anna Bahr-Mildenburg, two of the celebrities of the Court Opera. Preparing for her career took many years, with the result that she was already thirty when she stood for the first time on the operatic stage. She made her debut in 1919 at the Linz Stadttheater as Elsa in "Lohengrin". From 1920 to 1921 she was at the Stadt­ theater in Brno, and from 1921 to 1923 at the Deutsches Theater in Prague. She was working in Prague when she got an offer from the Metropolitan Opera, an invitation she turned down for artistic reasons. From 1924 to 1925 Maria Müller sang at the Munich State Opera where she had a number of grateful roles, especially in Wagner operas. Her debut as Sieglinde at the Metropolitan on 25 January 1925 was an enormous success. For a decade she was heard regularly in New York, first and foremost in the German repertoire in the big Wagner roles (Elsa, Elisabeth, Sieglinde, Senta, Eva). Others included Octavian and Agathe, as well as such Italian showpieces as Aida, Mimi and Madame Butterfly. Bruno Walter engaged Maria Müller for Berlin in 1926, casting her in a wide variety of interesting roles. From this time on, Berlin was to be the artistic focal point of her career. In 1928 she sang the main part in Strauss's "Egyptian Helen", and expanded her repertoire to include Desdemona, Amelia in "Simone Boccanegra", Margarethe and Jenufa. In 1930 Maria Müller was heard for the first time in Bayreuth; her debut role was Elisabeth in "Tannhäuser" under Toscanini. She took part in the Wagner Festival every year until the end of the war, earning worldwide fame as a Wagner interpreter both for her expressive singing and her poetic stage presence. Guest appearances took her several times to La Scala, to London's Covent Garden Opera, to Vienna, Paris, Brussels, Dresden and Amsterdam. She was engaged by the Salzburg Festival to sing such roles as Elvira, Euridice and Rezia in Weber's "Oberon". And she was also a highly regarded song recitalist. Tiana Lemnitz was born in Metz and was fortunate enough to grow up in a family for which music was a prerequisite of life. Her father was military bandmaster in Metz and her mother, too, was highly musical. At the age of fifteen, Tiana Lemfütz started taking singing lessons. When the first World War broke out, her family moved to Frankfurt am Main, where she continued her studies at the local conservatoire. After three years of study with Prof. Anton Kohmann, she made her debut in 1920 as a guest artist at the Heilbronn Stadttheater, singing the eponymous heroine in Lortzing's "Undine". In 1921 she became a regular member of the company in Aachen where her debut role was Woglinde in Wagner's "Rheingold". Tiana Lemnitz remained in Aachen until 1928. From 1928 to 1934 she was a member of the Hanover Opera company, with a lguest appearance contract for the Staatsoper in Dresden. During this time she consolidated her reputation as a superb lyric-and lyrico-spinto soprano, appearing also in London and Amsterdam. She was engaged at the Berlin Staatsoper in 1934, where she was hailed as the legitimate successor of Maria Müller. She remained a member of the Berlin company until her farewell in 1955. During this time she made many guest appearances in Munich and Vienna and was especially appreciated in Mozart roles at Covent Garden. Her world-wide career included appearances in North America, but the political situation prevented her from accepting an engagement at the MET in 1938. She enjoyed an enormous success as Agathe in "Freischütz" at the 1939 Salzburg Festival - conductor: Knappertsbusch. …
Amazon, iTunes, Spotify & Co.