Lebendige Vergangenheit - Elisabeth Ohms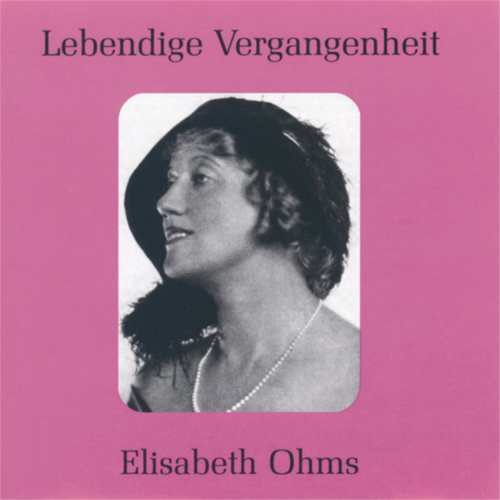 Update Required
To play the media you will need to either update your browser to a recent version or update your
Flash plugin
.
Promotion Text
Lebendige Vergangenheit
Ebenso wie Lotte Lehmann, Frida Leider, Elisabeth Schumann, Heinrich Schlusnus und Friedrich Schorr wurde Elisabeth Ohms im Jahre 1888 geboren - genauer gesagt am 17. Mai in Arnheim / Holland. Sie studierte vorerst Violine und Klavier am Konservatorium ihrer Heimatstadt und wandte sich erst mit 28 Jahren dem Gesang zu, worin sie am Amsterdamer Konservatorium und später in Frankfurt am Main ausgebildet wurde. 1921 debütierte die Sängerin am Stadttheater von Mainz und wurde nach nur zwei Jahren bereits an die Münchener Staatsoper engagiert, die für über 20 Jahre ihr Stammhaus bleiben sollte, und wo ihr Debut am 14. März 1922 in Beethovens ,,Fidelio" erfolgte. Unter anderem verkörperte sie dort Münchens erste Turandot am 11. November 1927 und sang die "Ägyptische Helena" in der Münchener Erstaufführung unter Hans Knappertsbusch am 8. Oktober 1928. Zu ihren großen Bewunderern gehörte auch Arturo Toscanini der sie 1927 und 1929 als Kundry und Isolde an die Mailänder Scala holte. In Wien gastierte sie als Isolde unter Richard Strauss am 8..Jänner 1928 und weiters als Brünnhilde in "Die Walküre" und Ortrud. In den Jahren 1928, 1929 und 1935 war Elisabeth Ohms auch an der Londoner Covent Garden Opera zu hören und gab 1930 in "Fidelio" ihr Debut an der Metropolitan Opera in New York, wo sie in dieser und der darauffolgenden Saison weiters äußerst erfolgreich als Ortrud, Venus und Isolde auftrat und die Brünnhilden im "Ring"-Zyklus verkörperte. Als gefeierte Wagner-Sängerin durften Auftritte in Bayreuth natürlich nicht fehlen: 1931 trat sie dort erstmals als Kundry unter der Leitung von Toscanini auf, der für diese Rolle auf Ohms bestanden hatte. Durch die Radioübertragungen einiger Festspielaufführungen, die damals erstmalig in Bayreuth stattfanden und eine kleine Sensation waren, wurde die Sängerin in weitesten Kreisen bekannt. Nach vielen Jahren internationaler Erfolge beschränkte sie ihre Auftritte später ganz auf München, trat dort zuletzt nur mehr selten auf und beendete ihre Karriere schließlich offiziell 1942. Sie wohnte auch weiterhin in München und wirkte dort als äußerst geschätzte Gesangspädagogin. Am 16. Oktober 1974 verstarb Elisabeth Ohms hochbetagt in Marquartstein in Oberbayern. Like Lotte Lehmann, Frida Leider, Elisabeth Schumann, Heinrich Schlusnus and Friedrich Schorr, Elisabeth Ohms, too, was born in 1888 - tobe more precise on May 17th in Arnheim / Netherlands. She studied violin and piano and only at the age of 28.decided to become a singer. She was trained at the Conservatory of Amsterdam and later at Frankfurt am Main in Germany and made her debut in 1921 at the Stadttheater in Mainz. Only twö years later she signed a contract with the Munich State Opera, which was to become her artistic home for the next 20 years. lt was in Beethoven's "Fidelio" that she was heard there for the first time on March 14th 1922. She was Munich's first Turandot on November 111h 1927 and also the first "Ägyptische Helena" under Hans Knappertsbusch on October 8th 1928. Arturo Toscanini, who was one of her greatest admirers, brought her to the Scala of Milan, where she sang the roles of Kundry and Isolde in 1927 and 1929. In Vienna she appeared in guest performances as Brünnhilde in "Die Walküre" and Ortrud and as Isolde under the direction of Richard Strauss on January 8th 1928. In the years 1928, 1929 and 1935 Elisabeth Ohms was heard at the Covent Garden Opera in London and in 1930 made her debut at the Metropolitan Opera in New York in "Fidelio". During this and the following season in New York she was greatly acclaimed as Ortrud, Venus and Isolde and furthermore sang all Brünnhildes in the "Ring"-cycle. Her engagement at the Bayreuth Festival definitely established her as one of the most celebrated Wagner singers of her days: in 1931 she appeared there for the first time as Kundry under the direction of Toscanini, who had demanded Ohms for this role. Around this time, several performances at Bayreuth were transmitted on broadcast for the first time, which created a small sensation and made Ohms known to a large public. After many years of international success, the singer restricted her performances more and more to Munich. Later on, she appeared there only sporadically and officially retired in 1942. She spent her retirement in Munich, where she also was a very sought after singing teacher. Well advanced in years, Elisabeth Ohms died in Marquartstein / Bavaria on October 161h 1974.
Amazon, iTunes, Spotify & Co.