Four Dramatic Sopranos of the Past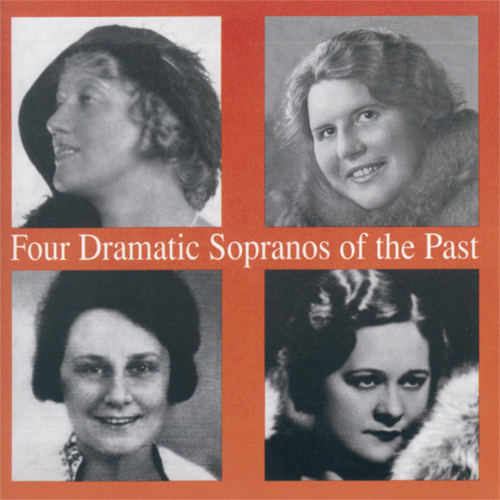 | | |
| --- | --- |
| Artist | Elisabeth Ohms |
| Title | Four Dramatic Sopranos of the Past |
| | |
| Release Date | Monday, September 11, 2006 |
| Genre | Classical > Choro |
| | |
| Copyright | © Preiser Records |
| Country | AUSTRIA |
Update Required
To play the media you will need to either update your browser to a recent version or update your
Flash plugin
.
Promotion Text
Lebendige Vergangenheit
Elisabeth Ohms was born on 17 May 1888 in Arnheim in The Netherlands. Her interest in music was evident at an early age, when she began studying violin and piano playing. She did not turn to singing until she was 28, getting her training at the conservatory in Amsterdam and in Frankfurt am Main. Her first engagement was at the Stadttheater in Mainz, but after just two years she joined the company of the Munich State Opera, where she remained for two decades. With Munich as a base, she went on extensive guest tours all over the world. One of her admirers was Arturo Toscanini, under whom she sang Kundry and Isolde in 1927 and 1929 at La Scala in Milan; another was Richard Strauss, who was especially enthusiastic about her Isolde. lt goes without saying that this fine Wagner soprano was heard in Bayreuth, too; Toscanini asked for her as Kundry when he conducted "Parsifal" for the first time there in 1931. Her appearances at the Metropolitan Opera in 1930 and 1931 were outstandingly successful. As an exception, she began with "Fidelio"; then came the Brünnhildes in the Ring, Ortrud and Venus, and finally, to crown her work there, Isolde. After these years of international successes, Elisabeth Ohm limited her sphere of activities to Munich, where she performed only rarely and ended her stage career in 1942. She then resided in Marquartstein, where she died on 16 October 1974. Gertrud Bindernagel was born on 11 January 1894 in Magdeburg. She studied at the conservatory in her home town and was only 17 when she was engaged by the local Stadttheater as a practical trainee. From 1913 to 1917 she continued her studies at the College of Music in Berlin. After finishing them she went to the opera house in Breslau, where she stayed until 1919. In 1919-20 she was with the Regensburg Stadttheater. From 1921 to 1927 she was a member of the company of the Berlin State Opera, where she scored enormous successes in a repertoire ranging from Nedda in "I pagliacci" to Isolde. From 1927 on, Gertrud Bindemagel was heard mainly at the Städtische Oper in Berlin; guest tours took her to Barcelona, Hamburg, Munich, Vienna and Mannheim. Following a performance of "Siegfried" at Berlin's Städtische Oper she was shot by her husband under the arcades of the opera hause. Domestic quarrels had led to the attack, from which she did not recover. She died of complications on 3 November 1932. Marta Fuchs, the celebrated high dramatic soprano of the 1930s and 40s, began her career as an alto in concerts. Born on 1 January 1898 in Stuttgart, she made her opera debut, after five years of concert work, at the Stadttheater in Aachen, still as an alto. Only in the course of her next engagement - with the Dresden State Opera beginning in 1930 - was her voice transformed into a high dramatic soprano. After 1935 she was also a member of the Berlin State Opera company and went on to become one of the most famous Wagner sopranos of the time. In 1933 she was already singing at the Bayreuth Festival, and until 1942 she was hailed by audiences there as Isolde, Kundry and especially Brünnhilde. In 1933 and 1935-37 she took part in Wagner performances in Amsterdam. In 1938 she sang Isolde at the Theatre des Champs-Elysees in Paris. In 1936 she was heard with the Dresden State Opera ensemble in London's Covent Garden as Donna Anna, the Marschallin in "Rosenkavalier", and Ariadne. In 1942 she was acclaimed at the Vienna State Opera. After 1945 Marta Fuchs lived in Stuttgart, giving only occasional guest performances and concerts. She died in Stuttgart on 22 September 1974. Anny Konetzni, bom on 12 February 1902 in Ungarisch-Weisskirchen, got her vocal training at the Vienna Conservatory, where her teacher was the renowned heroic tenor Erik Schmedes. Later she studied with Jacques Stückgold in Berlin. She began her singing career at the Vienna Volksoper (1925) with alto and mezzo roles, but the change to the big dramatic soprano parts was not long in coming. After engagements in Augsburg, Elberfeld and Chemnitz she joined the company of the Berlin State Opera in 1931. At this time she was already being invited to sing at the world's major opera houses, among them the Paris Opera, the Teatro Colon in Buenos Aires, at La Scala in Milan. She sang for the first time at London's Covent Garden Opera in 1935, doing the three Brünnhildes in Wagner's "Ring" under Sir Thomas Beecham. Every year until the beginning of the war, she was a celebrated guest in London. In the season of 1934-35 she appeared at the Metropolitan Opera. In 1933 director Erwin Kerbler offered her a contract at the Vienna State Opera; she was to remain a member of the company for 22 years. Her performances at the Festivals in Salzburg were of outstanding importance: Isolde and Rezia in Weber's "Oberon" in 1934, Isolde again in 1935 (all performances conducted by Bruno Walter), Leonore in "Fidelio" in 1936 under Arturo Toscanini, and the Marschallin in "Rosenkavalier" in 1941, with Hans Knappertsbusch conducting. Anny Konetzni received the Austrian title of "Kammersängerin" in 1935. Twenty years later, in 1955, when the reconstructed house on the Ringstrasse was reopened, she was made an honorary member of the Vienna State Opera, but she was also pensioned off. In 1957 she suffered a strake which led to hemiplegia. She died in Vienna on 6 September 1968.
Amazon, iTunes, Spotify & Co.