Lebendige Vergangenheit - Eide Norena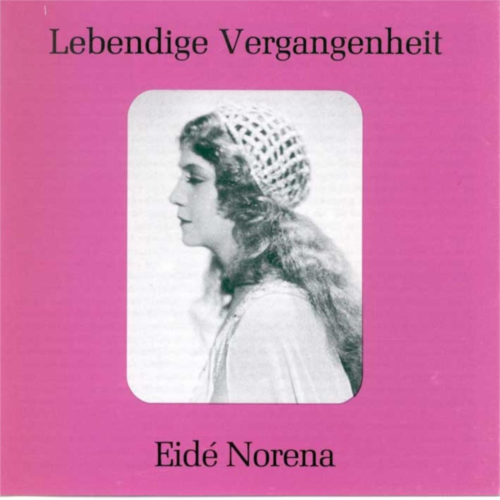 | | |
| --- | --- |
| Artist | Eide Norena |
| Title | Lebendige Vergangenheit - Eide Norena |
| | |
| Release Date | Tuesday, October 24, 2006 |
| Genre | Classical > Choro |
| | |
| Composers | Ambroise Thomas, Georg Friedrich Händel, Giuseppe Verdi, Joseph Haydn, Georges Bizet, Giacomo Meyerbeer, Wolfgang Amadeus Mozart, Gioacchino Rossini, Giacomo Puccini |
| Songwriter | Eide Norena |
| | |
| Copyright | © Preiser Records |
| Country | AUSTRIA |
Update Required
To play the media you will need to either update your browser to a recent version or update your
Flash plugin
.
Promotion Text
Lebendige Vergangenheit
Eide Norena's singing career was the most remarkable ever. A supremely beautiful woman, a highly gifted actress, she started however at the age of 20 in 1904, as a concert singer. She joined the Oslo (then Kristiania) stage only in 1907 as Amor in Gluck's "Orpheus". When she married Egel Eide, the leading Norwegian actor, she changed her real name Karoline Hansen, into Kaja Eide. At this early stage of her career, she confined herself to the Northern Theatres, where she sang light an lyrical parts from the French and Italian repertory, in Norwegian. At this time she cut a few records, almost impossible to find, a few sides on Scandinavian HMV, Pathe and Odeon. These recordings show off a pretty, well-schooled voice of some ·polish and distinction, but without any individuality. There is however some versatility in her repertory with the usual last solo from "Butterfly" (Che tua madre), standing along with the more obvious "Barbiere" and "Boheme". But the excerpt from "Romeo" is more unexpected (though Larsen-Todsen recorded the Madrigal about the same time) and Dinorah at this moment and place, comes as quite a surprise. After the war Kaja Eide completely vanished from stage and musical life. She undertook furt,_her studies, mostly in London with Raimund von zur Mühlen, but also taking advantage from Melba's friendly advice. She settled in the more cosmopolitai1Paris and when she was already 40, she embarked in a drastically new career in 1924. This career lasted 15 years and brought her from Paris to leading music centers, such as Milano (Scala), London (Covent Garden), Chicago and later New York (Metropolitan), but also to Salzburg, where she was a beloved guest every year for the sacred concerts at the Cathedral. Not only did she (like Flagstad) enjoy a new and brilliant career, at an age where most sopranos of her size and repertoire consider rather giving up an retiring, but she also did it under a new name. Now she was Eide Norena. And even her vocal personality was a quite different one now. An icy timbre with some gallic edge to it, but also the silvery sensuousness and virginal brilliance of an Andersen mermaid. She had something of a Nordic Galli-Curci, combined with the warmest and most exquisite legato singing that the 1920's and 1930's ever experienced. Almost endless breathing resources were held under the most exquisite control. Indeed, the recordings of Eide Norena's later career are not only famous for the girlish timbre (of which some listeners might not be fond, but that remained unimpaired until her last days, weil into her fifties), but for the exemplary soft sustained legato. Also, her crystalline trills and dazzling bravura scales and some of the most exquisite soft top notes that electrical gramophone ever captured, are absolutely remarkable. From her recordings of Odeon (Hamlet - mad scene) and Hugenots (Queen's aria), with the frail girlish timbre and the divine legato singing, to the heavier and more sustained later HMV's, Ophelia's Lecture aria, or her last sublime Care selve from Händel's Atalante, she appears as the most aristocratic of all belcanto singers. She was the one who maintained the classical standards in an era that was despising them. Even with the more trivial "Barcarölle Bleue" (from the French film "1001 Nuits), she managed to convey an unforgettable musical experience with the incredible handling of the longest sustained phrases, culminating into heavenly and radiant high pianissimi. A leading lady in international society, admired and cherished by everyone who had the privilege of approaching her, Eide Norena sang extensively at her home theatre, the Paris Opera in a great variety of parts. Such as Blondine -in "Entführung" (with Ritter-Ciampi as Constanze), Mathilde in "Guillaume Tell", the Queen in "Les Huguenots", Ophelie, Desdemona (her frail voice standing bravely alongside with the formidable Otellos of Franz Martinelli or Melchior), as well as the Queen in "Golden Cockerel" and the more familiar Mimis, Juliettes and Marguerites in the provinces. t Covent Garden and the Metropolitan she sang Violetta and Gilda, a part which Toscanini invited her to sing at Ja Scala in 1924; Another part which suited her perfectly was Liu, which she sang in London and Italy. Pierre Monteux took her to Amsterdam for his celebrated performance of "Les contes d'Hoffmann", in which she sang the three female parts. Eide Norena lived after her retirement from stage in Geneva and died in Crans-sur-Sierre on November 19th 1968.
Amazon, iTunes, Spotify & Co.