Lebendige Vergangenheit - Dusolina Giannini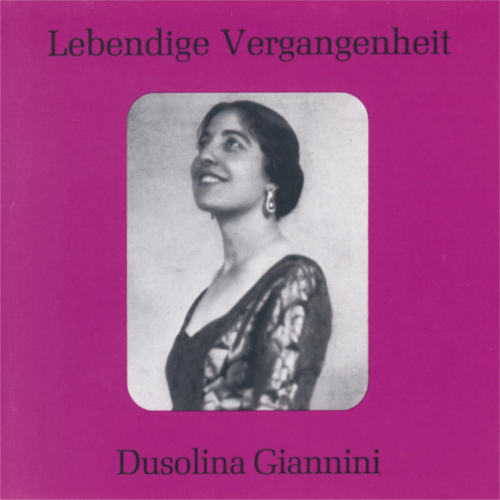 | | |
| --- | --- |
| Artist | Dusolina Giannini |
| Title | Lebendige Vergangenheit - Dusolina Giannini |
| | |
| Release Date | Friday, September 1, 2006 |
| Genre | Classical > Choro |
| | |
| Composers | Giuseppe Verdi, Dusolina Giannini, Vincenzo Bellini, Georges Bizet, Eduardo di Capua, Giacomo Puccini |
| Songwriters | Orchestra of La Scala / Dusolina Giannini, Dusolina Giannini, Berliner Staatsopern Orchester / Dusolina Giannini, Dusolina Giannini / Orchestra of La Scala, Dusolina Giannini / Berliner Staatsopern Orchester |
| | |
| Copyright | © Preiser Records |
| Country | AUSTRIA |
Update Required
To play the media you will need to either update your browser to a recent version or update your
Flash plugin
.
Promotion Text
Lebendige Vergangenheit
Dusolina Giannini wurde am 19. Dezember 1902 als Kind italienischer Eltern in Philadelphia geboren. Ihr Vater war der Tenor Ferruccio Giannini, ihre Mutter Antonietta Briglia-Giannini war eine vorzügliche Geigerin. Auch die Geschwister der Sängerin waren überaus musikalisch, die Schwester sang ebenfalls, ein Bruder spielte sehr gut Cello, der andere wurde ein bekannter Komponist, dessen Werke sogar in Deutschland aufgeführt wurden. Dusolina Güµmini überraschte bereits im Alter von dreizehn Jahren, als sie eine "Troubadour" -Aufführung der Operngesellschaft ihres Vaters rettete und die Partie der Azucena zu aller Zufriedenheit sang, obwohl diese Rolle ihrer Stimmlage keineswegs entsprach. Nach diesem ersten Erfolg übernahm ihr Vater zunächst ihre gesangliche Ausbildung. Sie vollendete dann ihr Studium bei der berühmten Marcella Sembrich (1858-1935) in New York. In dieser Stadt entschied sich das weitere Schicksal der Sängerin. Sie wurde gebeten, für die damals sehr bekannte, plötzlich erkrankte Sopranistin Anne Casein einem Konzert in der Carnegie-Hall zu singen. Dieser Tag war der Anfang ihrer Berühmtheit. Bereits 1924 erschienen die ersten Schallplatten bei RCA Victor. Im gleichen Jahr konzertierte sie mit großem Erfolg in London. Im Mai 1925 stand sie auf dem Podium des Berliner Beethoven-Saals zum ersten Mal deutschem Publikum gegenüber. Seltsamerweise blieb es Hamburg vorbehalten, Schauplatz für das Bühnendebüt der Künstlerin zu sein; ebenfalls 1925 stand sie zum ersten Mal als Aida auf der Bühne der Hamburger Staatsoper. 1926-27 unternahm sie eine Gastspiel-Tournee, die sie an die Staatsopern Berlin, Wien und Hamburg führte, wo sie dann bis 1930 regelmäßig zu hören war. 1928 hatte sie große Erfolge an der Londoner Coventgarden-Oper. Im gleichen Jahr wurde ihr eine große Ehre zuteil, "His Master's Voice" verpflichtete die in Italien noch unbekannte Sängerin für die Titelrolle einer Gesamtaufnahme von Verdis "Aida". Tore Partner waren Aureliano Pertile, Irene Minghini-Cattaneo und Giovanni Inghilleri, es spielte das Orchester der Mailänder Scala unter Maestro Carlo Sabajno. Diese Aufnahme ging in die Geschichte der Schallplatte ein und machte den Namen Dusolina Giannini mit einem Schlag in der ganzen Welt bekannt. Trotzdem hat die Sängerin niemals an der Mailänder Scala gesungen. 1934-35 sang sie bei den Salzburger Festspielen die Donna Anna im "Don Giovanni", 1936 die Alice Ford in Verdis "Falstaff' unter Toscanini. Gastspiele führten sie weiter nach Zürich, Monte Carlo, Oslo, Brüssel, Amsterdam, San Francisco und Mexico City. 1936 wurde sie an die Metropolitan Opera berufen (Antrittsrolle: Aida), der sie bis 1941 angehörte. 1947 unternahm sie eine Europa-Tournee, 1949 gastierte sie an der Staatsoper von Berlin, 1950 an der Wiener Staatsoper als Carmen. Später gab sie in den musikalischen Zentren Abschiedsabende. auf dem Konzertpodium. Bemerkenswert war auch die Aufmerksamkeit und das große Einfühlungsvermögen welches Dusolina Giannini dem deutschen Lied entgegenbrachte. Seit 1962 leitete sie ein Opernstudio in Zürich. Sie starb am 29. Juli 1986 ebendort. Dusolina Giannini was born on 19. December 1902 in Philadelphia of Italian parents. Her father, Ferrucio Giannini, was a tenor who ran his own opera company, her mother, Antonietta Briglia-Giannini was an outstanding violinist. Dusolina's sister was also a singer, one of her brothers became a cellist and the other a well-known composer, whose compositions even made it to Europe. At the age of thirteen Dusolina Giannini caused something of a stir by singing Azucena in a performance given by her father's opera company. Although she was certainly no mezzo, she saved the show, enjoyed suitable acclaim and was given her first singing lesson by her father. Later she continued her studies with the famous Marcella Sembrich (1858-1935) in New York. And New York was the scene of her first triumph. She was requested to substitute for the indisposed Anne Case - a soprano who enjoyed a certain fame at the time - at a concert in Carnegie Hall. Already in 1924 she started recording for the Victor-Company. That same year she gave a successful concert in London. In May 1925 she gave her first concert in Germany, in the Beethoven Hall in Berlin. In 1925 she made her debut as Aida at the Hamburg State Opera. Between 1926 - 27 she sang at the State Opera houses in Berlin, Vienna and Hamburg. She continued singing in Hamburg regularly until 1930. In 1928 she sang a number of highly successful performances at Covent Garden. That same year she was accorded the great honor of being signed up by HMV to sing Aida in a complete performance of the opera. Her partners were Aureliano Pertile, Irene Minghini-Cattaneo and Giovanni Inghilleri. Tue orchestra of La Scala Milan was conducted by Carlo Sabajno. This recording enjoyed almost legendary fame and familiarized her name throughout the world. Yet despite the Scala cast of the recording she never actually sang at La Scala. In 1934-35 Salzburg Festival performances of "Don Giovanni" she sang Donna Anna and in 1936 Toscanini chose her for the role of Alice Ford in Verdi's "Falstaff'. Guest performances took her to Zurich, Monte Carlo, Oslo, Brussels, Amsterdam, San Francisco and Mexico City. In 1936 she made her Metropolitan Opera debut as Aida and remained a member of the MET ensemble until 1941. In 1947 she started a further European tour. In 1949 she sang at the Berlin State Opera and in 1950 she sang Carmen at the Vienna State Opera. Her farewell concert tour again took her to the main centers of her erstwhile operatic successes. Dusolina Giannini spent a considerable time studying German lieder which she performed with exceptional understanding and empathy for their style. After 1962 she was the director of the opera studio in Zurich.
Amazon, iTunes, Spotify & Co.