Lebendige Vergangenheit - Dorothy Kirsten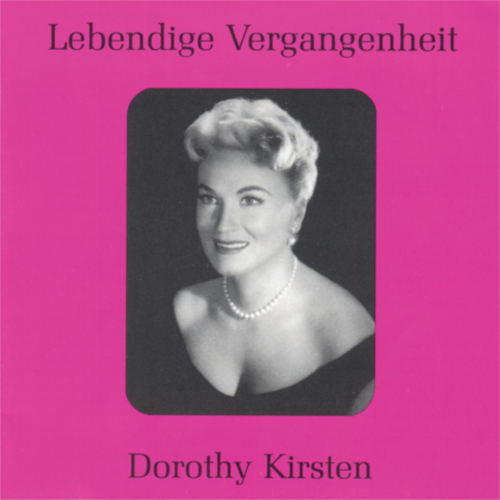 | | |
| --- | --- |
| Artist | Dorothy Kirsten |
| Title | Lebendige Vergangenheit - Dorothy Kirsten |
| | |
| Release Date | Wednesday, August 23, 2006 |
| Genre | Classical > Choro |
| | |
| Composers | Giacomo Puccini, Jules Massenet, Gustave Charpentier, Umberto Giordano, Giuseppe Verdi, Charles Gounod |
| Songwriters | Dorothy Kirsten / RCA Victor Orchestra, Dorothy Kirsten / Robert Merrill / RCA Victor Orchestra, Columbia Symphony Orchestra / Dorothy Kirsten, Dorothy Kirsten / Metropolitan Opera Orchester, RCA Victor Orchestra / Dorothy Kirsten, Dorothy Kirsten / Columbia Symphony Orchestra |
| | |
| Copyright | © Preiser Records |
| Country | AUSTRIA |
Update Required
To play the media you will need to either update your browser to a recent version or update your
Flash plugin
.
Promotion Text
Lebendige Vergangenheit
Dorothy Kirsten 6 July 1910 - 18 November 1992. "A prima donna is the lady who is standing on the stage at the end of the opera. Throughout my entire career, wherever I was, I have tried to preserve this image." At the end of her career, Dorothy Kirsten uttered these words to an admirer who must have imagined having posed an especially intelligent question to which the answer would be even more intelligent. But Kirsten, who was extraordinarily popular in America, also had experience outsi­ de opera, the field in which she felt most at home. Her parallel career in film, radio and televi­ sion had taught her the importance of the outward radiance that the audience expected from a star of her stature. And part of that was creating the impression of unbridled youthfulness. It was only after Kirsten's death in 1992 that astonished musical authorities learned from her obituary that she had been born not in 1917 but in 1910, According to Peter G. Davis in his book The American Opera Singer, Kirsten felt this deception necessary because she had begun her career relatively late. Dorothy Kirsten was born in Montclair, New Jersey, She first worked as a secretary for the Jersey Bell Telephone Company before beginning her vocal studies at the Julliard School. Her initial goal was a career on Broadway. The celebfated soprano Grace Moore, however, advised her to pursue an operatic career and arranged for her to continue her studies in Italy with Astolfo Pescia, who liked to call himself Beniamino Gigli's teacher, although he was only his manager. With Pescia, Kirsten studied Massenet's Manon, but she sensed intuitively that she was not yet ready for the role. The outbreak of war in 1939 made a decision unnecessary: she fled Italy and made an adventurous return to the USA. In any case, she was already far enough advanced to make her debut, arranged by Grace Moore, on 9 November 1940 with the Chicago opera, where she sang the role of Pousette in Manon. For two years she sang minor roles in Chicago, but in 1941 she made a guest appearance in Havana as Margarete and in 1942 as Micaela in Washington. On 8 May 1944, she debuted at the New York City Opera as Traviata and was subsequently engaged by the Metropolitan Opera. With only a few interruptions, the Met remained the focus of her career for more than 35 years - the statistics list 30 seasons between 1945 and 1979. During this period she sang a relatively limited repertoire of only 14 roles, which were stylistically similar and offered her the opportunity of developing a performing manner that was unmistakable and valid only for her. She was considered the very incarnation of Puccini's heroines, but she was also superb in her portrayal of French figures. Manon, Louise, Marguerite, Micaela as well as Manon Lescaut, Madame Butterfly and Mimi were her domain in addition to Tosca and La Traviata. With Kirsten's distant frivolity, she created figures in keeping with the American idea of an elegant courtesan of Parisian society. After advancing to the status of prima donna in 1944, she never accepted another minor role. Kirsten bid farewell to the Metropolitan as Tosca on 10 February 1979, when she was almost 70. Her last performance was in 1986 in a benefit concert for the John Douglas French Center for Alzheimer's Disease, named for her husband who had the affliction. Kirsten seldom performed outside America, although we know of a number of guest performances: in Stockholm in 1961, Moscow in 1962 and with the Met in Tokyo in 1975. Her records as well as several live recordings of performances at the Metropolitan Opera are considered treasures by collectors of historical audio recordings. She is better known to European opera fans as Mario Lanza's partner in the film The Great Caruso, but Rudolf Bing's veto put an end to any further film career. Kirsten, however, would not allow him to prevent her regular appearances on the popular television programme Voice of Firestone. Dorothy Kirsten remains extraordinarily popular in the USA. With Geraldine Farrar and Grace Moore she is considered to be one of the three great English-speaking singing actresses. With her appearance, manner and singing she embodied the American ideal of the attractive prima donna assoluta of the fashionable opera world and in this respect there has never been a successor.
Amazon, iTunes, Spotify & Co.