Lebendige Vergangenheit - Conchita Supervia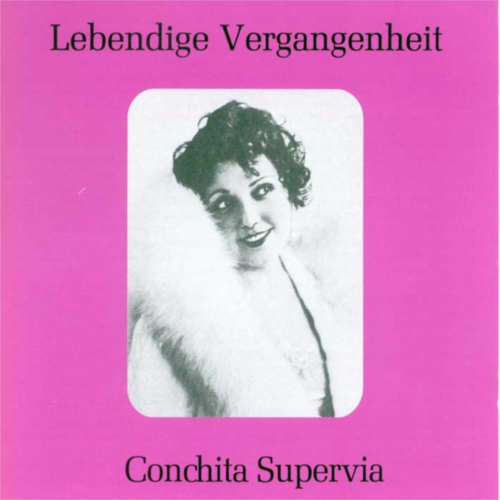 | | |
| --- | --- |
| Artist | Conchita Supervia |
| Title | Lebendige Vergangenheit - Conchita Supervia |
| | |
| Release Date | Tuesday, August 29, 2006 |
| Genre | Classical > Choro |
| | |
| Composers | Georges Bizet, Richard Strauss, Wolfgang Amadeus Mozart, Gioacchino Rossini, Engelbert Humperdinck, Camille Saint - Saens |
| Songwriters | Conchita Supervia, Conchita Supervia / Ines Maria Ferraris, Giuseppe Nessi / Conchita Supervia / Ida Mannarini / Anita Apolloni / Aristide Baracchi, Conchita Supervia / Giovanni Manuritta |
| | |
| Copyright | © Preiser Records |
| Country | AUSTRIA |
Update Required
To play the media you will need to either update your browser to a recent version or update your
Flash plugin
.
Promotion Text
Lebendige Vergangenheit
Es tritt bei sängerischen Naturbegabungen oftmals der Fall ein, dass sich in ihrem Gesang die Eigenart ihres Heimatlandes in leuchtenden Farben wiederspiegelt. So vermögen wir aus der Stimme Feodor Schaljapins die unendliche Weite des russischen Landes, die Schwermut, die Zärtlichkeit, aber auch die eruptive Wildheit des russischen Volkes herauszuhören; wir finden alles, was wir als Leidenschaft der italienischen Seele bezeichnen, im expressiven Gesang Enrico Carusos wieder. Ähnliche Beobachtungen kann man auch bei Sängern nordischer oder deutscher Herkunft anstellen. Ein besonders markanter Fall ist die Mezzosopranistin Conchita Supervia; sie ist sozusagen der Inbegriff all dessen, was man in herkömmlicher Auffassung mit dem Begriff "südliches Feuer" und "spanisches Temperament" in Zusammenhang bringt. Tatsächlich findet sich unter den vielen hervorragenden Gesangskünstlern spanischer Herkunft das nationale Element nirgendswo so stark ausgeprägt wie bei dieser genialen Sängerin. In ihrem Gesang sind dieselben brennenden Farben enthalten, wie sie uns aus der Musik de Fallas, aus den Bildern Picassos entgegenleuchten. Wenn man die Sängerin die Lieder ihrer andalusischen Heimat vortragen hört, dann ersteht die prangende Lebensfreude, die tänzerische Beschwingtheit eines ganzen Volkes zu pulsendem Leben. Nur wenigen Sängern ist diese unmittelbare Wirkung, diese beinahe suggestive Ausstrahlung gegeben. Conchita Supervia war eine ausgesprochen frühreife Künstlerbegabung. Bereits als Kind kam sie an das Konservatorium zu Barcelona, im Alter von fünfzehn Jahren wirkte sie bereits als Opernsängerin auf der Bühne. Ihr Debüt fand im Rahmen einer spanischen Sängertruppe, an deren Spitze der berühmte Tenor Francesco Vignas stand, im Teatro Col6n von Buenos Aires statt. Der Tag ihres ersten Auftritts war der 1. Oktober 1910, die erste Rolle, die sie sang (in Stiattesis kaum bekannter Oper "Blanca de Beaulieu") war merkwürdigerweise eine Matronenpartie. Bald darauf war sie als Lola in "Cavalleria rusticana" sowie in einer Neben­ rolle in Breton's "Les Amantes de Teruel" zu hören. Bereits im darauffolgenden Jahr finden wir Conchita Supervia in der vordersten Reihe der zeitgenössischen Gesangskünstler. 1911 kreierte sie die Partie des Octavian in der römischen Erstaufführung des "Rosenkavalier". Abgesehen von dem bedeutenden künstlerischen Erfolg der Sängerin ist diese Leistung aus einem anderen Grund merkwürdiger; Conchita Supervia dürfte wohl die jüngste Darstellerin dieser Rolle gewesen sein, sie war ja damals erst sechzehn Jahre alt. Ihre nächsten großen Partien waren Carmen und Dalia. Die letztgenannte Rolle sang sie anlässlich der Eröffnungsvorstellung 1915 im Teatro Liceo zu Barcelona. Gastspiele führten sie nach Havanna und Bologna. Von 1915 bis 1920 war sie Mitglied der Chicago Opera Company. Ab 1920 sang sie vornehmlich auf italienischen Bühnen. Zwischendurch kehrte sie immer wieder in ihre Geburtsstadt Barcelona zurück, wo sie sich bald legendäre Berühmtheit erwarb. Von 1925 an begann ein wichtiger Abschnitt in Conchita Supervias Wirkungszeit. Unter der Leitung des Dirigenten Vittorio Gui wurde an mehreren Bühnen Italiens der Versuch unternommen, die damals völlig in Vergessenheit geratenen Belcanto-Opern Rossinis und Donizettis wieder zur Aufführung zu bringen. Conchita Supervia war der zugkräftige Star dieses Unternehmens, das in kurzer Zeit überraschende Folgen nach sich zog. Rossinis "Italienerin in Algier" und "Cenerentola" sowie Donizettis "La Favorita" … Voices of singers with a certain God-given natural talent frequently mirror the multifarious characteristics of their homeland. Thus the voice of Feodor Chaliapin seems to evoke not only the desolation of the Russian steppes, but also the poignant tenderness and eruptive rumbustiousness of the Russian people. All that we associate with Italianate passion seems to concentrate in the voice of Enrico Caruso and similar characteristics are much in evidence when we listen to singers who hail from Scandinavian or Germanic regions. A special case in point is the mezzo soprano Conchita Supervia. She is, as it were, the incarnation of everything traditionally associated with 'Spanish temperamel).t'. Indeed, if we recall the long line of superb Spanish singers, in none is the national element more in evidence than in this supremely gifted artist. Her voice has the same coruscating colors of de Falla's music, the same dazzle as Picasso's paintings. When she sings the songs of her Andalusian homeland, the exuberance, the pulsating gaity of a whole nation springs to mind. Rare indeed are the singers that have had this gift of immediacy, this suggestive aura. Conchita Supervia was a precocious artistic talent. After studying at the Barcelona conser­ vatoire, she made her stage debut at the age of fifteen as a member of a Spanish touring com­ pany headed by the famous tenor Francesco Vignas. It was the 1st October 1910, the opera was the (meanwhile forgotten) "Blanca de Beaulieu" by Stiattesi and the role was an elderly serving wench. Next came Lola in "Cavalleria Rusticana" and a minor role in Breton's "Les Amantes de Teruel". But minor roles were soon a thing of the past. In 1911 she was the first 'Rosenkavalier' in Italy - a fact in itself quite remarkable, in so far as she was only 16 - surely the youngest Oktavian ever to sing the role. Next came Carmen and Dalila, which she sang at 1915 opening of the Teatro Liceo season. She appeared as a guest artist in Havanna and Bologna. From 1915 to 1920 she was a member of the Chicago Opera company. Subsequently her career was mainly in Italy, with frequent excursions to Barcelona, where she was something of a popular idol. Supervia's career took a new turn in 1925. Vittorio Gui tried to resuscitate the almost forgotten Rossini and Donizetti operas in Italy and Conchita Supervia was the star attraction. Rossini's "L' Italiana in Algeri" and "Cenerentola" but also Donizetti's "La Favorita" …
Amazon, iTunes, Spotify & Co.