Sad Eyes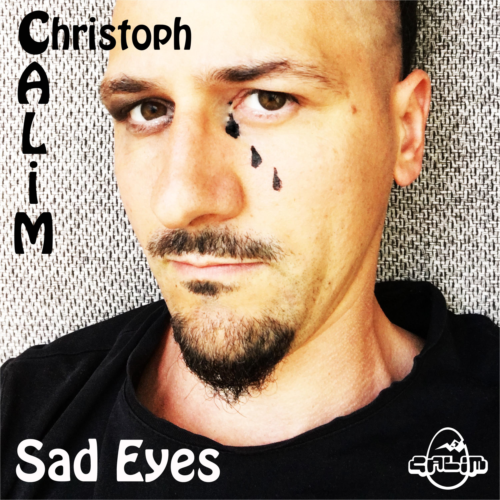 | | |
| --- | --- |
| Artist | Christoph CALiM |
| Title | Sad Eyes |
| | |
| Release Date | Friday, March 12, 2021 |
| Genre | Reggae > Pop-Reggae |
| | |
| Copyright | © Guardians of Earth |
| Country | AUSTRIA |
Update Required
To play the media you will need to either update your browser to a recent version or update your
Flash plugin
.
Promotion Text
Heartwarming Music for all the sad eyes around the world
In Europe people dance the chicken-dance or sounds the mouth-trumpet – now "Sad Eyes" is causing ear-candy-alarm all over the world. Singer/Songwriter Christoph CALiM releases his top single "Sad Eyes" in March 2021. And the song is "sad" and funny at the same time: a sung parody about all the sad, melancholy eyes out there. Christoph CALiM's song heals the human heartache and spreads a sunny mood – played with mouth-trumpet and guitar. So it's time to lean back, perk up all ears, smile, laugh, sound the mouth-trumpet or simply shake off the heavy burden and dance with the easiness.Christoph CALiM calls his songs a "Heartwarming Music". Calim is a "Guardian of Earth", a singing poet, a builder of bridges between different cultures, languages, times, worlds and spirits. Through the power of music & words he opens hearts, arms and gates into a new era of peace & freedom on earth and in our society. As an open minded and worldwide acting artist he writes his songs in different languages and different music styles. The Singer/Songwriter combines a variety of music genres such as Pop, Folk, Rock, Reggae, Latin, Jazz, Blues, Rap or World Music. Christoph Calim is an artist with open eyes and arms, with content on the pulse of the time and always sings for the audience with heart and brain at the same time and in full intensity. Singing, (song-)writing and playing guitar is his way to activate feelings, to provoke thoughts, to change the world and to spread hope & love. "I'm a man of the earth, not a man of a state. I live for love, I don't live for hate!", underlined Calim.——————————————————————————————In Europa tanzen sie schon ausgelassen den Chicken-Dance oder blasen die Mundtrompeten-Melodie – nun sorgt "Sad Eyes" weltweit für Ohrwurm-Alarm. Einmal gehört, immer gehört. Singer/Songwriter Christoph CALiM veröffentlicht mit "Sad Eyes" im März 2021 eine Top-Single. Und die ist traurig und komisch zugleich: als gesungene Persiflage auf all die traurigen, melancholischen Augen da draußen, singt CALiM den Menschen-Herzschmerz von der Seele und sorgt – begleitet von Mundtrompete und Gitarre – für Sonnen-Stimmung. Dann heißt es also: zurücklehnen, ohrenschmausen, chillen, lachen, Mundtrompete-Spielen oder einfach für einen Moment die Schwere abschütteln und mit der Leichtigkeit tanzen.Singer/Songwriter Christoph CALiM symbolisiert mit seinen Songs eine "Heartwarming Music". Als Sänger der Herzen ist er Brückenbauer zwischen verschiedenen Kulturen, Sprachen, Zeiten, Welten und Spirits. Mit der Kraft von Melodien und Worten möchte er Herzen, Arme und Türen in eine neue Ära des gesellschaftlichen Friedens und der Freiheit öffnen. Christoph CALiM gelingt es vielfältige Musik-Genres wie Pop, Rock, Folk, Reggae, Jazz, Blues, Latin, Rap oder World Music auf der Bühne harmonisch zu vereinen. Er ist ein singender Poet mit offenen Augen und Armen, mit Inhalten am Puls der Zeit und vermittelt dem Publikum stets Herz und Hirn zugleich und in voller Intensität. Musik & Worte sind CALiMs Werkzeuge Gefühle zu aktivieren, zum (Nach-)Denken anzuregen und die Welt zum Positiven zu verändern ... "I'm a man of the earth, not a man of a state. I live for love, I don't live for hate!", betont Kosmopolit Christoph CALiM.
Management / Booking
Get in contact
Amazon, iTunes, Spotify & Co.