Karma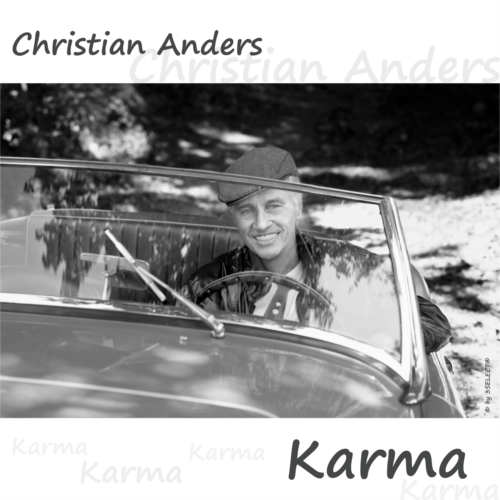 | | |
| --- | --- |
| Artist | Christian Anders |
| Title | Karma |
| | |
| Release Date | Sunday, September 15, 2019 |
| Genre | German Pop > Deutscher Schlager > Deutscher Schlager |
| | |
| Copyright | © 3SELECT-MUSIC / LC 19053 |
| Country | AUSTRIA |
Update Required
To play the media you will need to either update your browser to a recent version or update your
Flash plugin
.
Promotion Text
Christian Anders hat sein "Karma"....
Christian Anders hat sein "Karma" wiedergefunden, geht auf Album-Promo-Tour und gibt im Oktober 2019 ein Solo-Konzert.Folgt mit der Single "Karma" die nächste Christian Anders Erfolgsepisode? Komponiert von Christian, beschreibt der Song das karmische Verlieren und Wiederfinden eines geliebten Menschen. Dabei erzählt der Künstler eine heitere Geschichte, in der sich jeder selbst wiederfinden wird. Von "Karma" gibt es eine Radio- & 3select® RMX-Version sowie eine Indian Version, bei welcher vor allem Christian und seine Frau Birgit sehr viel Spaß im familiären USP-Enterprises Tonstudio hatten. Am 18. Oktober 2019 erscheint von Christian sein lang erwartetes neues Album "ZEITLOS 1945 - ...", das mit 25 brandneuen Titeln den ganzen Kosmos dieses einzigartigen Künstlers beleuchtet. So zieht er in dem Song "Karussell des Lebens" eine persönliche Bilanz seines filmreifen Lebensweges. "Jeder Mensch ist bedeutungsvoll und anders, wie kein Stern dem anderen gleicht…" ist das lebensbejahende Motto des Liedes. In dem Titel "Schöne, hässliche Frau" nimmt Anders uns mit auf eine musikalische Reise nach Lateinamerika und bei "Freunde werden Feinde" geht es um ein Liebes-Aus und das zerbrochene Glück nach einer langen, erfüllten Beziehung. Christian Anders will vom Leben singen und die Menschen berühren und auch wachrütteln. Wer Christian Anders einmal hautnah erleben möchte, kann dies bei seiner Autogrammstunden-Tour ab dem 19. Oktober 2019 in ausgewählten Shopping-Centern tun. Als echtes Highlight steht am 26. Oktober 2019, zudem das erste Solo-Konzert nach vielen Jahren in der Stadthalle Kamen auf dem Programm. Wer auf dem Laufenden bleiben will, kann das über YouTube in seinem neuen Musikkanal tun, den der Sänger erst vor ein paar Tagen online gestellt hat.Aviso 2020: Zum 75. Geburtstag von Christian Anders, erscheint 2020 das zweite Studio-Album "Christian Anders - EMOTIONEN". Eine Mischung aus neuen unveröffentlichten Werken, drei Klassikern und veröffentlichten Singles wie "D.s.H. (Das schwarze Hemd)", "Una Notte", "Geniale Freunde", "Karma"… u.v.m.DJ- & Radiobemusterung ab 15.08.2019 • VÖ am 15.09.2019 CHRISTIAN ANDERS • Karma • 1) Radio (2:52) ISRC: ATSF71900041 • 2) Indian Version (3:13) ISRC: ATSF71900042 • 3) 3select® RMX (3:29) ATSF71900043 Produced, Recorded, Remixed, Mastered by www.uspenterprises.com - Michael Macher & Dominik Hemmer, Mr. Smart Bones & 3select Music Inhaber Werner Schneeweiss Christian Anders Lead-Vocals Recorded by Brigit Diehn, Michael Macher, Dominik Hemmer, Werner Schneeweiss Vocals: Christian Anders Backing-Vocals: Thomas Trinkl, Silke Trinkl, Corinna Tomaschitz, Michael Macher, Werner Schneeweiss, Guitars: Mr. Smart Bones, Dominik Hemmer Additional Keyboards, Drums, Sound-Programming: Mr. Smart Bones, Michael Macher, Dominik Hemmer, Werner Schneeweiss T.: Christian Anders M.: Christian Anders V.: 3select-Edition IP-Nr.: 00619457130 / Schnipsel Verlag Christian Anders c/o Roba music Verlag GmbH Cover-Artwork by Birgit Diehn, Mr. Snowknow, www.brainstorm.cc - Keutschach - Telefon +43 664 2560852 Cover-Foto © by Dominik Hemmer Booking & Management by www.suessmatz.eu info@suessmatz.eu Künstlerwebsite: www.christiananders.com Label, License Request (P) + © by 3SELECT® MUSIC - LC 19053 • MC-D 39.1707-2 • EAN: 9120039170725 • AUSTRO MECHANA • Distributed by 3SELECT® EDITION - www.3select.de • Made in the EU. All trademarks and logos are protected. * Aus Gründen der besseren Lesbarkeit, wird auf die gleichzeitige Verwendung männlicher und weiblicher Sprachformen verzichtet. Sämtliche Personenbezeichnungen gelten gleichermaßen für beiderlei Geschlecht.
Management / Booking
Get in contact
Amazon, iTunes, Spotify & Co.