D.s.H.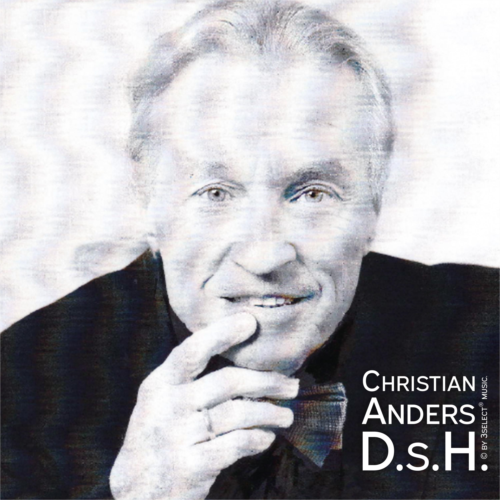 | | |
| --- | --- |
| Artist | Christian Anders |
| Title | D.s.H. |
| | |
| Release Date | Tuesday, August 15, 2017 |
| Genre | German Pop > Deutscher Schlager > Pop Schlager |
| | |
| Copyright | © 3SELECT-MUSIC LC 19053 |
| Country | AUSTRIA |
Update Required
To play the media you will need to either update your browser to a recent version or update your
Flash plugin
.
Promotion Text
Ist die Single D. s. H. der neue Hitparadenstürmer von Christian Anders?
Ist die Single D. s. H. der neue Hitparadenstürmer von Christian Anders?Nach rund 100 Wochen mit ALLE OPTIONEN OFFEN in den Discothekencharts - davon viele Wochen NUMMER EINS - schenkt uns Christian Anders einen neuen Song mit einem kreativen Ritardando-Ende.Dabei ist schon eines sicher: 2018 wird das Jahr der Christian Anders-Emotionen! Und es wird anders sein als es sich so manche Presse- und Weggefährten vorstellen. Der Künstler setzt mit der neuen Single D. s. H. ein klares musikalisches Zeichen. Dabei wurde die Producer-Teampartnerschaft erweitert. Mit dem bewährten Management Birgit Diehn und frischen kreativen Köpfen befindet sich Christian Anders mitten in der Vorbereitung des dritten 3select Music Albums, welches Mitte 2018 unter dem klingenden Namen "Emotionen" auf den Markt kommt. Dieses Album wird eine Mischung aus neuen Christian Anders - Kompositionen sowie einer Urheberplattform für neue Talente. Haben Sie eine Idee für einen Christian Anders Song? Dann lassen Sie uns das wissen! Kontakten Sie uns unter www.3select.de. Wie Sie bereits wissen, sind bei uns immer ALLE OPTIONEN OFFEN!Dazu Werner Schneeweiss, musikalischer Leiter & Inhaber von 3select Music: "Mit der neuen Komposition D. s. H. hat der Künstler laut ersten Rückmeldungen der DJs & Musikredakteure wieder einmal den Hit-Nerv getroffen. Wir sind stolz und dankbar für die geniale Teamarbeit. Die Single D. s. H. ist - wie schon erwähnt - der Vorbote des Albums "Emotionen" und kommt als Download und Streaming am 15.08.2017 mit einer Radio-, Lion-Pop- & 3select® RMX-Version in den Handel."Im Namen des gesamten Christian Anders-Teams wünschen wir Ihnen viel Spaß mit D. s. H. & 3select® Music.CHRISTIAN ANDERS - D. s. H. • 1) Radio Mix (2:56) - ISRC: ATSF71700121 • 2) Lion Pop Mix (2:56) - ISRC: ATSF71700122 • 3) 3select® RMX (3:34) - ISRC: ATSF71700123 Track 1 bis 3: Produced, Recorded, Remixed, Mastered by Dreier Music - Hubert Dreier, Tomston Music - Thomas Trinkl, USP-Enterprises - Michael Macher & Dominik Hemmer, Mr. Smart Bones & 3select Music Inhaber Werner Schneeweiss Christian Anders Lead-Vocals Recorded by Birgit Diehn, Jack Price, Tom Marquardt Vocals: Christian Anders Backing-Vocals: Hubert Dreier, Monika Regenfelder, Thomas Trinkl, Silke Krupka He-Vocals: Markus Wutte, Alexandra Strauß, Christian Wieser & Werner Schneeweiss 3select® RMX Ad-libs: Corinna Tomaschitz Guitars: Markus Holzer, Hubert Dreier Additional Keyboards, Drums, Sound-Programming: Hubert Dreier, Thomas Trinkl, Mr. Smart Bones, Michael Macher, Dominik Hemmer, Werner Schneeweiss T.: Christian Anders M.: Christian Anders V.: Schnipsel Verlag Christian Anders & 3select-Edition IP-Nr.: 00619457130 Cover-Artwork by Birgit Diehn & Mr. Snowknow Cover-Foto by Birgit Diehn Booking & Management by www.suessmatz.eu info@suessmatz.eu Künstlerwebsite: www.christiananders.com Label, License Request (P) + © by 3SELECT® MUSIC - LC 19053 • MC-D 39.1706-1 • EAN: 9120039170619 • AUSTRO MECHANA • Distributed by 3SELECT® EDITION - www.3select.de • Made in the EU. All trademarks and logos are protected.
Management / Booking
Get in contact
Promotion plan
Amazon, iTunes, Spotify & Co.