The Voice Of Carlos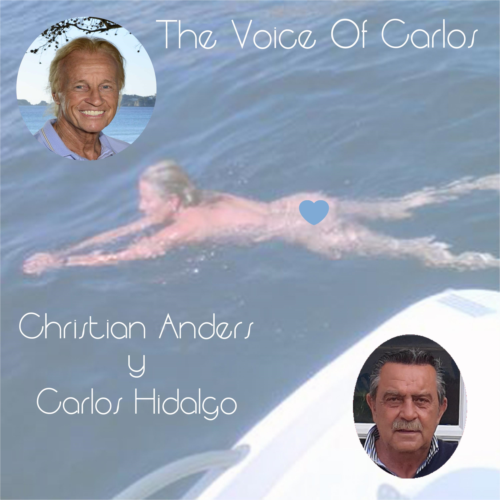 | | |
| --- | --- |
| Artist | Christian Anders / Carlos Hidalgo |
| Title | The Voice Of Carlos |
| | |
| Release Date | Tuesday, May 25, 2021 |
| Genre | Pop > Latin Pop |
| | |
| Copyright | © Süssmatz SL - LC 15803 |
| Country | AUSTRIA |
Update Required
To play the media you will need to either update your browser to a recent version or update your
Flash plugin
.
Promotion Text
Superstar Christian Anders im Duett mit neuer Weltstimme namens Carlos!
"Den Namen Carlos sollte man sich einprägen. Wer einmal seine Stimme gehört hat, wird sie nie mehr vergessen." Christian hebt Carlos mit dem Gemeinschaftsprojekt "THE VOICE OF CARLOS" in die Premier League. Damit "adelt" Christian Anders Señor Carlos Hidalgo. Die Besonderheit bei diesem Duett: Christian singt auf Englisch und Carlos spricht Spanisch. Wie kam es dazu?Birgit und Christian Anders  kennen Carlos schon seit vielen Jahren als erfolgreichen Gastronom auf Mallorca. Sie sind in seinem "Restaurante Mar Blau" immer wieder gerne zu Gast. An einem Nachmittag bei Carlos philosophierten Christian und seine Frau über neue Musikrichtungen. Das Meer, die Sonne und sehr viel gute Laune inspirierten Christian zu einer neuen Melodie. Er summte die Idee seiner Frau Birgit vor und sie sagte schlagartig: "Nimm doch Carlos als Sprechstimme dazu! Frag ihn, ob er Lust hat, mit dir zusammen einen Song aufzunehmen!" Gefragt, sagte Carlos Ja!Die Umsetzung erfolgte gleich am nächsten Tag im Haus von Christian Anders auf Mallorca.Die Küche wurde kurzzeitig zum Tonstudio umfunktioniert und Carlos´ Stimme wurde von Christian und seiner Frau Birgit verewigt. In Berlin nahm Christian im Studio "Tonflow" seine Liedstimme auf und legte das Projekt in die Hände des 3select-Music-Teams. Das Ergebnis: "Christian Anders y Carlos Hidalgo - THE VOICE OF CARLOS".Liebe Fans, Musikredakteure und DJs, wir freuen uns auf euer Voting.VÖ 25.05.2021 Christian Anders y Carlos Hidalgo • THE VOICE OF CARLOS • 01) Radio Version (3:19) ISRC: DEQC62100001 02) Karaoke Version (3:19) ISRC: DEQC62100003 03) Instrumental Version (3:19) ISRC: DEQC62100004 Text: Christian Anders Musik: Christian Anders / Daniel Jany Schönfeld / Dominik Hemmer / Michael Macher / Werner Schneeweiss Verlag: Schnipsel Verlag Christian Anders / 3select-Edition IP-Nr.: 00619457130 / USPMUSIC MV / Melodica MV Carlos Hidalgo Vocals Recorded by Brigit Diehn & Christian Anders Christian Anders Lead-Vocals Recorded by Tonflow Produced, Mixed & Mastered @ USP Studio (Wildon) by Dominik Hemmer, Michael Macher, Werner Schneeweiss (3select® Music), Mr. Smart Bones Guitars Recorded @ novumaudio.at by Jürgen Kulmesch Additional Keyboards, Drums, Sound-Programming: Daniel Jany Schönfeld, Dominik Hemmer, Michael Macher, Werner Schneeweiss Mediadesign: Birgit Diehn & Thomas Schmidt Booking & Management by suessmatz.eu • info@suessmatz.eu Künstlerwebsite: christiananders.com MC-D 00.1407-0 • EAN: 4260300140707 • GEMA • Distributed, Label, License Request (P) + © by Süssmatz SL - LC 15803 Suessmatz.eu • Made in the EU.Aus Gründen der besseren Lesbarkeit, wird auf die gleichzeitige Verwendung männlicher und weiblicher Sprachformen verzichtet. Sämtliche Personenbezeichnungen gelten gleichermaßen für beiderlei Geschlecht.
Promotion plan
Amazon, iTunes, Spotify & Co.