Feuer und Eis (3select® RMX)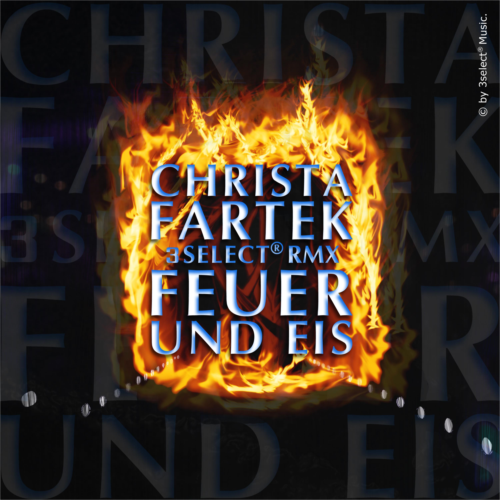 | | |
| --- | --- |
| Artist | Christa Fartek |
| Title | Feuer und Eis (3select® RMX) |
| | |
| Release Date | Friday, March 1, 2019 |
| Genre | German Pop > Deutscher Schlager > Pop Schlager |
| | |
| Copyright | © 3SELECT-MUSIC LC 19053 |
| Country | AUSTRIA |
Update Required
To play the media you will need to either update your browser to a recent version or update your
Flash plugin
.
Promotion Text
Ziehen sich Gegensätze wie "Feuer und Eis" an oder aus?
Dieser Frage ist aktuell Christa Fartek nachgegangen. Der Name Christa Fartek steht generell für Country, Hochzeit und Schlager und die Erfolgsbilanz kann sich sehen lassen. 2017 hat Christa mit ihrem Album "Don´t give up" die Country-Herzen im Sturm erobert. Mit DJ Ostkurve und dem Titel "Himmel und Hölle" hat sie 2018 viele Beachtungserfolge eingefahren. Mit ihrer aktuellen 3select® RMX-Version "Feuer und Eis" - die auch der Vorbote der kommenden Single ist - bedient Christa ihre vielen treuen Pop- und Schlagerfans. Der Komponist und Texter KAJ Jäger hat mit "Feuer und Eis" ein geniales Werk erschaffen, das sich mit dem Thema Eroberung beschäftigt. Ab sofort erobert die moderne, gleichberechtigte, Frau den Mann mit dem Satz: ,,Spiel mit mir…". Umgesetzt wurde das Werk von 3select® Music in Zusammenarbeit mit Mr. Smart Bones, USP Enterprises und TomsTon Music. Im Namen aller Beteiligten wünschen wir euch viel Spaß mit Christa Fartek "Feuer und Eis"."Meine Augen sind verbunden. lch fliege ziellos durch die Nacht. Ich habe die Wahrheit nun gefunden, doch meine Abwehr steht Schachmatt. lch sag nur: Spiel mit mir und nicht mit dem Feuer und lass dich einfach treiben - ein Abenteuer, ein Spiel mit mir ist Feuer und Eis. Und wenn du gewinnst, dann bin ich dein Preis! Was ist erlaubt und was ist verboten in diesem Spiel. Keine Regeln, nur ein bisschen Fantasie. Es gibt kein richtig oder falsch in dieser Welt. Es gibt nur das, was uns beiden gefällt! lch sag nur: Spiel mit mir und nicht mit dem Feuer…Spürst du mich auf deiner Haut. Dieses Gefühl ist mir so vertraut. lch halte dich fest und lass dich nie wieder los! Wir fliegen zusammen völlig schwerelos. lch sag nur: Spiel mit mir und nicht mit dem Feuer…"DJ-Bemusterung • Feuer und Eis • 3select® RMX am 19.02.2019 • RMX-MP3-VÖ am 01.03.2019.Christa Fartek • Feuer und Eis • 3select® RMX (3:54) ATSF71900003 Produced, Recorded, Remixed by USP-Enterprises - Michael Macher & Dominik Hemmer, Mr. Smart Bones & 3select Music Inhaber Werner Schneeweiss Vocals: Christa Fartek Backing-Vocals: Thomas Trinkl, Corinna Tomaschitz, Christa Fartek, Michael Macher, Werner Schneeweiss, Guitars: Mr. Smart Bones Additional Keyboards, Drums, Sound-Programming: Mr. Smart Bones, Michael Macher, Dominik Hemmer, Werner Schneeweiss, Thomas Trinkl T.: Andreas Jaeger M.: Andreas Jaeger V.: 3select-Edition IP-Nr.: 00619457130 Cover-Artwork by Mr. Snowknow Booking & Management by office@christa-fartek.com Künstlerwebsite: www.christa-fartek.com Label, License Request (P) + © by 3SELECT® MUSIC - LC 19053 MC-D 39.1706-9 EAN: 9120039170695 • AUSTRO MECHANA Distributed by 3SELECT® EDITION - www.3select.de Made in the EU. All trademarks and logos are protected. *Aus Gründen der besseren Lesbarkeit, wird auf die gleichzeitige Verwendung männlicher und weiblicher Sprachformen verzichtet. Sämtliche Personenbezeichnungen gelten gleichermaßen für beiderlei Geschlecht.
Management / Booking
Get in contact
Promotion plan
Amazon, iTunes, Spotify & Co.