Lebendige Vergangenheit - Cesare Formichi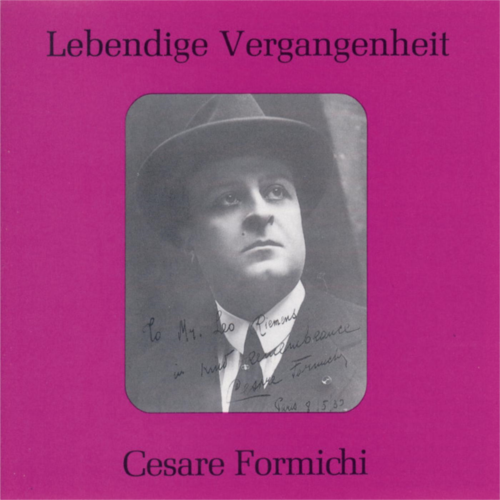 | | |
| --- | --- |
| Artist | Cesare Formichi |
| Title | Lebendige Vergangenheit - Cesare Formichi |
| | |
| Release Date | Thursday, August 31, 2006 |
| Genre | Classical > Choro |
| | |
| Composers | Jules Massenet, Umberto Giordano, Giacomo Puccini, Camille Saint - Saens, Richard Wagner, Renato Brogi, Nicholas De Fontenailles, Reynaldo Hahn, Giuseppe Verdi |
| Songwriters | Cesare Formichi, Cesare Formichi / Grace Holst, Ines Maria Ferraris / Cesare Formichi |
| | |
| Copyright | © Preiser Records |
| Country | AUSTRIA |
Update Required
To play the media you will need to either update your browser to a recent version or update your
Flash plugin
.
Promotion Text
Lebendige Vergangenheit
Cesare Formichi was born of aristocratic parents in Rome and studied law at the local university where he eventually obtained his Ph. D in Jurisprudence. During his study time his exceptionally beautiful voice was much commented upon and he underwent vocal tuition with Vincenzo Lombardi, Di Pietro and Luigi Rasi. His debut at the Teatro Lirico in Milan in 1911 was so auspicious that he decided to give up his legal career and concentrate on singing. Eventually he became one of the most important baritones in ltaly and Spain. In 1912 he toured Russia and in summer 1914 he made his debut at the Teatro Colon, Buenos Aires where he sang Klingsor in the first local performance of "Parsifal". His partners were Elena Rakowska, the wife of the conductor Tullio Serafin, Charles Rousseliere, Carlo Galeffi and Nazzareno De Angelis. That summer season he also sang the Wanderer in "Siegfried" and the High Priest in "Samson et Dalila", partnering Nini Frascani and Rousseliere. Between 1918 and 1921 he appeared primarily in Spain, where he enjoyed enormous acclaim. In Valencia he appeared as Scarpia (with Genevieve Vix and Giacomo Lauri Volpi ), in Madrid as Rigoletto, Amonasro, Scarpia and Kurwenal. In 1922 he sang at the Paris Opera at a gala performance of "Aida" with Claudia Muzio, Helene Sadoven and Luigi Canalda. In 1924 he appeared at Covent Garden, London, as Rigoletto (with Hislop and Piccaver alternating as Duca, as well as Maria Ivogün and Eide Norena ), then Scarpia opposite Edvina's Tosca and Tonio in "Pagliacci". In 1922 he started a long association with the Chicago Opera, which continued until the bankruptcy of the house in 1932. ln Chicago he sang a vast number of roles of the French and ltalian repertoire. Among his standard roles were Scarpia (his favourite role), Amonasro, Rtgoletto, Tonio, Luna, Carlo Gerard, the High Priest in "Samson et Dalila", Capulet, Barnaba,lago; Escamillo, Athanael opposite Mary Garden's Thais, with whom he also appeared in lfano's "Resurrezione" Bonifacius in Massenet's "Jongleur de Notre Dame", Manfredo in Montemezzi' s "L' amore dei tre Re" (with Garden, Maison, and Lazzari), Don Carlos in "Forza" opposite Rosa Raisa etc. On 13. November 1922 he had made his debut as Amonasro there and on 4. November 1929 he was accorded the honor of inaugurating the new Chicago Civic Opera House. 1925 saw him back in Buenos Aires, this time as Falstaff (with Muzio, Bertana, Perini, Hislop, Laura Pasini, Bada, Nessi and Didur) and as Scarpia, Carlo Gerard as well as his role debut in the local premiere of Giordano's "La Cena delle Beffe" (with Muzio, Frances Alda and Gigli). He returned in 1926, this time in the South American premiere of Boito's "Nerone" conducted by Gino Marinuzzi (with Muzio, Bertana, Pertile, Franci and Pinza). He also sang his first Alfio. In 1931 he returned to Covent Garden, where he sang in the world premiere of Romano Romani's "Fedra" opposite Rosa Ponselle and Antonio Cortis. In 1933 he sang Mefistopheles in "Damnation de Faust" conducted by Sir Thomas Beecham, was well as Scarpia (with Raisa and Minghetti). He also appeared as a guest artist in Prague, Monte Carlo and other important cities. His final appearances were made in 1934, when he sang Scarpia in Copenhagen and Iago (with Merli as Otello) at the Teatro San Carlo in Naples. Subsequently he retired from the stage and became impresario. He died in Rome on 21. July 1949. In a generation amply blessed with splendid Italian baritones, Cesare Formichi was one of the most outstanding - and his name is quite unjustly virtually forgotten. His voice was of a rare, dark-hued quality which, despite its volume, never seemed massive. His characterization of Scarpia was probably the most vital in the interim period between Antonio Scotti and Mariano Stabile. His repertoire was vast, his French diction was superb and he was, moreover, the Wagner specialist in Italy and Spain for quite some time. As an especially intelligent and educated man his histrionic ability was exceptional. He recorded exclusively for Columbia - most of the recordings being acoustic. He made only a very few electric recordings, the last in 1932 in Italy.
Amazon, iTunes, Spotify & Co.