The Great Riot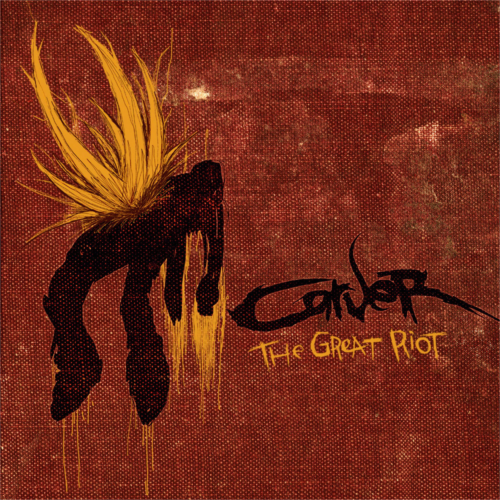 | | |
| --- | --- |
| Artist | Carver |
| Title | The Great Riot |
| | |
| Release Date | Friday, February 8, 2013 |
| Genre | Rock > Metal > Alternative Metal |
| | |
| Copyright | © Supreme Chaos Records |
| Country | GERMANY |
Update Required
To play the media you will need to either update your browser to a recent version or update your
Flash plugin
.
Promotion Text
Carver publish new album "The Great Riot"
The German rock band CARVER publishes its new breathtaking album "The Great Riot" - 10 hard rocking creations of beauty, meloncholy, craziness and heaviness including an absolutely stunning cover version of "Tear Drop" (Massive Attack). Mastered by Pelle Henricsson at tonteknik (Refused, Meshuggah). BIO Rein ins Hamsterrad und immer schön treten, ein ganzes Leben lang. Dann umfallen. Tot und Dankeschön. Wer da raus will, muss den Aufstand schon selbst anzetteln, das Schicksal in die eigene Hand nehmen. Denn unmündig ist nur der, der sich kein Gehör verschafft. Carver aus Stuttgart setzen da nicht nur auf Lautstärke, sondern auch noch einen drauf: "The Great Riot". Aus der wütenden und sperrigen Underground-Deathcore-Walze Subterfuge Carver wurde Carver und "The Great Riot" ist die Kampfschrift des Quartetts. Doch Wut, die ständig durch das gleiche Ventil entweicht, wird im Handumdrehen zu heißer Luft. Deshalb kanalisieren Carver ihren Zorn mittlerweile in völlig neuen Bahnen. Eine davon: ihr neuer Sänger Daniel Neuberger. Goldkehlchen, der Typ. Und treffende Worte findet er auch: "it's hard to read, when no one writes". Carver werfen sich mitten ins trostlose Niemandsland aus Wut, Entfremdung, Hoffnung und Dingen, die an Beton zerschellen. Wo anderen die Pose im puren Nichts ausreicht, legen Carver die Messlatte für künftige Aufstände hoch: da ballt das Herz die Faust und schlägt zu. "The Great Riot" ist eine verfluchte Wundertüte: Brachialgewalt durchzogen von feinsinnigen Melodien, wuchtige Brocken, mehr Überraschungen als ein irrer Alptraum, irrwitzige Arrangements – Metal mit Herz, viel Hirn, Hüftschwung und – ja –auch Pop. Und nicht nur weil das Quartett auch noch die Frechheit besitzt, sich "Teardrop" von Massive Attack vorzunehmen und beinahe ein neues Lied daraus zu machen. Und dann immer wieder diese Melodien, die wie aus dem Nichts auftauchen, die heile Welt in Schutt und Asche legen und dann so schnell verschwinden, wie sie gekommen sind. Wenn Wehmut je wütend war: dann hier. "The Great Riot" ist von beängstigender Intensität, als würde sich das Quartett immer wieder selbst ins Gesicht schlagen – nur um sicher zu gehen, bloß nicht zu gemütlich zu werden. Für die Akten: Produziert wurde das Debüt von der Band selbst. Mix und Mastering nahm Pelle Henricsson (u.a. Meshuggah, Refused, In Flames, Ghost Brigade, Poison The Well) in seine bewährten Hände. Machen wir es kurz: Let The Riot Begin. MUSIKER GESANG Daniel Neuberger GITARREN Arthur Wall BASS, SYNTH Bert Oeler DRUMS Thomas Neuberger DISCO 2013 The Great Riot 2011 Sessions [Unplugged-EP] 2008 Deathcore [Subterfuge Carver] FACEBOOK facebook.com/Carverband WEB subterfugecarver.de MYSPACE myspace.com/subterfugecarver MAIL press@subterfugecarver.de Aufgenommen von CARVER im bandeigenen Studio - Mix und Mastering von Pelle Henricsson (u.a. Meshuggah, Refused, In Flames, Ghost Brigade, Poison The Well) - "Teardrop" im Original von Massive Attack, auch als Radio Edit verfügbar - Illustrationen und Layout von Michael Babic / Urban Riot Art - 24-seitiges handillustriertes Booklet - Optisch ansprechendes DigiPak
Management / Booking
Get in contact
Amazon, iTunes, Spotify & Co.