Lebendige Vergangenheit - Carlo Tagliabue (Vol. 2)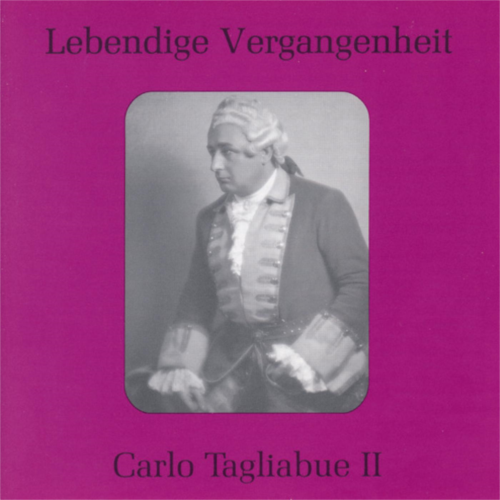 | | |
| --- | --- |
| Artist | Carlo Tagliabue |
| Title | Lebendige Vergangenheit - Carlo Tagliabue (Vol. 2) |
| | |
| Release Date | Tuesday, September 5, 2006 |
| Genre | Classical > Choro |
| | |
| Composers | Giuseppe Verdi, Amilcare Ponchielli, Gaetano Donizetti, Charles Gounod, Gioacchino Rossini |
| Songwriters | Royal Opera House Orchestra Covent Garden / Carlo Tagliabue / Margherita Cariosio, Carlo Tagliabue / Orchestra Sinfonica dell`EIAR, Carlo Tagliabue / Royal Opera House Orchestra Covent Garden, Galliano Masini / Carlo Tagliabue / Orchestra Sinfonica dell`EIAR, Carlo Tagliabue / Rosetta Noli, Carlo Tagliabue / Royal Opera House Orchestra Covent Garden / Margherita Cariosio, Margherita Cariosio / Carlo Tagliabue / Royal Opera House Orchestra Covent Garden, Carlo Tagliabue |
| | |
| Copyright | © Preiser Records |
| Country | AUSTRIA |
Update Required
To play the media you will need to either update your browser to a recent version or update your
Flash plugin
.
Promotion Text
Lebendige Vergangenheit
"A settantacinque anni, fresco come una rosa" (fresh as a rose at age 75) reported one Italian newspaper on the occasion of Carlo Tagliabue 's election to the "Socio Onorario dell'Accademia Tiferiana, di scienze e arti". He was one of the most significant representatives of the Italian lyric baritones, excelling as Rigoletto, Luna and Germont pere. Not only did the great Verdi roles contribute to his fame, he was equally sought after and celebrated for his interpretations of works by Puccini, Giordano, Mascagni, Leoncavallo, Zadonai, Perosi and Respighi, whose "La Fiamma" he premiered in Rome in 1934. Wolfram in "Tannhäuser", Telramund in "Lohengrin", Kuiwenal in "Tristan und Isolde" und Gunther in "Götterdämmerung", all roles which he sang at La Scala in Milan, round out his broad repertory which included 85 different works. His career lasted over four decades, thanks to his technique (above all his flawless breath control), which allowed him to span two generations of singers - a phenomenon reserved for only a few. He was thus partner to such singers as Muzio and Caniglia as well as Callas and Tebaldi, Zenatello and Lauri Volpi as well as del Monaco and Di Stefano. His voice was compared with that of Sammaoco and also Danise. Of the former he had the vocal stamina and clarity of diction, from the latter the artistic personality and perfect eveness of registers. What only a very few possess, however, was that which gave him special prominence among the elete: the "tear'' in his voice. About his artistry Giacomo Lauri Volpi relates in "Voci Parallele": "Tagliabue ... was a classical singer and worthy of admiration, faithful to his own style and until today without a successor in Italy or elsewhere. He is the sole survivor of a school which understands bow operas such as "Rigoletto", "Un Ballo in Maschera", "Trovatore" and "Traviata" must be sung - with moderation, phrasing an aria in the sense of the music according to the principles of great art. Listen to his final cadenza "Sperda il sole d'un suo sguardo la tempesta del mio cor" from the third act aria in "II Trovatore" and tel1 me if another voice could conclude this aria - senselessly screamed by so many- with a more masterful legato or purity of tone." Carlo Tagliabue was born on January 13, 1898 in Mariano Comense, a small village approximately 30 kilometers north of Milan. He studied with Ghidotti and Gennai, received a stipend from the publishing house Sonzogno in Milan and made his debut in 1921 in Lodi as Amonasro in "Aida". After numerous appearances in various theatres he came to La Scala in 1929 at Toscanini's behest (debut role: Hermann in "Loreley"). He appeared in thirty-nine different rotes at La Scala alone. The conductors he sang under include Giordano, Mascagni, de Sabata, Serafin, Marinuizi, Guamieri, Votto and Karl Böhm, who had special admiration for his interpretation of Wolfram. Rome, the Arena di Verona, Rio de Janeiro, San Paolo, Lisbon, the May Festival in Wiesbaden and Vienna were further stations in his career. In 1936 he sang at Covent Garden in a Gala Performance on the occasion of the coronation of George VI. From 1937 to 1939 he was a celebrated guest at the Metropolitan Opera in New York, where he appeared in "Aida" (with Milanov and Gigli), "Rigoletto" (with Kiepura) and "La Boheme" (with Moore and Landi). His real artistic home however remained the Scala, whose ensemble he belonged to for almost thirty years until his farewell in 1958 as Germont (with Maria Callas and Gianni Raimondi). He was certainly one of the most prominent figures in the history of this esteemed house. His last performance took place in Forli in 1962, where he bade farewell to the opera stage at the age of 64 in the role of Tonio in "Pagliacci". Until his death he lived in his beautiful home in Monza, always willing to advise and help young singers.
Amazon, iTunes, Spotify & Co.