Lebendige Vergangenheit - Famous Italian Baritones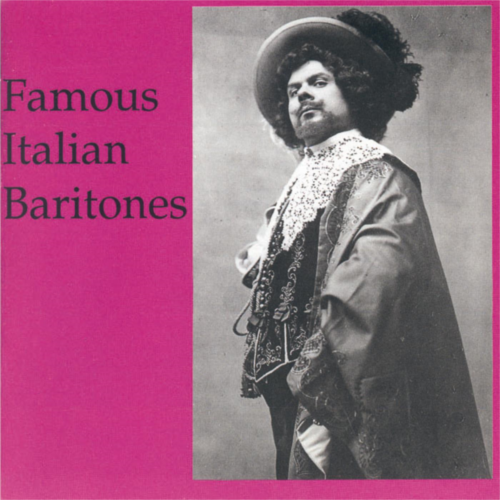 | | |
| --- | --- |
| Artist | Carlo Galeffi |
| Title | Lebendige Vergangenheit - Famous Italian Baritones |
| | |
| Release Date | Tuesday, September 12, 2006 |
| Genre | Classical > Choro |
| | |
| Composers | Giuseppe Verdi, Gioacchino Rossini, Ruggiero Leoncavallo, Jules Massenet, Gaetano Donizetti, Giacomo Puccini, Charles Gounod, Alfredo Catalani, Ambroise Thomas, Francesco Cilea |
| Songwriters | Antonio Scotti, Mario Sammarco, Benvenuto Franci, Cesare Formichi, Enrico Molinari, Domenico Viglione - Borghese, Apollo Granforte, Giuseppe Taddei, Mariano Stabile, Carlo Galeffi, Antonio Magini - Coletti, Luigi Montesanto, Mario Basiola, Mattia Battistini, Mario Ancona, Carlo Tagliabue, Giuseppe de Luca, Gino Bechi, Titta Ruffo, Giuseppe Danise, Riccardo Stracciari, Pasquale Amato, Tito Gobbi |
| | |
| Copyright | © Preiser Records |
| Country | AUSTRIA |
Update Required
To play the media you will need to either update your browser to a recent version or update your
Flash plugin
.
Promotion Text
Lebendige Vergangenheit
Traditionally the "primo uomo" of the Italian opera world is the tenor and it is he who is most frequently accorded the sympathetic, noble or ardent roles. The baritone, in contrast, is in a less fortunate position. He often embodies the negative element, the dark, gloomy world of ill-favour or intrigue. Although there are numerous exceptions to this rule - after all, Verdi wrote leading or eponymous roles for the baritone voice - this vocal category was nevertheless classified as "voce seconda", although it is actually the most natural of all male voice ranges. In the course of vocal history there have, however, been quite a number of superb Italian baritones who were more than able to compete with outstanding tenors. The contemporary Italian operatic baritone is historically a relatively recent mani­ festation. In Mozart's time and for quite some time later male voices were merely classified as "tenore" or "basso", occasionally as "low tenor" or "high bass". This bluring explains why there were "tenors" who included Mozart's "Don Giovanni" in their repertoire. The Spanish tenor Manuel Garcia, Rossini's first Count Almaviva is a famöus case in point. Not until the rise of the belcanto repertoire in the early and mid-19th century did the genuine baritone range develop which subsequently contributed to characterizing Italian operatic art and which ultimately reached its culmination in Verdi's operas. A significant contribution to this development was made by superb artists active between 1820 and 1850 who exerted a considerable influence on opera composition. Special cases in point were Antonio Tamburini and Giorgio Ronconi for whom composers like Bellini and·Donizetti wrote some of their roles. From Verdi's time we know the name of Felice Varesi (the first Macbeth, Rigo- letto, Germont), Achille de Bassini (aka Debassini) and Leone Giraldoni. With the French baritone Victor Maurel, the first Iago, Falstaff and Tonio in "I Pagliacci" we already reach the "acoustic" age from the early phase of which many important sound documents have survived. They are priceless not least because these recordings document many traditions hailing back to the distant past. The recordings of important Italian baritones herewith presented thus recall the lost art of forerunners like Tamburini, Ronconi, Varesi etc. Our collection is launched by the dramatic baritone Antonio Magini-Coletti (1855-1912) who like Mattia Battistini (1856-1928) was deemed one of the supreme vocalists of his time. Battistini himself was regarded as an unsurpassed belcanto baritone who retained his vocal splendor right to the end of his career. Mario Ancona (1860-1931) was highly regarded as a lyric baritone. With Antonio Scotti (1866-1936) we encounter one of the most outstanding singers of the Metropolitan Opera (he sang there for 34 years) who was also one of Caruso's preferred partners. World-wide fame was enjoyed by Mario Sammarco (1867-1930) and Riccardo Stracciari (1875-1955). Stracciari managed to preserve his voice into the "electric" recording age and sang the eponymous lead in two exemplary complete opera performances ("Rigoletto" and "Barber of Seville"). The classic belcanto baritone Giuseppe de Luca (1876-1950) also enjoyed an unusually long career, although in his early years his fame was overshadowed by Titta Ruffo (1877- 1953). Ruffo's huge voice has always been regarded as one of the greatest miracles in vocal history. Of almost equal vocal splendor was the voice of Ruffo's contemporary Domenico Viglione-Borghese (1877-1957). With Pasquale Amato (1878-1942) we come to the last glorious representative of the "golden era" of the recording 'industry which is more or less synonymous with the career of Enrico Caruso and is mainly documented in "acoustic" recordings. The two subsequent singers of our collection, Carlo Galeffi (1882-1961) and Enrico Molinari (1882-1956), are among the prime artists associated with the artistically vital Toscanini era at La Scala, Milan. For many years Giuseppe Danise (1883-1963) sang at the Metropolitan while Cesare Formichi (1883-1949) and Apollo Granforte (1886-1975) both made their careers
Amazon, iTunes, Spotify & Co.