Four Italian Baritones of the Past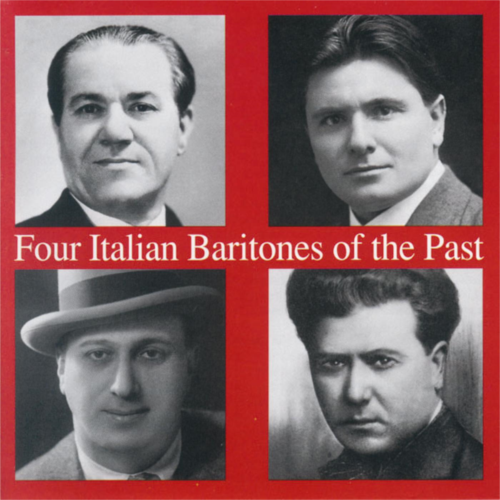 | | |
| --- | --- |
| Artist | Carlo Galeffi |
| Title | Four Italian Baritones of the Past |
| | |
| Release Date | Wednesday, September 6, 2006 |
| Genre | Classical > Choro |
| | |
| Composers | Giuseppe Verdi, Richard Wagner, Wolfgang Amadeus Mozart, Pietro Mascagni, Giacomo Meyerbeer, Gioacchino Rossini |
| Songwriters | Mariano Stabile, Carlo Galeffi, Enrico Molinari, Galliano Masini / Benvenuto Franci / Luisa Lucini / Vittorio Lois, Benvenuto Franci / Maria Luisa Fanelli, Carlo Galeffi / Maria Gentile, Mariano Stabile / Giuseppe Nessi / Emilio Venturini, Carlo Galeffi / Lina Bruna Rasa, Benvenuto Franci, Mariano Stabile / Natalia De Santis |
| | |
| Copyright | © Preiser Records |
| Country | AUSTRIA |
Update Required
To play the media you will need to either update your browser to a recent version or update your
Flash plugin
.
Promotion Text
Lebendige Vergangenheit
Enrico Molinari was born on December 21st 1882 in Venice where he studied at the Liceo Marcello and where he also made bis operatic debut as a bass in 1907. He enjoyed a successful career as a bass singer on Italian stages. We find bis name in 1908 at the Teatro Regio di Parma and in 1909 in Bergamo where he also sang the part of Count Robinson in "11 matrimonio segreto" in 1911. Gradually, Molinari's lyric bass voice developed into a baritone. After a period of repeated studying he introduced himself - for the first time as a baritone - at the Teatro Massimo in Palermo in the role of Alfonso in "La favorita" on January 25th 1916, in 1919 the singer performed the same role at the Opera House of Rome. In 1920 Molinari was heard for the first time outside of Italy in Barcelona where he appeared as Rigoletto, Amonasro, Escamillo and Alfonso. 1923-24 he was, again, in Rome. One year later he arrived at Milan's Scala singing Escamillo, Gerard in "Andrea Chenier", Amonasro and Telramund as well as Germont in "La Traviata" under Toscanini. lt was back in Rome as Iago (opposite Giovanni Zenatello in the title role) where appearances as Rigoletto, Amonasro, Gerard and Barnaba in "La gioconda" were to follow. Molinari was a frequent guest in Bologna, Genoa and Parma. Outside of Italy he was heard in Budapest, Monte Carlo, Lisboa, Bucarest, Madrid, etc. From 1935 on the singer's vocal resources began to decline and he decided to make the comic bass repertory his own. For more than ten years he continued to be successful in roles like the sacristan in "Tosca", Alcindoro in "La boheme" and especially as Simone in Wolf Ferrari's "I quattro rusteghi", apart which he performed on almost every Italian stage. Enrico Molinari retired in 1950 and sperrt the last years of his life in Verdi's "Casa di riposo" where he died on June 15th 1956. Carlo Galeffi was born on June 4th 1884 in Malamocco (Veneto). Most biographical reference books refer to him as a student of the Roman singing master, Antonio Cotogni, whereas the singer himself always insisted on being a complete autodidact. Galeffi made his debut in 1907 in Fermo in Donizetti's "La favorita". In the same year he appeared at the Teatro Adriano in Rome as Amonasro. Within a short period of time he gained great farne in Italy, especially as an interpreter of Verdi's music. Only three years after his stage debut Galeffi appeared for the first time at the Metropolitan Opera of New York. Especially his Germont in "La traviata" (with Nellie Melba as Violetta) was highly praised. In the year of his MET debut the singer gave his first performance at the Scala of Milan which was to remain his artistic home for three entire decades. Arnong Galeffi's most glorious impersonations on the stage of the Scala surely was the title role in Verdi's "Nabucco". Galeffi's name is also closely associated with the world premiere of Boito's posthumous work "Nerone" (1924) where he interpreted the role of Fanuel. The baritone had the fortune to be one of Toscanini's favorite singers and took part in nearly every world premiere or first Italian performance represented at the Scala during the era of Toscanini. Carlo Galeffi died poverty-stricken in Rome on September 22nd 1961. Mariano Stabile derived from a distinguished Sicilian family and was born in Palermo on May 16th 1888. He was a pupil of the great Antonio Cotogni at the Accademia di Santa Cecilia in Rome. When the self-willed pupil refused to take the obligatory courses of piano and counterpoint he was denied further access. Stabile continued his studies with private lessons and made his stage debut in October 1909 at the Teatro Biondo in Palermo in "La boheme" which was followed by a performance as Amonasro in "Aida". Slowly but surely the singer built up his career at various Italian opera houses during the next twelve years. In 1919 he sang for the first time in "Falstaff' - yet, it was still the role of Ford. Until 1921 Stabile's repertory consisted mainly of roles from the charakterfach. When Milan's Scala was to be reopened in 1921 after having been closed for some time, Toscanini chose "Falstaff' for the opening night. He invited several artists to audition for the title role and to everybody's surprise the conductor chose Stabile, who from the first moment on had made a deep impression on him. Virtually over night Stabile was considered Italy's greatest singing actor. From that moment on he focused on the major baritone roles, especially those which required eminent histrionic skills. The baritone's career continued even after the end of World War II. At the age of 62 he sang Don Giovanni in a complete recording by the "Haydn Society" and in 1955 he recorded Rossini's "Il Turco in Italia" together with Maria Callas. Only in 1958 did he give his farewell performance as Gianni Schicchi at the Teatro La Fenice in Venice. Mariano Stabile died on January 11th 1968 in Milan. Benvenuto Franci, bom on July 1st 1891 in Pienza (Siena), was another pupil of the Accademia di Santa Cecilia in Rome (Antonio Cotogni and Ernilio Rosati were his teachers). In 1918 his debut in opera took place at Rome's Teatro Costanzi in the role of Gianetto in Mascagni's "Lodoletta". He remained closely associated with the Teatro Costanzi during the following years but at the same time made guest appearances at the Teatro Liceo in Milan, the San Carlo …
Amazon, iTunes, Spotify & Co.