Die Fledermaus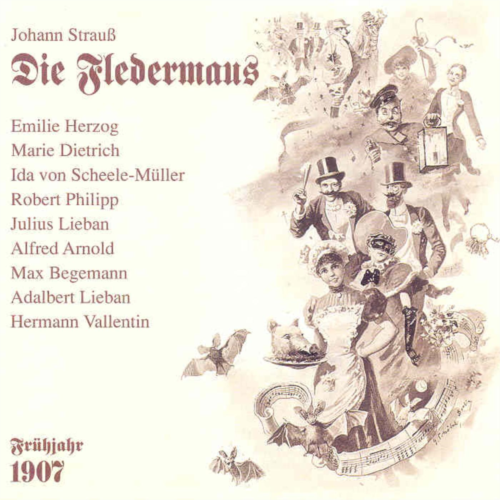 | | |
| --- | --- |
| Artist | Bruno Seidler - Winkler |
| Title | Die Fledermaus |
| | |
| Release Date | Tuesday, September 12, 2006 |
| Genre | Opera > Operette |
| | |
| Copyright | © Preiser Records |
| Country | AUSTRIA |
Update Required
To play the media you will need to either update your browser to a recent version or update your
Flash plugin
.
Promotion Text
Lebendige Vergangenheit
"Whatever one tries to prove, there will be a statistic to verify it - as well as one which proves the opposite." A paradoxical statement, it seems, but nevertheless true. If somebody wanted to state that Berlin and not Vienna was the leading city of Johann Strauß' music, one look at the statistics of Berlin's Court Opera and Vienna's State Opera will make it clear: "Die Fledermaus" had its premiere in Vienna on October 28th 1894 - Berlin followed five years later on May 8th 1899. Until 1935 205 performances were given in Vienna­ Berlin managed to produce more than twice as much 469 performances in all. Of course, this does not signify since these statistics do not include performances at operetta theatres neither in Vienna nor in Berlin. One might conclude that in Berlin Johann Strauß was considered an opera composer whereas in Vienna his works were always associated with the operetta genre - but then, hardly anybody has succeeded in clearly distinguishing one genre from the other. Theatres in Berlin can equally claim their position as leading stages of Strauß operettas: in the years between 1874 and 1898 the Theater Friedrich-Wilhelmstadt has regularly represented every single Strauß operetta within a few months after the world premiere in Vienna. "Eine Nacht in Venedig", as a matter of fact, even had its world premiere in Berlin. At the numerous stages between Kaiserdamm and Alexanderplatz, such as Theater des Westens, Victoria Theater, Die Komische Oper, Metropol Theater and in many more, the works of Johann Strauß were a constant part of their repertoire. In one point Berlin had even been able to outdo the Viennese: the first complete recording of "Die Fledermaus" was not made in Vienna but in Berlin with singers from the local ensemble - one might even call it a "family affair": the cast included the brothers Julius and Adalbert Lieban as well as the married couple, Marie Dietrich and Robert Philipp. The interpreters of the main roles were all members of Berlin's Court Opera Ensemble: Marie Dietrich, Emilie Herzog and Ida von Scheele-Müller as well as Julius Lieban and Robert Philipp; Max Begemann appeared at the Komische Oper, at that time under the direction of Hans Gregor who later was appointed director of Vienna's State Opera, and Adalbert Lieban performed at the Lortzing Theater - a shortlived institution inside Berlin's Belle-Alliance-Theater. The actors, Alfred Arnold and Hermann Vallentin were engaged at Max Reinhardt's Deutsches Theater and at the Royal Theatre. The most prominent name in this cast in undoubtedly Julius Lieban who was born on February 19th 1857 in Ludenburg/Mähren. His father was a cantor in the local synagogue but apparently was a somewhat restless soul. He repeatedly changed residence and finally arrived in Vienna. In 1877 the youngest of the four Lieban brothers, Adalbert Lieban, was born there. His three brothers, Siegmund born in Oppeln, Adolf, born in Olmüth in 1867 and Julius, the most famous of them, were all professional singers in Berlin at the turn of the century. They all were baritones - considering that Julius Lieban, too, started out as a baritone in the roles of Conte di Luna, Rigoletto and Alberich in Leipzig but later switched to the tenor repertoire and was to become internationally famous- in the role of Mime. Leipzig's director, Angelo Neumann, one day decided to present "Siegfried" and therefore engaged Schlosser, the very first Mime ever, from Munich. Not only did Schlosser cancel - Leipzig's own Mime, Fritz Reibling, was not available either. The only artist who was able to save the situation was Lieban whose eminent musicality enabled him to learn the role within a few hours. Moreover it was discovered that the singer was a baritone who had the top notes of a tenor - or a tenor with a baritone's low register. Still, he continued to be active as a baritone for another year and then attempted a career as a tenor in the "Characterfach". His brother, Adalbert, was a lyric baritone in Danzig, Berlin, Düsseldorf and Münster, became manager of a cabaret in Berlin in the Twenties and founded his own theatre agency after the War. On February 23rd 1932, in celebration of his 75th birthday, Julius once more interpreted the role of Mime at Berlin's State Opera. At the same time Lieban was a sought after pedagogue: the heroic tenors, Ejnar Forchhammer and Peter Cornelius, as well as Fritzi Massary and Mafalda Salvatini were his most successful pupils. Julius Lieban died in 1940 - the last years of his life the singer, being of Jewish origin and therefore highly endangered in the Third Reich, spent in seclusion. Of the four brothers Adalbert Lieban was the only one who lived to see the end of the War; he died in 1951. Siegmund Lieban, once the star of the Apollo Theater and creator of several roles in works by Paul Lincke, had already died in 1917, Adolf in 1924. In 1927 the German Stage Club honored Julius' 70th birthday with a festivity programme which lasted two entire days. Berlin's most celebrated singers presented themselves with their most successful vocal pieces but it was Lieban himself who outdid them all with his rendering of "Vater, Mutter, Schwestern, Brüder". The career of the tenor, Robert Philipp, was truly phenomenal. Born in Offenbach in 1852 he came to Berlin already as a child and started his stage career as a choir member at the Walhalla Theater at the age of 18. Neither there nor at the old Berlin Stadttheater he considered himself sufficiently employed and decided to join a touring company which bore the proud name Court Theatre Ensemble. When he returned to Berlin in 1877 he was engaged at the Belle-Alliance:Theater …
Amazon, iTunes, Spotify & Co.