Four Scandinavian Tenors of the Past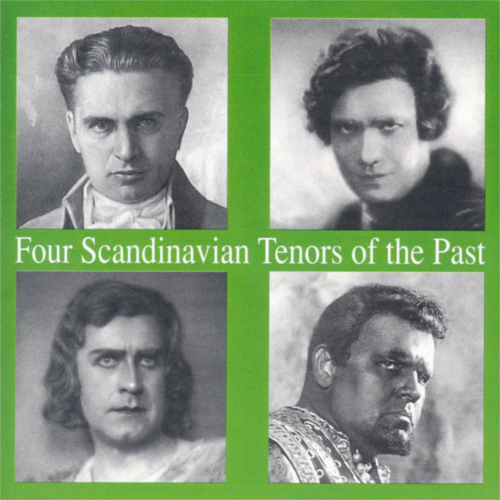 | | |
| --- | --- |
| Artist | Björn Talen |
| Title | Four Scandinavian Tenors of the Past |
| | |
| Release Date | Tuesday, September 12, 2006 |
| Genre | Classical > Choro |
| | |
| Composers | Giuseppe Verdi, Richard Wagner, Wilhelm Kienzl, Eugen D´Álbert, Wolfgang Amadeus Mozart, Jacques Offenbach, Umberto Giordano, Giacomo Puccini, Peter Cornelius |
| Songwriters | Josef Herrmann / Torsten Ralf, Carl Martin Oehmann, Gunnar Graarud, Torsten Ralf, Björn Talen / Karin Branzell, Björn Talen |
| | |
| Copyright | © Preiser Records |
| Country | AUSTRIA |
Update Required
To play the media you will need to either update your browser to a recent version or update your
Flash plugin
.
Promotion Text
Lebendige Vergangenheit
The Norvegian, Björn Talen, was one of the numerous Scandinavian tenors who enriched the operatic stages of Northern Germany in the inter-war years'. Born on November 8th 1890 in Christiania (now Oslo) he followed his family's tradition and entered the Military Academy to become Lieutenant of the Norvegian Army. In the first years of our century he already was Officer of the Royal Lifeguards before he began his vocal training in about 1910 in his home country. Talen later travelled to Milan and Rome and became a student of the famous Sebastianini in Naples in 1914 and 1915. He chose his home town, Christiania, for his debut in 1915 and continued to sing in Norway until 1920. To complete his studies Talen went to Germany in 1921 where he was offered a contract by the Berlin State Opera in 1922. In the following years the singer appeared exclusively in roles of the lyric German and Italian repertoire. His first role in a premiere in Berlin was Nurreddin in "Barbier von Bagdad" by Peter Cornelius on February 27th 1922. During his seven years in Berlin Björn Talen developed into one of the most individual and interesting tenors of this Opera House. Although the timbre of Talen's voice matched rather the timbre of a baritone than that of a lyric tenor in color he always used his instrument according to the principles of Italian Belcanto. On stage it was the immediate dramatic impact of a role which was one of Talen's main artistic aims. For his Italian roles the singer used his own translations to adapt the essence of a part as faithfully as possible to the original lyrics; at the same time Talen strived to always preserve the original note values - a principle which is not as common as it may seem. The singer's artistic willfulness often was not approved and working together with him could, at times, become rather difficult. Tue artist left the State Opera in 1928 and switched to the Städtische Oper. He gradually attempted the Wagner repertoire which he performed in all major German cities, in Italy, Holland, Spain and Switzerland as well as in Copenhagen, Oslo and Stockholm. For private and political reasons Talen left Germany in 1932 and returned to his home country where he died on July 12th 1947. Carl Martin Oehmann was one of the most popular tenors at the Deutsches Opernhaus Berlin from 1925 to 1937. The Swedish singer was born on September 4th 1887 in Floda and became an Officer in the Swedish Army. In 1907 he began his musical studies which included piano, organ and music theory at the Royal Conservatory in Stockholm. Later on he studied singing with Gentzel and was given the finishing touch in Milan by Oxilia and Quadri. As a concert singer Oehmann made his first appearance in 1914, his debut in opera took place in 1917 at the Stora Theatre in Göteborg andin 1919 he was engaged at the Royal Opera House of Stockholm. Oehmann enjoyed his first international success in 1924 at the MET, not as a Wagner singer but in the first American performance of Janacek's "Jenufa" in a cast which included such famous names as Laubenthal, Matzenauer, Jeritza and Schützendorf. He was also heard in the role of Samson but never again returned to the MET. After a guest performance at Vienna's State Opera Oehmann signed a contract with Deutsches Opernhaus and became one of the most popular singers in its ensemble until 1937. As an interpreter of Wagner roles Oehmann enjoyed his biggest successes at the Festival in Zoppot where he appeared as Lohengrin in 1926, Stolzing in 1929 and in 1934 as Siegmund and, again, as Stolzing. Vienna heard him in 1927 and at Covent Garden he was a noted Tannhäuser and Stolzing. In the beginning of the Thirties the singer restricted his international career to appearances in Berlin and at the Royal Opera House in Stockholm. In 1934 he performed one last time at the State Opera in Vienna and after having retired from the operatic stage in 1937 remained active as a concert singer until 1940 when he appeared for the last time in Amsterdam singing the tenor part in Mahler's "Lied von der Erde". Until his death Oehmann was a very sought after singing teacher in Stock­ holm whose most renown pupils are Nicolai Gedda and Martti Talvela. Gunnar Graarud will be chiefly known to the international public for his interpretation of Tristan in the recording from Bayreuth in 1928. He was born in Holmestrand near Oslo on June 1st 1886 and initially came to Karlsruhe in Germany to become an engineer. Graarud quickly changed his mind and studied singing with Husler and later with Zawilowski in Berlin. In 1919 the singer made his debut at the Pfalztheater in Kaiserslautern, appeared at the Stadttheater Mannheim from 1920 to 1922 and from 1926 to 1928 at the State Opera in Hamburg. At Bayreuth he was successful in the years from 1927 to 1931 as Tristan, Siegfried, Siegmund and Parsifal. Graarud was a member of the Vienna State Opera from 1928 to 1937, guest performances brought him to London, Paris, Milan, Stockholm, Copenhagen and Amsterdam as well as the Festival in Salzburg. Gunnar Graarud died in Stuttgart on December 6th 1960. The Swedish tenor, Torsten Ralf, was one of numerous singers of Nordic origin who spent the major part of their careers in Germany. The artist himself derived from an extraordinary musical family. Already during his years of studying Ralf became a noted amateur singer and had been among the most esteemed members of the renown University Choir Lund. Together with this ensemble Ralf undertook a tour through the United States where he appeared in various solo parts in 1925. Artistic ambition gradually won over a civil profession and Torsten Ralf started to pursue his studies with great accuracy. For several years he found an ideal teacher in the Norvegian Ingeljart who had already counted among his pupils Kirsten …
Amazon, iTunes, Spotify & Co.