Lebendige Vergangenheit - Barbara Kemp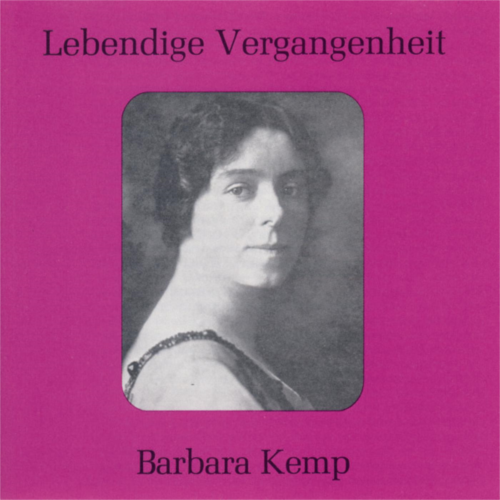 | | |
| --- | --- |
| Artist | Barbara Kemp |
| Title | Lebendige Vergangenheit - Barbara Kemp |
| | |
| Release Date | Tuesday, October 10, 2006 |
| Genre | Classical > Choro |
| | |
| Composers | Wolfgang Amadeus Mozart, Richard Strauss, Georges Bizet, Richard Wagner, Giuseppe Verdi, Giacomo Meyerbeer |
| Songwriters | Barbara Kemp, Orchester der Staatsoper Berlin / Barbara Kemp, Delia Reinhardt / Orchester der Staatsoper Berlin / Barbara Kemp, Delia Reinhardt / Orchester der Staatsoper Berlin / Marion Claire / Barbara Kemp |
| | |
| Copyright | © Preiser Records |
| Country | AUSTRIA |
Update Required
To play the media you will need to either update your browser to a recent version or update your
Flash plugin
.
Promotion Text
Lebendige Vergangenheit
Barbara Kemp wurde am 12. Dezember 1881 in Kochern an der Mosel geboren. Ihr Studium absolvierte sie 1902-05 am Konservatorium von Straßburg, seit 1903 war sie bereits als Volontärin am dortigen Stadttheater engagiert. 1906-08 sang sie- am Stadttheater von Rostock, 190 -13 am Opernhaus von Breslau. In Breslau heiratete sie den Arzt Dr. Mickley, von dem sie sich später wieder trennte. 1913 wurde sie an die Berliner Hofoper engagiert, an der sie eine triumphale Karriere hatte. Bei den Festspielen von Bayreuth sang sie 1914 die Senta im "Fliegenden Holländer", 1924-27 die Kundry in "Parsifal". Nach dem ersten Welt­ krieg hatte sie bei Gastspielen glänzende Erfolge: 1922-27 gastierte sie regelmäßig an der Wiener Staatsoper, 1922-24 war sie an der Metropolitan Opera in New York tätig (Antritts­ rolle: Mona Lisa in der gleichnamigen Oper Max von Schillings'); sie sang weiter im Haag und in Amsterdam, in Budapest und Prag, in München, Dresden und Hamburg. 1923 heiratete sie in zweiter Ehe den Komponisten und Dirigenten Max von Schillings, der 1919-25 als Generalintendant die Berliner Staatsoper leitete. Wilhelm Raupp schreibt in seinem Buch "Max von Schillings" über Barbara Kemp: ,,Ihr Temperament erfasst alle Dinge mit unerhörter, leidenschaftlicher Heftigkeit. Sie hat eine einzigartige Fähigkeit, die Affekte blitzartig hochzuspannen und sie im raschen Wechsel der Stimmungen zu verschleudern, so dass auch ihre schauspielerische Darstellung alle denkbaren Ausdrucksschattierungen genial erfasst und mit selbstverständlicher Leichtigkeit stilistisch bezwingt. Diese große Tragödin lernte nie von anderen, eignete sich nie Fremdes an; sie besaß von Anfang an ureigenste geheimnisvolle Erlebniskräfte. Ein instinktives Feingefühl lässt sie den geistigen Gehalt der Stoffe und Gestalten schnell erfassen und ihren dramatischen Sinn restlos ausschöpfen. So wird Barbara Kemp eine ideale Vertreterin aller Partien, die über die allgemeine Schablone hinausragen und monumentale Menschendarstellung erfordern. Da sie dazu über eine Stimme verfügt, die jede musikalische Nuance aufs vollkommenste zur Geltung zu bringen vermag, ist sie in ihrem Kunstbereich durchaus eine einmalige Erscheinung." Das Rollenfach der Künstlerin reichte vom italienischen Fach (Aida, Leonore im "Troubadour" und Santuzza) bis zu den Heroinen Richard Wagners und Strauss'. Wie sehr Richard Strauss die Künstlerin geschätzt haben muss, geht aus einem Brief des Meisters an Max von Schillings hervor, … Barbara Kemp was born on December 12, 1881 in Kochern on the Mosel river. From 1902 to 1905 she studied at the conservatoire in Strassburg. Already in 1903 she was engaged to sing small roles at the local state theatre. From 1906-08 she was an ensemble member of the State Theatre of Rostock, from 1909-13 she sang in Breslau. It was there that she married the physician Dr. Mickley from whom she was subsequently divorced. In 1913 she joined the ensemble of the Berlin Hofoper where her career took wing. She sang Senta in the "Flying Dutchman" at the Bayreuth Festival in 1914 and, from 1924-27 she appeared regularly at the Vienna State Opera, 1922-24 she sang at the Metropolitan Opera, New York (debut: the eponymous heroine in Max von Schillings'"Mona Lisa";) She also appeared in Den Haag and in Amsterdam, in Budapest and Prague, in Munich, Dresden and Hamburg. In 1923 she married the composer/conductor Max von Schillings, who - from 1919-25 - was director of the Berlin State Opera. In bis biography of Max von Schillings, Wilhelm Raupp wrote about Barbara Kemp: " Her temperament fuses all aspects of her art with incredible, passionate intensity. She has a unique ability to create a sudden phrasal tension and subsequently immediately disseminate this in a rapid vacillation of mood so that also her histrionic ability ingeniously grasps all conceivable shades of expression, compelling them with a matter-of-fact ease to her will. This great tragedienne never copied the artistry of others, never assimilated anything external; right from the start she had her very own, mysterious powers of experience. An instinctive sensibility permits her to grasp the spiritual content of subjects and characters rapidly and to drain their dramatic potential to the full. Thus Barabara Kemp became an ideal exponent of all roles that transcend a generalized pattern and which rather require a monumental characterization. As her voice is, moreover, able to delineate every musical nuance to perfection, she is, in her artistic sphere, a singular, a unique, artist." Barbara Kemp's repertoire included the Italian spinto roles (Aida, Leonora in "II Trovatore", Santuzza) and also the Wagner and Strauss heroines. How highly Richard Strauss must have esteemed her is also shown by a letter he wrote to Max von Schillings in which …
Amazon, iTunes, Spotify & Co.