Four Famous Italian Sopranos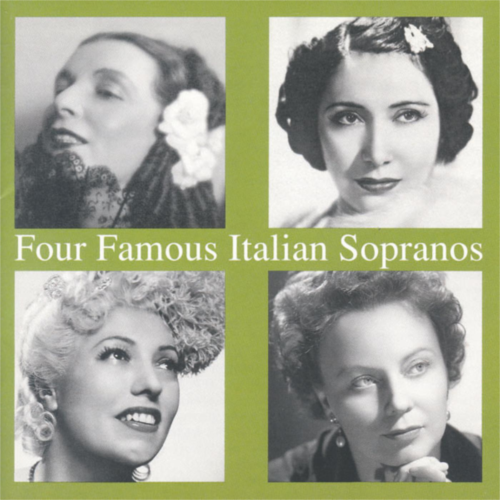 | | |
| --- | --- |
| Artist | Augusta Oltrabella |
| Title | Four Famous Italian Sopranos |
| | |
| Release Date | Wednesday, September 6, 2006 |
| Genre | Classical > Choro |
| | |
| Composers | Giuseppe Verdi, Pietro Mascagni, Francesco Cilea, Arrigo Boito, Jules Massenet, Wolfgang Amadeus Mozart, Giacomo Puccini, Charles Gounod |
| Songwriters | Augusta Oltrabella, Magda Olivero, Pia Tassinari, Mafalda Favero |
| | |
| Copyright | © Preiser Records |
| Country | AUSTRIA |
Update Required
To play the media you will need to either update your browser to a recent version or update your
Flash plugin
.
Promotion Text
Lebendige Vergangenheit
The soprano, Augusta Oltrabella, born on December 27th 1897 in Savona (Liguria), ranges among the so-called "interesting" singers of the verismo era. Not having been admitted to Milan's Conservatory, for she had not reached the proper age yet - she was only 16 at that time - the singer took private singing lessons with Maestro Manilo Bavagnoli who had been recommended to her by no one less than Aureliano Pertile. She made her stage debut as Leonora in "11 trovatore" in Mondovi in 1919 and went on to appear on various stages in smaller Italian theatres. Rumour soon spread that she was able to study the most difficult scores within no time, thanks to her photographic memory. The soprano instinctively feit that she did not have the right voice for the great Verdi heroines and specialized, with 0some exceptions, on works from the verismo repertoire (she was "Pucciniana all the way") which also suited her temperament and where the strong edge of her voice could cut through any orchestra. In 1923 Oltrabella appeared at Milan's Teatro Dal Verme. Around this time she also made her first records - two duets from "Andrea Chenier" with Bernardo De Muro where in some places she even covers the tenor's trumpet-like voice. In 1929 she was invited to sing at the Metropolitan Opera in New York but was offered only three roles for her first season, among them Musetta and Liu. As a consequence, the singer preferred not to fulfill an optional contract for the next season. She explained one time that she had not been happy in New York- and surely competition, especially in her repertory must have been very tough. Her spectacular debut at Milan's Scala, which until then had virtually ignored her, took place shortly after her return to Italy in 1931 as the goose girl in Humper­ dinck's "Königskinder". This debut marked the turning point of Oltrabella's career in Italy and she was invited by all major Italian theatres. Among her roles which were most in demand were: Violetta, Manon Lescaut, Tosca, Cio-Cio-San, Maddalena in "Andrea Chenier", Adriana Lecouvreur as well as the title roles in "Fedora" and "Francesca da Rimini". Tue role of Puccini's Suor Angelica, in which she was celebrated all over Italy, became especially dear to her (after a performance in Milan in 1935 the entire audience at the Scala was moved to tears). In 1936 Arturo Toscanini brought the artist to the Salzburg Festival as Nanetta in "Falstaff'. The conductor insisted he did not want a light, fragile voice for this part, but one with more body which at the same time had enough atmosphere and agility for the final aria. She had already sung the role of Alice before that to which she went back under Vittorio Gui in 1938 whereas in 1939 Tullio Serafin seemed to share Toscanini's ideas. During the 1936/37 season at London's Covent Garden Opera Oltrabella appeared, among other roles, as Manon Lescaut. She also was chosen for several world premieres: she created Lodovico Rocca's opera "Dibuk" (Scala 1934) and "La morte di Frine" (1937), Refice's "Santa Margherita di Cortona" (Rome 1939) and finally Giorgio Federico Ghedini's "Le baccanti" (1948), Initially, Oltrabella had refused the role without even having taken a look at the score for she only knew too well the vocal "stumbling stones" in Ghedini's works. After every soprano in Italy had turned it down they came back to her a second time in despair. When she went through the score she simply could not believe her eyes: "there were high Ds jumping all over the pages but as I adored challenges on that level, I accepted. Despite the many impossible scores I sang and to everybody's surprise my upper register always remained intact". In 1945 the artist was a great success as "Salome" at the Scala in one of the last productions conducted by Gino Marinuzzi. Towards the end of Oltrabella's career she also appeared as Carmen and Santuzza in "Cavalleria rusticana". Her last operatic performance took place in Cremona in Rossellini's "La guerra". "In the course of my long career (more than four decades)", the singer remembered, "I watched the old guard go, the second one come in and also disappear, and then the third one, which is already in deep trouble". Augusta Oltrabella died in Milan on June 4th 1981. Mafalda Favero was born on 6 January 1903 in Portomaggiore near Ferrara. At the age of 17, against her parents' will and with the help of a woman friend, she began studying with Maestro Alessandro Vezzani at the Conservatory in Bologna. She made her operatic debut when she stepped in for a colleague as Lola in "Cavalleria rusticana" at the Teatro Ponchielli in Cremona. Her big breakthrough came in 1927 when she sang the role of Liu in "Turandot" to public and critical acclaim at the Teatro Regio in Parma. In 1929 Toscanini got her a contract at La Scala, where she made her debut under his baton on 26 December as Eva in "Die Meistersinger von Nürnberg". In the same season she sang with Pertile" Galeffi and Minghini-Cattaneo in "Lohengrin", had a brilliant success as Liu and was in the cast of a world premiere, "Le preziose ridicole" by Lattuada. She opened the next season as Zerlina in "Don Giovanni" (with Stabile, Arangi-Lombardi, Cigna and Schipa under the direction of Antonio Guarnieri). Favero remained a member of the La Scala company until 1949. In June 1930 Favero was heard in "Martha" (with Gigli, Stracciari and Bettoni) at the Teatro Reale di Roma. In 1934, …
Amazon, iTunes, Spotify & Co.