Wann ist zu viel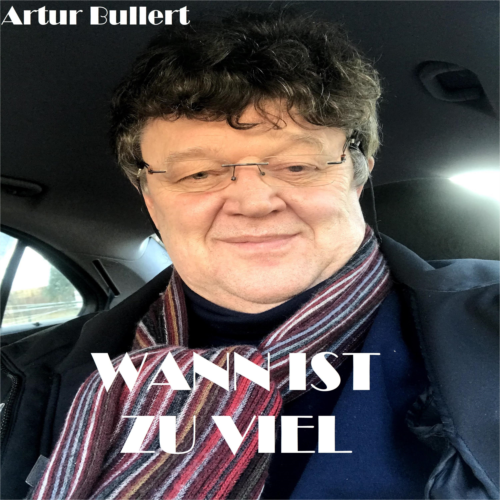 | | |
| --- | --- |
| Artist | Artur Bullert |
| Title | Wann ist zu viel |
| | |
| Release Date | Thursday, June 24, 2021 |
| Genre | Pop > Pop / Rock |
| | |
| Copyright | © WKB Music |
| Country | GERMANY |
Update Required
To play the media you will need to either update your browser to a recent version or update your
Flash plugin
.
Promotion Text
Wann ist es zu viel eigentlich
Was heißt lang was heißt kurz.Was ist wenig und wann ist genugEgal wie lang auch unser Dasein hier sein mag - es wird zu kurz sein. Gut, dass wir noch wünschen immer wieder was - bloß keinen burnout nurSicher es war auch damals so wie heute istGanze Zeit fasziniert soll man tun alles was man mag Dabei merken wir uns auch nicht die Zeit - die ist wegUnmöglich schnell als ob sie still steht  Damals war und heute nicht. Damal war auf und heute ist dicht. Oder wir irren uns wie immer öfters vorkommt - es wird wohl wahr sein Angeblich liegen Fakten in geheimen Akten, wer weiß was drin steht Wer weis wer weisWas ist zu viel für mich, was ist viel für dich. Wie dem auch sei wird sowieso es immer wieder doch zu wenig seinEs macht kein Unterschied Wie wir das empfinden Sei es viel oder wenigZeit ist Macht...und wir kreisen Was heißt lang was heißt kurz Was ist wenig und was heißt genug Drehen wir Kreise, warum den noch, wie oft denn nochWhat is long what is short What is little and when is enoughNo matter how long our existence here may be- It will be too short Good thing we always want something- just don't burnoutSure it was then as it is todayFascinated all the time, you should do whatever you wantWe don't remember the time either - it's goneImpossible as quickly as if she were standing stillThen there was and now it was not, then it was up and today it is closed or we are wrong as it always happens- it will probably be true, allegedly there are facts in secret files,who knows what's in itWho knows who knowsWhat's too much for me, what's a lot for you Anyway, it'll always be again anywaybut be too littleIt doesn't make a differenceHow do we feel about itBe it a lot or a littleTime is power ... and we circleWhat is long what is short What is little and what is enough Let's turn circles, why still, how oftenЧто такое длинно, что такое коротко, Что такое мало и когда достаточноНезависимо от того, как долго мы здесь можем быть- Это будет слишком коротко. Хорошо, что мы всегда чего-то хотим- только не выгорай.Конечно, это было и раньше, как и сегодня. Мы все время должны быть очарованы, и делать только то, что желаем.Время мы не чувствуем тогда - проходит...-Так невозможно так быстро, как если бы оно стояла на месте.Тогда было, а сегодня нет, тогда было, и сегодня прошло, Или мы ошибаемся, как всегда- вероятно, это будет правдой - якобы.... в секретных файлах есть факты,кто знает, что в них.Кто знает кто знает...Что слишком много для меня, что много для тебя. В любом случае, это всегда будет сноваи снова, но будь слишком мало. Не имеет значения, как мы к этому относимся.Будь то много или мало- Время - сила ... а мы ходим кругами.Что длинное, что короткое... Что мало и чего достаточно....а мы ходим кругами, почему всё еще, как долго...
Amazon, iTunes, Spotify & Co.