Universum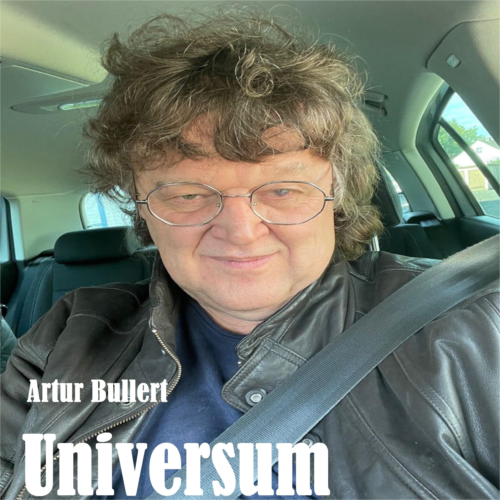 | | |
| --- | --- |
| Artist | Artur Bullert |
| Title | Universum |
| | |
| Release Date | Friday, November 12, 2021 |
| Genre | Pop > Pop / Rock |
| | |
| Copyright | © WKB Music |
| Country | GERMANY |
Update Required
To play the media you will need to either update your browser to a recent version or update your
Flash plugin
.
Promotion Text
Sau schaut nach unten- du schaust nach oben//... the pig looks down, you look up
/Sau schaut nach unten - Du schaust nach oben/Schau nicht nach unten, Schau nach obenPass auf wohin und was du trittst Es geht ums Ganze und wird blöde Besonders wenn's Probleme gibt … Du kennst - die Lösung Schau nicht nach unten schau nach obenPass auf wie wann und was du sagst Denk nach was wär aus dir geworden Wenn du nur gegen Wände rast Schaut Sau nach unten, du schaust nach oben Man programmiert mit Wort Gehirn Gehirn programmiert dein BlutDann tust du Dinge wo du möglichstDoch niemals niemals einmal tust-Sau schau nach unten du schaust nach oben-Wird etwas anders als es jetzt istDenn je nachdem was man da liest Wird alles besser als gewesenWenn du dein Lied zu Ende singstSau schau nach oben - du schau …ВСЕЛЕННАЯ:Не смотри вниз, смотри вверхСмотри, куда и что ты пинаешьЭто обо всем и становится глупымОсобенно когда есть проблемы ... ты знаешь решениеНе смотри вниз, смотри вверхОбрати внимание на то, как, когда и что ты говоришьПодумай, что бы с тобой сталоЕсли бы ты только врезался в стены ......Свинья смотрит вниз, ты смотришь вверхСлово используется для программирования мозгаМозг программирует твою кровьЗатем ты делаешь то, что ты по идее никогда бы не делал... Свинья смотрит вниз, ты смотришь вверхБудет немного иначе, чем сейчасПотому что в зависимости от того, что ты там читаешьВсе будет лучше, чем раньше...Когда ты допоёшь свою песню ...Свинья смотри вверх - ты смотри ...UNIVERSE:Don't look down, look upSee where and what you kickIt's about everything and gets stupidEspecially when there are problems ... you know the solutionDon't look down, look upPay attention to how, when and what you sayThink what would become of you If you only bump into walls ...... the pig looks down, you look upThe word is used to program the brainThe brain programs your bloodThen you do what you thought you would never do... the pig looks down, you look upIt will be a little different than nowBecause depending on what you read thereEverything will be better than before ......When you finish your song ... Pig look up - you look ...
Amazon, iTunes, Spotify & Co.