Lebendige Vergangenheit - Anton Dermota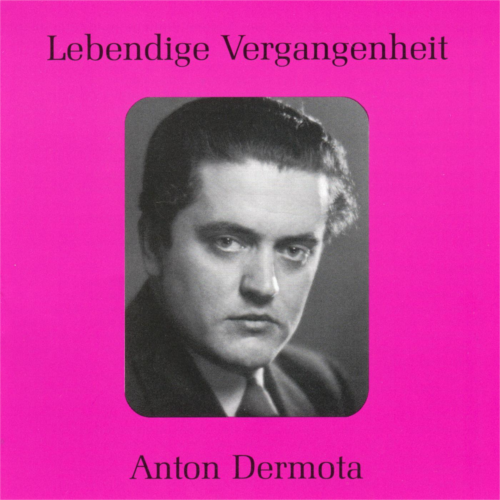 | | |
| --- | --- |
| Artist | Anton Dermota |
| Title | Lebendige Vergangenheit - Anton Dermota |
| | |
| Release Date | Thursday, August 10, 2006 |
| Genre | Classical > Choro |
| | |
| Copyright | © Preiser Records |
| Country | AUSTRIA |
Update Required
To play the media you will need to either update your browser to a recent version or update your
Flash plugin
.
Promotion Text
Lebendige Vergangenheit
Anton Dermata was born on 4 June 1910, in what was then the Austro-Hungarian Empire, in the small Slovenian market town of Krapp in the district of Radmanndorf (today Kropa near Radovljica). The childhood of the young Dermata was marked by privation. His musical talent was discovered at an early age, however, by the local parish priest, and it was decided to send him to the Dipcesan organists' school in Ljubljana. There it was obligatory for all organ pupils to sing in the cathedral choir, and Dermata thus came into contact with singing for the first time. After three years of study at the school he passed the final examination with distinction. This was followed by one and a half years as organist in the town of Bled. Then Dertnota read in an adver­ tisement that the National Opera in Ljubljana was looking for a first tenor for the opera chorus. He got the position, which also gave him the opportunity of studying music at the State Conservatory. His studies were highly successful, and he received a scholarship to continue them elsewhere. The choice was Paris, Prague or Vienna; Dermata chose Vienna and never had cause to regret it. There he became a pupil of Marie Rad6, a knowledgeable coach who assumed res­ ponsibility for the rest of his training. He soon also met his wife-to-be, Hilda Berger-Weyerwald, a piano pupil of Emil von Sauer, and his accompanist to the end of his career. After singing two auditions at the Vienna Staatsoper, Dermata was invited by the director, Erwin Kerber, to make a guest appearance on 27 May 1936, singing the role of the Erster Geharnischter in Die Zauberflöte. On 1 September 1936 he became a full member of the Vienna Staatsoperand remained with the company until his retirement. But before he could begin his engagement in Vienna, Dermota was hired by Erwin Kerber to sing at the 1936 Salzburg Festival, where he per­ formed the role of Meister Zorn in the Die Meistersinger under the baton ofArturo Toscanini. It was an auspicious beginning to his career. In Vienna Dermota was initially given very minor roles to sing: Steuermann in Der Fliegende Holländer, Ruiz in /l Trovatore, Seemann in Tristan und Isolde and Borsa in Rigoletto. In addition he sang the page Tebaldo in Don Carlo, Isepo in La Gioconda, the First Prisoner in Fidelio and Harlequin in / Pagliacci. His first major role at the Staatsoper was Alfredo in Verdi's La Traviata with Jarmila Novotna and Alexander Sved under the baton of Josef Krips on 26 February 1937. On 29 April of that year he sang Lensky in Eugene Onegin, also with Novotna and Sved, under Bruno Walter. Dermota began making concert appearances as well: in the St. Matthew Passion on 15 March 1937 under Hans Knappertsbusch, in Beethoven's Ninth Symphony in April 1937 under Karl Böhm, andin Mozart's Requiem and Anton Bruckner's Te Deum under Bruno Walter at a performance of the Vienna Staatsoper on 29 June 1937 in Paris. That summer he also sang Haydn's Creation. On 28 October 1937 Dermota appeared for the first time as Don Ottavio on the stage of the Vienna Staatsoper, and that con­ cludes the description of his early career - the rest is history. Anton Dermota became recognised as a Mozart tenor throughout the world, making a further description of his success superfluous. It was unavoidable that the recording industry would also become interested in this singer and, astonishingly, it was the Germany company Telefunken that enriched its repertoire with recor­ dings of Dermota. Astonishing, because the company already had two great tenors under contract: Marcel Wittrisch and Peter Anders. While Wittrisch at this time was also leaning towards a different repertoire, the competition with Anders was obvious. But Ernst Grenzebach must have known what he was doing, and the first Dermota records were released in 1939. The company's June supplement said: "With this highly gifted tenor, a new star is rising in the heavens of Telefunken records. Born in Yugoslavia, he was hired in his early years by the Prague Opera (sie) because of his glorious voice. Today he is the first lyric tenor of the Vienna Staatsoper and on the way to making a global name for himself through his guest appearances in Salzburg and other cities in Austria and abroad. The warm, mellifluous tone of his voice trained in the ltalian manner reminds us of the greatest names of the opera world."
Amazon, iTunes, Spotify & Co.