V deželi glasbe in petja 1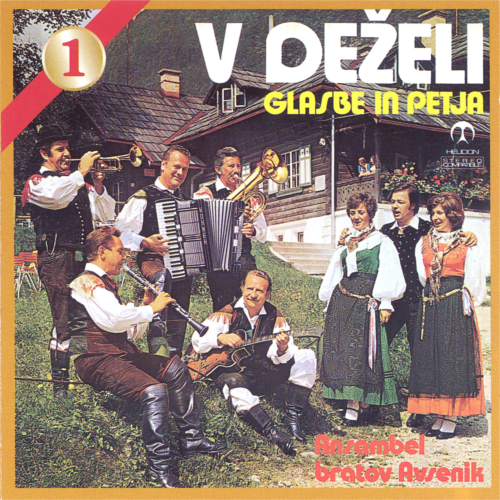 | | |
| --- | --- |
| Artist | Ansambel bratov Avsenik |
| Title | V deželi glasbe in petja 1 |
| | |
| Release Date | Friday, November 14, 2014 |
| Genre | Folk > Traditional Folk |
| | |
| Copyright | © Založba Obzorja d.d. |
| Country | SLOVENIA |
Update Required
To play the media you will need to either update your browser to a recent version or update your
Flash plugin
.
Promotion Text
Avsenikova glasba je glasba, ki je Slovenijo ponesla daleč v svet.
Ansambel bratov Avsenik je v svetovnem merilu verjetno najuspešnejša slovenska glasbena skupina. Delovala je od leta 1953 do 1990. Skupina je bila sprva trio, ki je kmalu prerasel v kvartet in 1955 v Gorenjski kvintet, ta pa se je preimenoval v Kvintet bratov Avsenik in kasneje v Ansambel bratov Avsenik.Ansambel je bil popularen tudi v Avstriji, Nemčiji in drugod po Evropi. Na nemškem govornem območju so ga poznali pod imenom Oberkrainer Quintett, ko pa se je na tem področju predstavilo še več drugih slovenskih narodno-zabavnih skupin, pa Slavko Avsenik und seine Original Oberkrainer. Jedro skupine sta predstavljala Slavko Avsenik, ki je ustvaril glasbo, in njegov brat Vilko Ovsenik, ki je pripravljal priredbe za ansambel. Slavko je igral harmoniko, Vilko pa je bil klarinetist v prvih letih delovanja ansambla, kasneje pa duhovni vodja ansambla.Ansambel je v svojih letih delovanja prejel več domačih in tujih priznanj za njihov prispevek k razvoju zabavne glasbe in za izvirnost. Prejel pa je tudi 31 zlatih plošč, 1 diamantno in 2 platinasti plošči. Danes obsega repertoar avtorskih skladb Slavka in Vilka Avsenika že prek 1100 skladb.Velja prepričanje, da so bili Avseniki začetniki novega žanra narodno-zabavne glasbe v Srednji Evropi in njihova kakovost na tem področju je nesporna. Med njihovimi največjimi uspehi so skladbe Na Golici (1955; v nemški verziji Trompeten-Echo), Na mostu, Tam kjer murke cveto (1957), Slovenija, od kod lepote tvoje (1974), Samo enkrat imaš petdeset let (1981). Današnji nasledniki Ansambla bratov Avsenik so skupina Ansambel Saša Avsenika, ki deluje pod vodstvom vnuka Slavka Avsenika, harmonikarja Saša Avsenika. Das Ensemble der Brüder Avsenik (1953 – 1990) ist wahrscheinlich die weltweit berühmteste und erfolgreichste slowenische Volksmusikgruppe.Das Ensemble war ursprünglich ein Trio, bald darauf ein Quartett und im Jahre 1955 das "Quintett Gorenski", welches später in das "Quintett Bratov Avsenik" und schließlich in das "Ensemble Bratov Avsenik" umbenannt wurde. Das Ensemble war sowohl in Österreich und Deutschland als auch in anderen Teilen Europas populär. Im deutschsprachigen Raum war die Gruppe unter dem Namen "Oberkrainer Quintett" bekannt. Als sich in diesem Bereich mehrere slowenische Volksmusikgruppen unter diesem Namen vorgestellt haben, wurden sie zu "Slavko Avsenik und seine Original Oberkrainer" umbenannt.Den Kern der Gruppe bildeten Slavko, der die Lieder geschrieben hat und sein Bruder Vilko Ovsenik als Arrangeur für die Kompositionen. Slavko hat die Harmonika gespielt. Vilko, in den Anfangsjahren noch Klarinettist und später der geistliche Führer des Ensembles.Das Ensemble erhielt in der Zeit seiner Existenz mehrere nationale und internationale Auszeichnungen für Ihren Beitrag zur Weiterentwicklung dieser populären Musikrichtung sowie ihrer Originalität. Das Ensemble erhielt insgesamt 31 Gold, 1 Diamant und 2 Platin Schallplatten. Heute umfasst das Repertoire an Eigenkompositionen von Slavko und Vilko Avsenik über 1100 Lieder.Heute gelten die Avsenik´s als Pioniere eines neuen Genres der Volksmusik in Mitteleuropa und Ihre Qualitäten in diesem Bereich sind nach wie vor unbestritten. Zu Ihren größten Erfolgen zählen Songs wie "Na Golici (1955; in der deutschen Version: das Trompeten-Echo), Na mostu, Tam kjer murke cveto (1957), Slovenija, od kod lepote tvoje (1974), Samo enkrat imaš petdeset let (1981).Die Nachfolgegruppe der Brüder Avsenik ist heute das Ensemble Sasha Avsenik, unter der Leitung von Slavko Avsenik´s Enkel, dem Akkordeonisten Sasha Avsenik. The ensemble of Brothers Avsenik (1953 - 1990) is probably the most famous and successful Slovenian folk music group in the world.The ensemble was originally a trio, then a quartet and soon after in 1955, the "Quintet Gorenski ", which was later renamed into "Quintet Bratov Avsenik" and finally in "Ensemble Bratov Avsenik".The core of the group consisted of Slavko, who wrote t
Management / Booking
Get in contact
Amazon, iTunes, Spotify & Co.