Lebendige Vergangenheit - Anne Roselle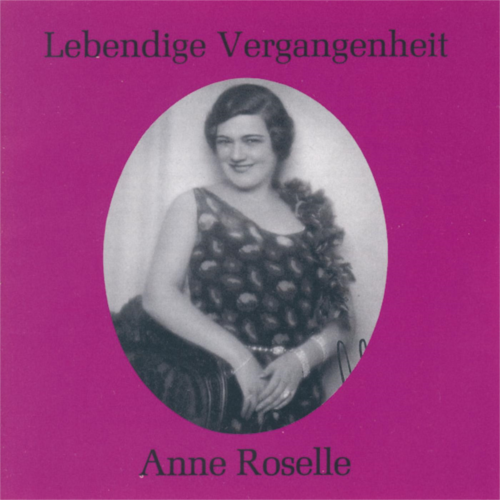 Update Required
To play the media you will need to either update your browser to a recent version or update your
Flash plugin
.
Promotion Text
Lebendige Vergangenheit
Anne Roselle's initial claim to fame was primarily the glorious timbre of her top range which seemed to radiate a wholly individual fluidium of spirituality. The listener felt intoxicated, as if he had caught the waft of an exotic flower. With only slight exaggeration one might even compare her voice to the effect of an opiate. A special radiance imbued this voice with a peculiar attractivity, which increased the higher the tessitura. Supreme cultivation, a faultless technique with considerable vocal agility and an ideal tonal emission which gave the voice superb projection despite its only moderately large volume, formed the basis of this superb instrument, which only in the lower middle range occasionally evinced a, sometimes intentionally, occluded sound. Anne Roselle (born on March 20, 1894 in Budapest) came to the United States as a child together with her parents. There she received her first vocal tuition. Her talent attracted the attention of the famous baritone Antonio Scotti, who recommended her to Gatti-Casazza, the director of the Metropolitan Opera. On December 4, 1920 she made her debut as Musette in "La Boheme". Unfortunately attention was focused almost exclusively on the second appearance of Benjamino Gigli as Rodolfo, who, a few months after Caruso's death, was generally hailed as his successor. Anne Roselle was subsequently assigned to small roles. Even more than today the MET at the time was exclusively star-oriented and young singers were almost never given a chance. The few who managed to attract attention were hardly ever allowed to rise to the top. Anne Roselle therefore decided to join Antonio Scotti's own opera company, which toured the United States. To bis credit, Scotti entrusted her with such central roles as Butterfly and Tosca. Despite these successes and not least because the touring company was disbanded after two years, Anne Roselle decided to continue her future career in Europe. After a brief spell in Italy. Fritz Busch engaged to her join the ensemble of the Dresden opera in 1926. On September 6, 1926 she sang the eponymous heroine in the German premiere of "Turandot" - and became a celebrity overmighty. The role proved ideal and offered her the best possible scope for her splendid vocal accomplishments. Turandot remained her supreme calling card and she enjoyed triumphant acclaim whenever she appeared in this role, the notoriously high tessitura being particularly suited to her searing soprano voice. Mellifluous yet intense she projected her voice into the vocal stratosphere and henceforth reigned supreme. Also histrionically she managed to convince. She portrayed the Chinese princess as an Asiatic despot - cruel, wild and full of mockery while having the princes beheaded. All the more effective subsequently her submission to conquering Calaf. And yet the loving and suffering heroines such as Mimi and Butterfly were actually more suited her timbre and style. She even managed to wrest Leonore iu "Trovatore" from the customary cliché. As Aida her vocal art reached its apex in the Nile act after her voice bad gloriously glearried over the ensemble in the second act. Marguerite and Santuzza in her portrayal were much more active and passionate than was then the wont, especially the latter role she shrouded in gloomy foreboding from which only the lightning shafts of her top notes gleamed forth. A prime example of superb belcanto singing was her Donna Anna. Especially the notoriously difficult second aria was beautifully calibrated. She also assayed Eisa in "Lohengrin" but this role proved less congenial to her style. Anne Roselle frequently appeared as a guest in Vienna where she was much admired in the above-mentioned roles. Memory also recalls, a highly successful broadcast performance of "Ballo in Maschera" opposite the newly discovered star tenor Joseph Schmidt as well as Maria Olszewska and Theodor Scheidl. Unfortunately, her association with Vienna proved all too brief. In 1930 Anne Roselle was back in the US again. In 1931 Leopold Stokowski, then at the height of bis fame, chose her to sing Marie in Alban Berg's "Wozzek" on the occasion of the first US performance in Philadelphia. Stokowski also conducted her in a performance of Elektra. Her versatility is manifest if one considers that her repertoire included not only Salome but also Constance in "Entführung aus dem Serail". She was moreover a noted oratorio singer.After bidding farewell to the stage, she lived in Philadelphia where she passed on her immense experience to her many students.
Amazon, iTunes, Spotify & Co.