Lebendige Vergangenheit - André d´Arkor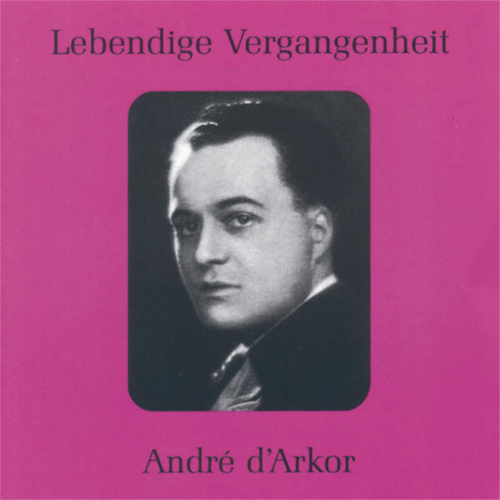 | | |
| --- | --- |
| Artist | André d´Arkor |
| Title | Lebendige Vergangenheit - André d´Arkor |
| | |
| Release Date | Wednesday, September 6, 2006 |
| Genre | Classical > Choro |
| | |
| Composers | Jules Massenet, Francois - Adrien Boieldieu, Ambroise Thomas, François Bazin, Gioacchino Rossini, Giuseppe Verdi, Edouard Lalo, Alexander Porfirjewitsch Borodin, André d´Arkor, Johann Sebastian Bach / Charles Gounod, Charles Gounod, Leo Delibes, Benjamin Godard, Giacomo Meyerbeer, Pietro Mascagni, Giacomo Puccini, Gaetano Donizetti, Friedrich von Flotow |
| Songwriters | André d´Arkor, Germaine Cernay / André d´Arkor, André d´Arkor / Jane Laval |
| | |
| Copyright | © Preiser Records |
| Country | AUSTRIA |
Update Required
To play the media you will need to either update your browser to a recent version or update your
Flash plugin
.
Promotion Text
Lebendige Vergangenheit
Zu Beginn der Dreißigerjahre erregten die Arien-Aufnahmen eines bis dahin so gut wie unbekannten Tenors großes Aufsehen. Eine schlanke, biegsame Stimme von edlem Charakter, perfekte Schulung, klare, mühelose Höhe, durchschlagskräftig und dennoch weich. Wie geschaffen für die schwierigen Tenorpartien der Grand Opera wie Arnold in "Wilhelm Tell", Raoul in den "Hugenotten", mit ihrer Eleganz und Beweglichkeit auch ideal für die brillanten Tenorrolen der Opera Comique wie George Brown in Boieldieus "Weißer Dame", Chapelou in Adams "Postillon von Lonjumeau", ebenso für die lyrischen Opernpartien des französischen Facps wie Nadir in Bizets "Perlenfischern" oder Des Grieux in Masseriets "Manon". Andre d' Arkor hat allerdings als Bühnensänger bei weitem nicht jene Geltung erreicht wie als Schallplattenkünstler. Seine Karriere, die rund zwanzig Jahre währte, spielte sich in seiner belgischen Heimat, vor allem im Theätre de la Monnaie, Brüssel ab. Er gab zwar eine Reihe erfolgreicher Gastspiele in der Schweiz, in Frankreich und Deutschland, er bereiste in den Jahren 1932/33 die Vereinigten Staaten und trat dort in dreizehn Städten auf, doch ansonsten zählte er zu den absolut sesshaften Künstlern. D' Arkor, dem zu seinem bedeutenden gesanglichen Talent auch eine ausgezeichnete Bühnenerscheinung sowie starke Spielbegabung zur Verfügung standen, war einer der großen Lieblinge des Brüsseler Opernpublikums. Die Laufbahn des Künstlers begann in Lüttich, wo er durch fünf Jahre das dortige Konservatorium besuchte und mit mehreren Preisen beteilt wurde. 1925 debütierte er in Lüttich in Delibes' Oper "Lakme", es folgten bald darauf die großen Tenorpartien in "La Boheme", ,,Hamlet", ,,Thais", ,,Lucia di Lammermoor" u. a. Nach dreijährigem Wirken in Lüttich wurde er an das Opernhaus Gent verpflichtet, wo er sein Repertoire auf achtzig Rollen erweitern konnte. 1929 sang er im Opernhaus Lyon, und am 21. Februar 1930 debütierte er im Theätre de la Monnaie in Brüssel, wo er fortan seine künstlerische Heimstatt finden sollte. Seine Antrittsrolle in Brüssel war der Beimonte in Mozarts "Entführung". Bis zum Ende seiner Karriere feierte er hier seine größten Erfolge und erwarb sich als ausgezeichneter Interpret lyrischer und dramatischer Tenorpartien Berühmtheit. Bemerkenswert bleibt, dass er zwei Opernpartien, die ihn als Schallplattensänger in der gesamten musikalischen Welt bekannt gemacht haben, nie auf der Bühne gesungen hat: den Arnold und den Raoul. Das Kriegs-Inferno, das in den Vierzigerjahren über Belgien hereinbrach, machte diese Laufbahn, die sich in günstigeren Zeiten wahrscheinlich viel strahlender entwickelt hätte, zunichte. In den nachfolgenden Friedenszeiten betätigte sich d' Arkor als Operndirektor: 1945 bis 1965 in Lüttich, danach als artistischer Leiter am Brüsseler Theatre de la Monnaie. Andre d' Arkor ist als einer der bedeutendsten Tenöre belgischer Herkunft in die Gesangsgeschichte eingegangen. In the early Thirties series of aria recordings by a hitherto virtually unknown tenor caused a great stir. There was a flexible voice with a noble sound, excellently trained with an effortless top which despite its brilliance retained its softness. Not only the difficult roles of grand opera such as Arnold in "Guillaume Tell" or Raoul in "Les Huguenots" seemed to fit this voice like a glove but also the brilliant tenor roles of the opera comique (Georges Brown in "La Dame Blanche" and Chapelou in "Le Postillon de Lonjumeau") as well as the lyric roles of French opera (Nadir in "Les Pecheurs de Perles" and Des Grieux in "Manon"). On stage, d' Arkor unfortunately never reached the status he had achieved as a recording artist. His career, which lasted for about twenty years, was mainly spent in his home country, Belgium, namely at the Theätre de la Monnaie in Brussels. He did make a number of guest appearances in Switzerland, France and Germany and in 1932/33 appeared in thirteen American cities, but on the whole he was what one would call a "settled" artist. Aside from his vocal qualities d' Arkor had an extraordinary stage presence and was a fine actor. Needless to say that in no time he became a great favorite with the public. His career began in Liege where for five years he studied at the Conservatoire and won several prizes. In 1925 he made his debut in Liege in "Lakme" by Delibes following with the great tenor roles in "La Boheme", "Hamlet", "Thais", "Lucia di Lammermoor" etc. After three years he left Liege and signed a contract with the Opera House of Ghent where he gradually built up a repertoire which amounted to 80 roles. In 1929 he appeared in Lyon and on February 21st 1930 gave his first performance (Belmonte in "Die Entführung aus dem Serail") at the Theätre de la Monnaie in Brussels, which was to remain his artistic home. At the "Monnaie" he celebrated the greatest successes of his career and established himself as an excellent interpreter of lyric and dramatic roles. Interestingly enough there were two roles for which on record he was famous worldwide but which he never performed on stage: Arnold and Raoul. The War cut short a career which under more favorable circumstances could have been much more glorious. After the War d' Arkor became director of two opera houses: from 1945 to 1965 in Liege and later as artistic director at the Theatre de la Monnaie. Andre d' Arkor has entered the history of singing as one of the most important tenors that Belgium has given us.
Amazon, iTunes, Spotify & Co.