Lebendige Vergangenheit - Alfred Piccaver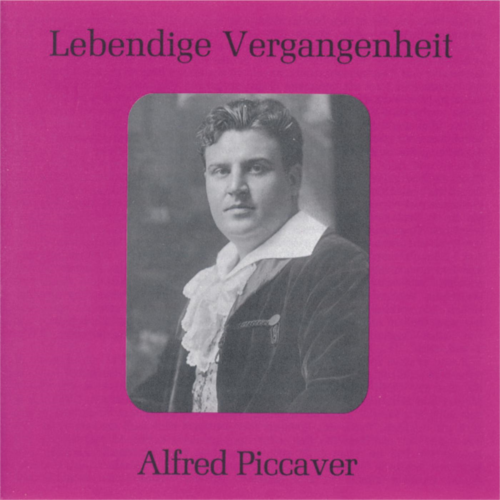 | | |
| --- | --- |
| Artist | Alfred Piccaver |
| Title | Lebendige Vergangenheit - Alfred Piccaver |
| | |
| Release Date | Friday, September 1, 2006 |
| Genre | Classical > Choro |
| | |
| Composers | Peter Ilyich Tchaikovsky, Giacomo Puccini, Ambroise Thomas, Giuseppe Verdi, Jules Massenet, Gaetano Donizetti, Charles Gounod, Jacques Offenbach, Peter Cornelius, Carl Maria von Weber |
| Songwriter | Alfred Piccaver |
| | |
| Copyright | © Preiser Records |
| Country | AUSTRIA |
Update Required
To play the media you will need to either update your browser to a recent version or update your
Flash plugin
.
Promotion Text
Lebendige Vergangenheit
Alfred Piccaver, der zu den berühmtesten und beliebtesten Tenören der ersten Hälfte dieses Jahrhunderts zählte, wurde 1884 in England geboren und kam als Kind mit seinen Eltern spanischer Abkunft nach New York. Dort studierte er Elektrotechnik und arbeitete kurze Zeit im Laboratorium des berühmten Erfinders Edison. Der bekannte Impresario und Theaterunternehmer Angelo Neumann aus Prag entdeckte anlässlich ei­ nes Urlaubes in Tirol die besondere Gesangsbegabung Piccavers. Er selbst hatte,sich schon in New York für Gesang interessiert und auf dem Stehplatz der Metropolitan­ Opera von seinem Vorbild Enrico Caruso stärkste künstlerische Eindrücke empfangen. Caruso blieb auch späterhin sein Ideal, dem er nachzueifern sich bemühte, und dessen Schallplatten zu spielen er nicht müde wurde. In Prag erhielt er seine gesangstechnische Ausbildung die er dann noch in Mailand vervollkommnete. Als Romeo in Gounods "Romeo und Julia" debütierte er 1907 auch in Prag und kam 1910 anlässlich einer Opernstagione gegen den Widerstand der damaligen Wiener Direktion -als Herzog in "Rigoletto" und Don Jose in "Carmen" nach Wien. Nach einem weiteren erfolgreichen Probegastspiel engagierte ihn Direktor Weingartner für die Wiener Hofoper. Piccaver trat am 1. September 1912 sein Engagement ari und konnte sich sofort mit seinem herrlichen Tenor gegenüber den Erinnerungen an seine berühmten Vorgänger Ernest van Dyck und Franz Naval durchsetzen. Seine ursprünglich kleine Stimme hatte sich in den 5 Jahren seiner Bühnentätigkeit zu voller Reife entfaltet und so blieb es nicht aus, dass dem jungen Sänger unter Direktor Hans Gregor alle Rollen des lyrischen Faches zufielen. Sein echter Tenor vereinigte auf einem breiten baritonalem Fundament Weichheit, Wärme und Schmelz und erstieg mit mühelosem Ansatz die tenoralen Höhen. Die vorbildliche Tonbildung und Gesangstonaussendung, getragen von einem fast unendlichen Atem, ermöglichten ihm die in der damaligen Zeit beliebten und von vielen Tenören gefürchteten Fermaten, jedoch nie in unkünstlerischer Weise, auszukosten. Während er etwa in Mozart-Opern seltener auf der Bühne erschien - unvergessen ist seine Meisterleistung als Don Ottavio; besonders in der zweiten gefürchteten Arie - so fiel ihm das Verdi- und Puccini-Fach fast zur Gänze zu. Hier war er unerreichter Meister und entfaltete sich seine Stimme am blühendsten und schönsten. Dabei war es aber auch sein Ehrgeiz, nicht nur in diesem Fach stehen zu bleiben. So eroberte er sich auch die heldische Partie des Radames und versuchte sich auch als Lohengrin. Viel bewundert war sein Florestan, den er mit Lotte Lehmann bei der Hundertjahrfeier von Beethovens Tod im März 1927 zum ersten Male sang. Unvergesslich bleibt seine Kantilene jedoch in Opern wie "Mignon", "Andre Chenier", "Werther" und "Carmen". Alfred Piccaver konnte es sich erlauben, Partien, welche seiner Stimme nicht entsprachen, zurückzuweisen und es zeigte sich, wenn er dies tat, dass er sich der natürlichen Grenzen seiner Begabung bewusst war und diese, ohne seine Stimme und sein unvergleichliches Mezza-voce zu gefährden, nicht überschreiten durfte. Es war dies auch das Geheimnis, dass er sich bis zu seinem Abschied von der Bühne seine Stirnmittel in ungetrübter Schönheit erhalten konnte. Er trat am 2. Juni 1937 … Alfred Piccaver, one of the most famous and popular tenors in the first half of this century, was born 1884 in England to parents of Spanish decent. He was taken as a child to New York, where, after training as an electrician, he worked for a short time in the laboratories of Thomas Edison, the inventor of the light bulb. However, the course of his life was altered by the profound impression Enrico Caruso, who was then at the Metropolitan Opera, made on him. Piccaver modelled his own singing on Caruso's, and throughout his life continued to emulate the older tenor's technique and artistry. Tue turning point came in the Tirol, where both he and the Prague impresario Angelo Neumann were vacationing. Under Neumann's encouragement Piccaver finally took up the study of voice, first in Prague and then in Milan. He made his debut in 1907 in Prague as Romeo in Gounod's Romeo et Juliette. In 1910 he sang in Vienna on a trial basis the roles of the Duke in Rigoletto and Don Jose in Carmen among others and two years later was given a permanent appointment in the Vienna Court Opera (later Vienna State Opera). By then he had already successfully replaced his predecessors Emest van Dyck and Franz Naval in the hearts of the Viennese. His voice was now in full bloom and the director Hans Gregor soon assigned all the lyrical roles to him. He laid a true tenor voice with an effortless high register as well as a rich baritone bottom and an overall warm and tender tone. His exemplary vocal projection, sustained by almost endless breath, allowed him to linger on the fermatas so beloved at the time (and feared by many tenors). Within the Mozart repertory he sang Don Ottavio, but otherwise cultivated Verdi and Puccini tenor roles, to which his voice was especially suited. He also successfully executed the heroic roles of Radames and Lohengrin, as well as of Florestan, which he sang together with Lotte Lehmann in the centennial celebration of Beethoven's death in March of 1927. However, nothing approached the beauty of his cantilena in such operas as Mignon, Andre Chenier, Werther, and Carmen. Piccaver could afford to turn down roles which were not good for his voice and thus protected his incomparable mezza voce right into retirement. He sang for the very last time on June 2, 1937 …
Amazon, iTunes, Spotify & Co.