Lebendige Vergangenheit - Alexander Sved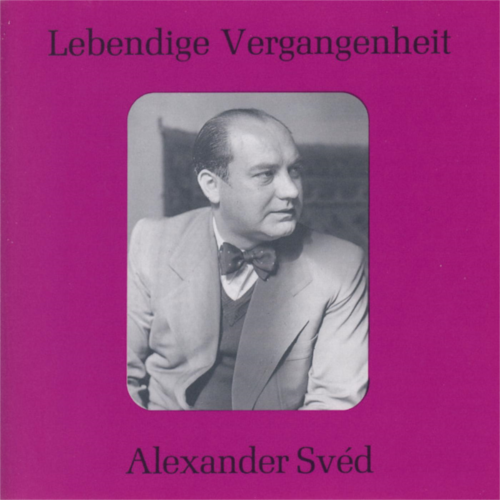 | | |
| --- | --- |
| Artist | Alexander Sved |
| Title | Lebendige Vergangenheit - Alexander Sved |
| | |
| Release Date | Monday, September 11, 2006 |
| Genre | Classical > Choro |
| | |
| Composers | Richard Wagner, Giuseppe Verdi, Robert Schumann, Giacomo Puccini, Hector Berlioz, Georges Bizet, Gioacchino Rossini, Franz Schubert |
| Songwriters | Alexander Sved / Grande Orchestra Sinfonica della Radio Italiana, Alexander Sved / Kapelle der Staatsoper, Berlin, Alexander Sved / Aureliana Beltrami, Alexander Sved, Alexander Sved / Kapelle der Staatsoper, Berlin / Viorica Ursuleac, Kapelle der Staatsoper, Berlin / Alexander Sved |
| | |
| Copyright | © Preiser Records |
| Country | AUSTRIA |
Update Required
To play the media you will need to either update your browser to a recent version or update your
Flash plugin
.
Promotion Text
Lebendige Vergangenheit
Alexander Sved wurde am 28. Mai 1906 in Budapest geboren. Am Budapester Konservatorium studierte er zunächst Violine, wobei seine Stimme entdeckt wurde, die er dann ausbilden ließ. Die höheren Gesangsweihen erhielt er dann in Mailand bei den berühmten Gesangslehrern Mario Sammarco und Riccardo Stracciari, beide ehemals führende ·Baritonisten der ersten Dezennien dieses Jahrhunderts. Zuerst an der Budapester Oper engagiert, gastierte er am 10. September 1931 in Wien als Silvio in "Bajazzo" mit so erlauchten Partnern wie Elisabeth Schumann, Alfred Piccaver und Wilhelm Rode, nicht zu vergessen die vorgehende "Cavalleria" mit der Jeritza und Franz Völker. Es sprach für den jungen Sänger sich in einem solchen Ensemble gehalten zu haben. Die Kritik billigte ihm einen gesunden, fülligen, weichen, aber etwas eintönig timbrierten Bariton zu der zu Hoffnungen berechtigte. Drei Jahre später wurde dieser seither gewaltig, ja geradezu ins überdimensionale gewachsene Bariton in den großen Heldenrollen des italienischen Faches, die er auch zuerst - ein übel vermerkter Ausnahmefall - italienisch sang, aber auch als Valentin in "Margarethe" und Eugen Onegin erprobt und hierauf der ungarischen Sängerkolonnie Wiens mit Maria Nemeth, Rosette Anday und Koloman von Pataky als wertvolle Verstärkung angegliedert. Tatsächlich wies auch sein Bariton die eigentümliche Veranlagung auf, sich je voller und blühender zu entfalten, je höhere Stimmregionen es zu erreichen gab. Dem gegenüber stand Mittellage und Tiefe etwas zurück, in welcher der Künstler bestrebt sein musste, einen etwas dumpfen Beiklang zu überwinden. Bald lernte er auch die deutsche Sprache soweit zu beherrschen, dass er unter Furtwängler in einer Neueinstudierung des "Tannhäuser" als Wolfram ehrenvoll bestand. In den Jahren 1935 bis 1938 übernahm er so ziemlich alle einschlägigen Rollen des italienischen großen Faches, wobei es bemerkenswert blieb, dass er auch als Figaro in "Barbier von Sevilla" seiner gewichtigen Stimme ein beschwingtes Parlando abzwang. In einer Neueinstudierung der "Aida" unter Victor de Sabata glänzte er als mächtiger Amonasro, auch Bruno Walter schätzte ihn und studierte mit ihm außer Onegin auch den Lysiart in "Euryanthe", den Marquis Posa in Alexander Sved was born in Budapest May 28, 1906. At the Budapest Conservatory he initiany· studied violin, subsequently starting his vocal tuition. Later his vocal sheen was perfected in Milan by the famous baritones Mario Sammarco and Riccardo Stracciari. Sved made his debut at the Budapest Opera, subsequently making a guest appearance on September 10, 1931 in Vienna as Silvio in "Pagliacci" opposite Elisabeth Schumann, Alfred Piccaver and Wilhelm Rode. The preceeding "Cavalleria" performance was sung by Maria Jeritza and Franz Völker. It was an auspicious sign that Sved was more than able to hold his own in the company of such stars. The reviews stated that his was a healthy, warm-timbred, suave baritone - somewhat monotonous in timbre - but promising, nonetheless. Three years later his vocal prowess had increased enormously and he was entrusted with the great heroic Italian baritone roles, which he initially sang in Italian (an exception at the time, much lamented by the critics) but also went on to sing Valentin in "Faust" and Bugen Onegin, opposite the Hungarian stars active in Vienna at the time - viz: Maria Nemeth, Rosette Anday and Koloman von Pataky. Sved's baritone was unusual insofar as its volume and bloom increased the higher the tessitura. His middle and low range was correspondingly weaker and the artist made every effort to eliminate a gruffness in those regions. His German pronunciation had soon sufficiently improved to enable him to make a successful debut as Wolfram in a new production of "Tannhäuser", conducted by Furtwängler. Between 1935 to 1938 he sang virtually all the great Italian baritone roles. Despite the sheer size of his voice, it was nevertheless flexible enough to cope with Figaro in "Barber of Seville". In the new production of "Aida" under Victor de Sabata he was a towering Amonasro. Bruno Walter esteemed him highly too and entrusted him with Onegin, Lysiart in "Euryanthe", Posa and Escamillo. His fame spread and he made guest appearances in London, Salzburg and Florence before being engaged at La Scala, from whence the way to the Metropolitan Opera is never very far. He stayed at the MET for 10 years, frequently appearing also in Italy. In Rome he even sang Hans Sachs. In May 1950 Sved appeared in Vienna opposite Maria Jeritza in "Tosca" and as Tonio in "Pagliacci". In November 1958 the Vienna Volksoper staged Rossini's "Wilhelm Tell" - which had not been performed in Vienna for 50 years - with Sved as the eponymous hero. He also appeared in some of his great roles of yore, still managing those top notes for which he was famous. In 1951 he visited his family in Hungary and was subsequently prevented from leaving the country. He now sang occasionally in Budapest. In 1956 he managed to escape from Hungary when the borders were briefly opened during the Hungarian uprising. Since then Sved resided in the USA, occasionally passing on his vast knowledge to talented students.
Amazon, iTunes, Spotify & Co.