Lebendige Vergangenheit - Alessandro Ziliani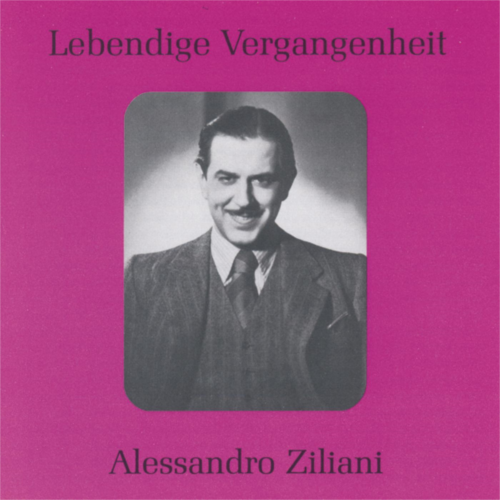 | | |
| --- | --- |
| Artist | Alessandro Ziliani |
| Title | Lebendige Vergangenheit - Alessandro Ziliani |
| | |
| Release Date | Wednesday, September 6, 2006 |
| Genre | Classical > Choro |
| | |
| Composers | Riccardo Zandonai, Richard Wagner, Borgmann, Umberto Giordano, Giacomo Puccini, Luigi Denza, Pietro Mascagni, Francois - Adrien Boieldieu |
| Songwriters | Alessandro Ziliani / Gina Cigna, Alessandro Ziliani / Maria Caniglia / La Scala Orchestra, Friedel Beckmann / Alessandro Ziliani, La Scala Orchestra / Alessandro Ziliani, La Scala Orchestra / Alessandro Ziliani / Mafalda Favero, Berliner Staatsopern Orchester / Alessandro Ziliani, Alessandro Ziliani, Alessandro Ziliani / La Scala Orchestra, Alessandro Ziliani / La Scala Orchestra / Mafalda Favero, La Scala Orchestra / Augusta Oltrabella / Alessandro Ziliani |
| | |
| Copyright | © Preiser Records |
| Country | AUSTRIA |
Update Required
To play the media you will need to either update your browser to a recent version or update your
Flash plugin
.
Promotion Text
Lebendige Vergangenheit
Alessandro Ziliani was born on June 3rd 1906 in Busseto, a small town near La Roncole which was Giuseppe Verdi's birth place and where the composer grew up. Ziliani, too, spent his childhood in his hometown before moving to Milan where he studied with the tenor, Alfredo Cecchi, who can be heard on some records from "Odeon". In 1929 Ziliani's debut at Milan's Teatro Dal Verme as Pinkerton in "Madama Butterfly" was such a success that he was invited by HMV only one year later to sing the part of Alfredo together with Anna Rozsa and Luigi Borgonovo in a complete recording of Verdi's "La traviata" under Carlo Sabajno. In the summer of 1930 the singer undertook a tour in the Netherlands to introduce himself to the Dutch audience - a common procedure for their "Opera ltaliana" seasons - hoping for engagements for the following stagione. Only after a second tour in the summer of 1931 did Ziliani actually appear as a member of the stagione. He was heard in "La boheme" (with Sara Scuderi), "La traviata" (with Gina Cigna), "Rigoletto" and "Lucia di Lammermoor" (with Nunu Sanchioni), "Tosca" and many more. In 1932 the audience in Parma celebrated the tenor as Rodolfo in "La boheme" and during the summer festival in Verona in 1934 he was Toti Dal Monte's Edgardo-in "Lucia di Lammermoor" (with Armando Borgioli as Enrico). Ziliani's first appearance at the Scala of Milan took place in the same year as Enzo in "La gioconda" (with Cigna, Stignani, Galeff(and Autori). By this time the artist was already considered one of Italy's star tenors and whilst the complete "traviata" from 1930 had still been published on the brown label, Ziliani's solo records for HMV now were issued on the much more desirable red label. For the entire Thirties until 1946 (except for the years from 1940--45) the singer was strongly in demand at La Scala. He was entrusted with several roles in world premieres St!Ch as Wolf Ferrari's "La vedova scaltra" on February 5th 1931 and Respighi's "Maria Egiziaca" at La Scala in 1934 (with Maria Caniglia under the direction of the composer himself). At the Opera House of Rome he appeared successfully and with only shört interruptions from 1930 to 1947. Among his most successful interpretations were Julien in "Louise" (with Favero, Casazza and Stabile), Faust in "Mefistofele", Paolo in "Francesc da Rimini" - a role which showed him at his best - and Pinkerton in "Madama Butterfly". 1938 marked the year of his North-American debut in San Francisco where he performed with Mafalda Favero and also sang Turiddu in "Cavalleria rusticana" with Stignani and Tagliabue. An opportunity to appear at the MET never presented itself. In Germany the singer was a frequent guest and enjoyed great popularity; he also starred there in the film production "Liebeslied", which came out in a German as well as an Italian version. Throughout World War II Ziliani made guest appearances in Berlin, Munich and other important opera houses. In 1942 he left HMV and changed to "Telefunken" where he recorded, among others, the big duet from "Francesca da Rimini" with Gina Cigna. Ziliani successfully appeared in operetta - rather an exception among Italian singers - and continued being active,as a movie actor. After the War the artist kept on singing for a few years but mainly on Italian stages. A live recording from May 1952 preserves a performance of Gluck's "Armida" with Maria Callas under the direction of Tullio Serafin. As is known this opera requires no less than four tenors: Ziliani took over the role of Goffredo, his fellow tenors were Francesco Albanese, Gianni Raimondi and Antonio Salvarezza. Ziliani seems to be one of the first "modern" singers in the Thirties who used airplanes to be able to realize their busy schedules. Rodolfo Celetti mentions in his book "Teatro d'opera in disco" that this excessive overwork might have led to, as he puts it, a "rapid decline". (The Italian con1uctor, Gino Marinuzzi, once complained in a letter about the singer's instability during his performances, especially in his later years, frequently sounding tired and strained.) At the same time the Italian critic states that in our time a Ziliani "in forma" would range among the best of the best tenors. Gradually, Ziliani reduced his activities as a singer and founded his own artist management "Alci" (from Alessandro Ziliani). He soon became one of Italy's most renowed impresarios and his agency represented many great names of opera. Alessandro Ziliani, who earlier in his career had been married for a short time to the soprano, Mafalda Favero, died in Milan on February 18th 1977. Although Ziliani's voice has been preserved on quite a number of records his art has somewhat unjustly been neglected. He was an exemplary belcanto singer and he had the genuine lyricism for Puccini and the lighter Verdi operas. The tenor did attempt "Lohengrin" but always resisted the temptation to sing the heavy spinto roles. The top of his voice had a brilliant squillo but at the same time he could produce a soft piano. And then - he was very good looking and had something of a romantic jeune premier. A large part of his most famous interpretations,on stage can be found on record, too. The only role among Ziliani's recordings which he never sang in public was George Brown in "La Dame Blanche" (by the way the only recording in Italian language). The aria was recorded during one of the singer's film productions in which it was used.
Amazon, iTunes, Spotify & Co.