Lebendige Vergangenheit - Aldo Protti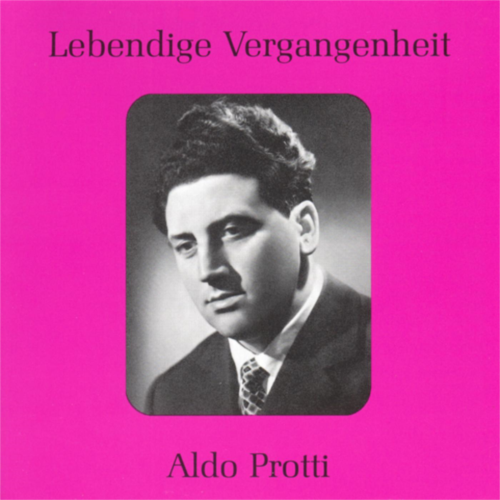 | | |
| --- | --- |
| Artist | Aldo Protti |
| Title | Lebendige Vergangenheit - Aldo Protti |
| | |
| Release Date | Monday, August 14, 2006 |
| Genre | Classical > Choro |
| | |
| Copyright | © Preiser Records |
| Country | AUSTRIA |
Update Required
To play the media you will need to either update your browser to a recent version or update your
Flash plugin
.
Promotion Text
Lebendige Vergangenheit
Aldo Protti born 17 July 1920 in Cremona - died 10 August 1995 in Cremona. Many opera-goers will still have vivid memories of this spirited singer. His stocky, agile, muscular figure, his striking "diavolo" head with its dark curly hair and, especially, his powerful baritone voice that could overpower any orchestral and choral fortissimo. All that has become an unforgettable part of the opera history of the 1950s and '60s. Fora long time, Protti was the first choice when it came to casting villains and other dark figures of the Italian opera literature: Rigoletto (in particular), Iago, Scarpia, Alfio, Tonio, Amonasro, Don Carlo di Vargas, Gerard and Bamaba. While his repertoire also included lyric roles, such as Germont and Posa, his real enthu­ siasm was most clearly noticeable in his characters of a demonic or bizarre nature. He was often good for a surprise, performing acrobatic tricks as Tonio in Pagliacci that no one would have expected of an opera singer. Or adding a high B-flat to Scarpia's "Te Deum" in Puccini's Tosca, thus demonstrating that he was a master of the tenor range as well. There was much that was extreme about this singer: his demonstrative acting as well as the power of his stentorian voice. In his best years, Protti was a real powerhouse of energy and temperament, who effortlessly stimulated approbation and enthusiasm among his audiences. The artist was born into impoverished circumstances. His first job was in a marble works, and he was later employed as a mechanic by the Italian railway. But he was such a success as an amateur singer that his friends and supporters convinced him to take regular singing lessons. Protti trained as a singer at the conservatoire in Parma and sang his stage debut as Rossini's Figaro in 1948 in Pesaro. A short time later he was singing at La Scala in Milan. Over the next few years he created many of his finest roles there. Guest appearances took him to most of the big Italian opera houses and the Opera in Paris. He performed in Spain, North and South America, Belgium, Monte-Carlo, Portugal and Hungary as well as numerous German and Swiss opera houses. An important focus of his career was the Vienna Staatsoper, where he became an established star of the ensemble, particularly in the years during which Herbert von Karajan was director. His debut role there was Amonasro on 15 May 1957, in a performance of Aida in which Antonietta Stella and Franco Corelli also sang there for the first time. By 1973 he had sung Tonio 42 times in Vienna and Rigoletto, his most famous role, a total of 39 times. His grand career ended in the mid-1970s, but the singer did not retire completely from the operatic stage until shortly before his death. On 7 May 1983 the Amici del Belcanto invited him to sing a concert in the town of Neunkirchen in Lower Austria, where his former Viennese admirers had a last chance to hear him singing his most famous arias. He received a late honor in 1985, when James Levine invited him to sing Rigoletto at the Metropolitan Opera (where he had never previously performed). The life of this unusual singer ended ten years later, in the summer of 1995. Aldo Protti can be heard in many complete opera recordings, which have preserved most of his most famous roles: Rigoletto, Tonio, Alfio, Scarpia, Iago, Germont and Don Carlo. There are also a few operatic rarities in his recorded repertoire, including Spontini's Fernando Cortez and Cilea's L'Arlesiana.
Amazon, iTunes, Spotify & Co.